Sig Ep and Alpha Phi draw criticism after 'Kanye Western' themed raid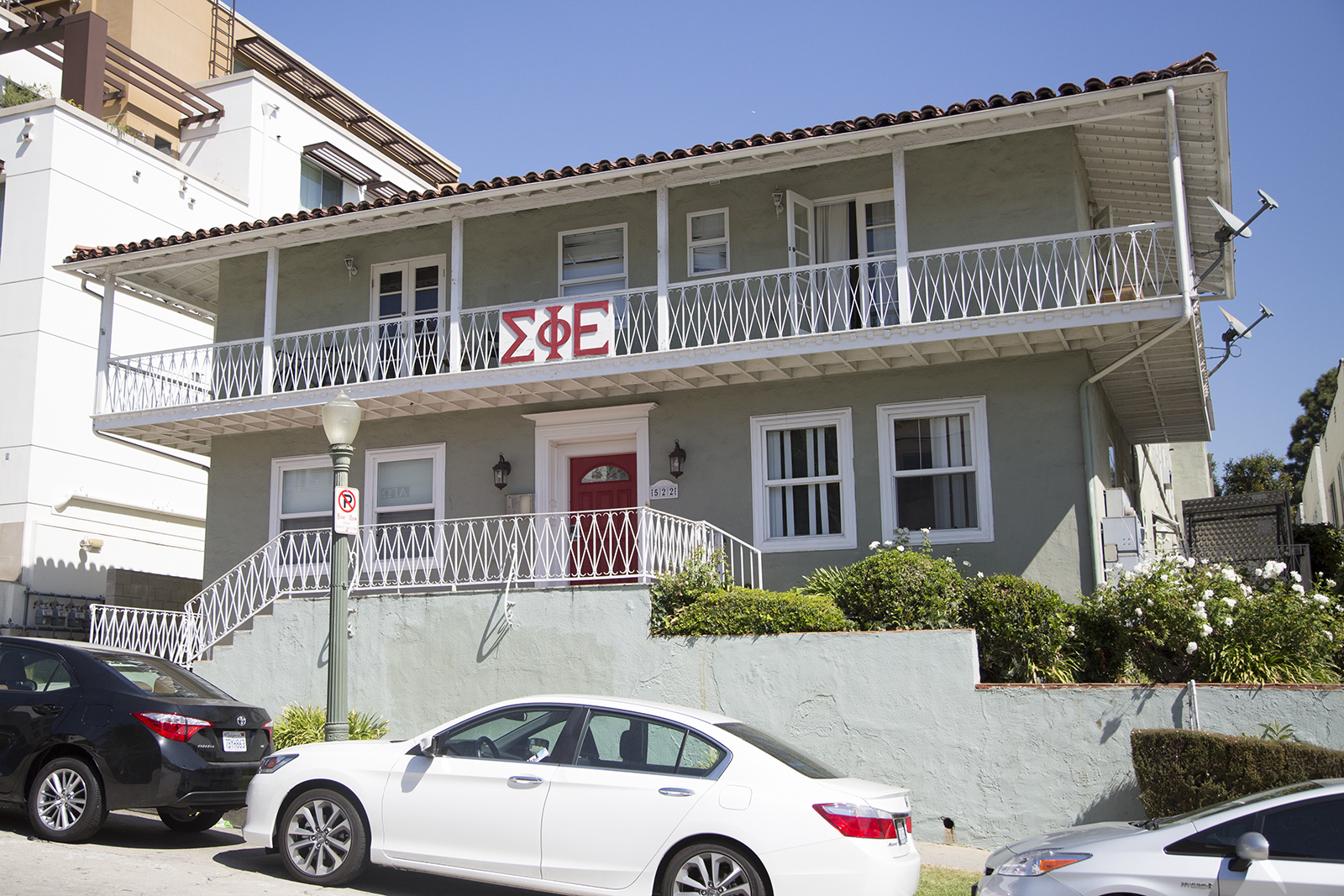 The UCLA chapter of the Sigma Phi Epsilon fraternity held a "Kanye Western" themed raid Tuesday night with the Alpha Phi sorority. At the raid, some guests dressed in baggy clothes, plumped lips and padded bottoms, or as "Kardashians." (Owen Emerson/Daily Bruin senior staff)
This post and headline were updated on Oct. 9 at 1:33 p.m.
Several UCLA student groups are asking the university to respond after the Sigma Phi Epsilon fraternity and Alpha Phi sorority held a "Kanye Western" themed raid Tuesday night, for which guests dressed in baggy clothes, plumped lips and padded bottoms, or as "Kardashians."
Kelsee Thomas, a third-year fine arts student and member of the Afrikan Student Union, said other ASU members said they saw partygoers with those costumes. Photos from the raid also show attendees with their foreheads covered in charcoal.
The presidents of the Sigma Phi Epsilon fraternity and the Alpha Phi sorority did not respond to several calls for comment. Student leaders of the Afrikan Student Union have asked the group's general members not to comment until they meet as a group and release a collective statement Wednesday evening.
Kevin Dougherty, the director of fraternity and sorority relations, was not available for comment because he is going out of town. The university said in an email statement Wednesday evening it is concerned about the allegations and is gathering information about what happened.
The university added students are free to celebrate in ways that draw on popular culture, but their specific choices can cause harm and pain to fellow members of their community.
"Put simply, just because you can do something does not mean you should," the university said in the statement.
Some Afrikan Student Union members stood outside the fraternity house Tuesday night and confronted fraternity members, asking them to end the event, Thomas said.
"It's extremely disrespectful for any organization at all to think that this is possibly a good idea," Thomas said. "I understand the play on words, but there are so many other ways (to dress) to fit that."
Fourth-year political science student Jaimeson Cortez, who has seen multiple photos and tweets from the party, said he expected the fraternity to be conscious of existing issues with campus climate and refrain from dressing up in ways he said culturally appropriated a subset of the UCLA community.
"As someone who's been in a UCLA fraternity, I had hoped that Greek life had more awareness than to host an event where black culture was the theme," Cortez said.
Sigma Phi Epsilon released a statement on Facebook Thursday morning, denying that any guests attended in blackface. They said students dressed as miners in reference to the Kanye West song "Gold Digger," but said their attire was not race related.
"A 'Kanye Western'-themed party was intended to celebrate (popular) culture," members said in the written statement. "We realize that the theme showed a lack of judgment on our part and that some of the guests' costumes were offensive to members of the Bruin community. We want our campus community to know that they can expect better from this fraternity."
Chancellor Gene Block said in an email statement that the party included people dressed in costumes which exaggerated racial stereotypes, leaving many African American students feeling mocked and disrespected.
"Even if that was not the intent of the partygoers, it should not have been hard to foresee that this would be the reaction," Block said. "This was poor judgment and I, too, was offended. Everyone at UCLA is smart enough to think more carefully about the impact of their actions."