Student Creativity Center expands to encourage student collaboration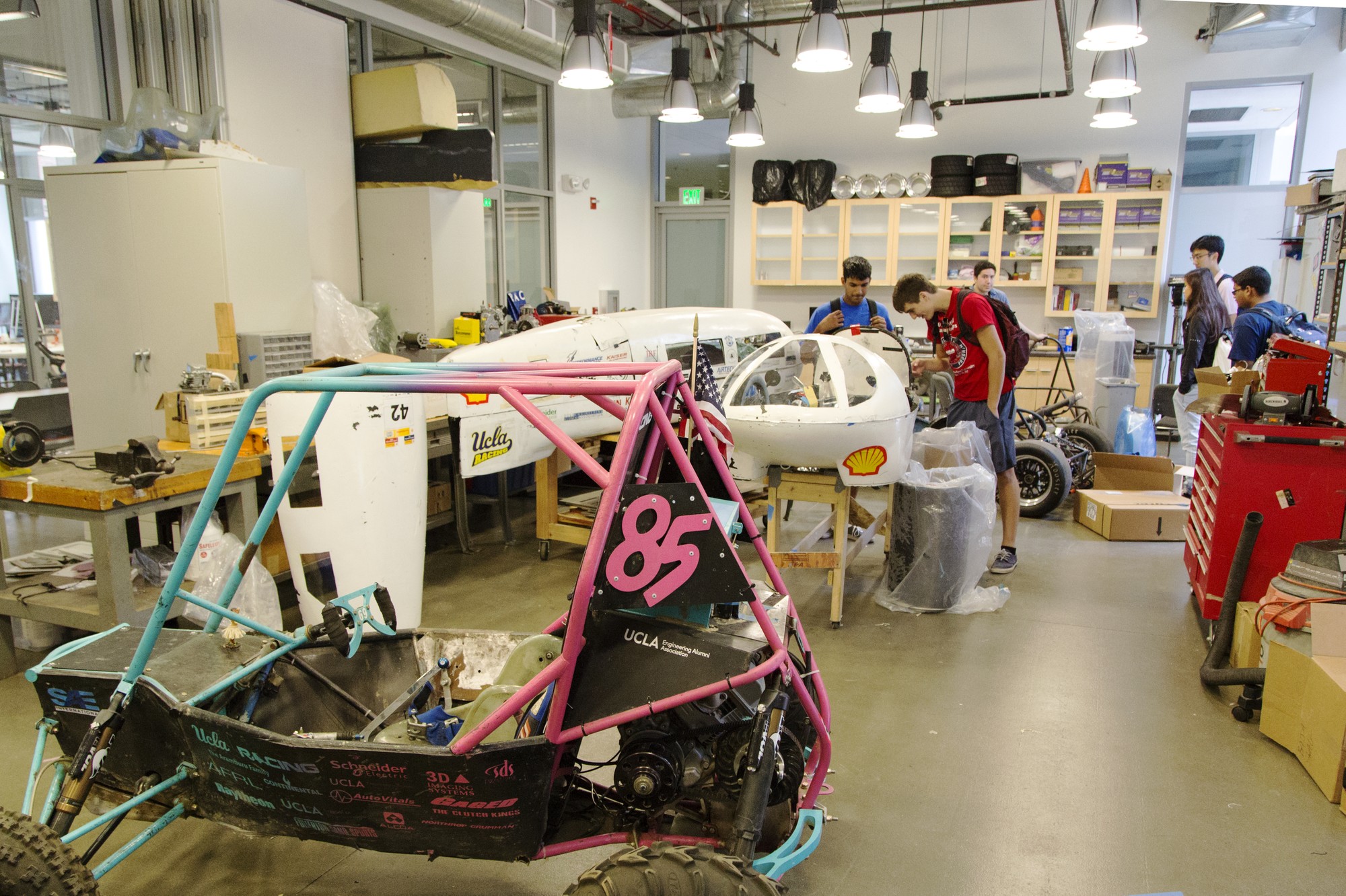 Members of UCLA Racing develop racing cars for competitions in the Student Creativity Center, which expanded this fall. (Owen Emerson/Daily Bruin senior staff)
Several engineering students sat around a wooden table discussing prototypes for new technologies, surrounded by newly-built glass walls and piles of project materials.
Student groups recently moved into the Student Creativity Center, which was expanded to include a new facility in Boelter Hall. The space now accommodates about seven additional student groups, following a $1 million renovation project funded by the School of Engineering and Applied Science, said Jane Chang, associate dean of research and physical resources at the School of Engineering.
The SCC was built in 2012 to create a space for students to work on year-long projects, Chang said. She and Vijay Dihr, dean of the engineering school, decided to expand the space available over the summer after they were unable to allocate space to every student group that applied for it.
Student groups must apply to occupy a room in the SCC for two years in order to use its facilities, Chang said.
She added the engineering school renovated and relocated the Program in Computing Lab from Boelter Hall to the Math Sciences Building this summer to free up space in Boelter Hall for the SCC and to house department organizations in their respective buildings.
Chang said they will further expand the SCC into the Boelter Hall courtyard this spring. She added she wants to display student group projects in the courtyard and create more storage space.
Nirav Mehta, a fifth-year aerospace engineering student and team principal of UCLA Racing, said he is glad UCLA Racing will have more space to store their previous projects. Instead of taking apart old cars, new members could take them out to race in the desert.
More than 10 student groups will now be housed in SCC rooms. The student groups encompass several engineering fields such as mechanical engineering and civil engineering, as well as organizations from other departments, like the Association for Computing Machinery, Chang said.
Chang said the space will also help the School of Engineering increase outreach by hosting summer programs like high school technology camps that teach younger students about engineering.
National organizations with yearly projects such as the Institute of Electrical and Electronics Engineers and the American Society of Mechanical Engineers are also housed in the SCC space. Engineers Without Borders, a student group that works on low-cost sustainable projects in developing countries, will be one of the additional groups that can occupy the new space, Chang said.
Chang said the department encourages collaboration by having a single, large space for several student groups.
"The idea is that most of the walls are glass so that you can see how you can collaborate with other teams," said Robert Devlin, a third-year electrical engineering student and president of IEEE. "A big part of IEEE is to keep our doors open and to get as many students involved as possible, and this bigger space will help us do that."
IEEE has collaborated with other student groups such as ACM and ASME to put on startup fairs, as well as to share expertise in their specialties.
"(Being a part of STEM student groups) gives students the opportunity to practice hands-on what real world problems are like," Chang said. "It makes students much more competitive in the market when they search for jobs."
Chang said the creation of the SCC began with the demolition of the Engineering 1A building in 2011, which originally housed all engineering student groups. The demolition forced student groups to disperse across campus.
"Student groups initially found a home in the Engineering I building," Chang said. "We saw how well they were doing, and we knew we needed to find a replacement to continue to support student groups' projects."