UCLA student helps incarcerated youth, works to improve criminal rights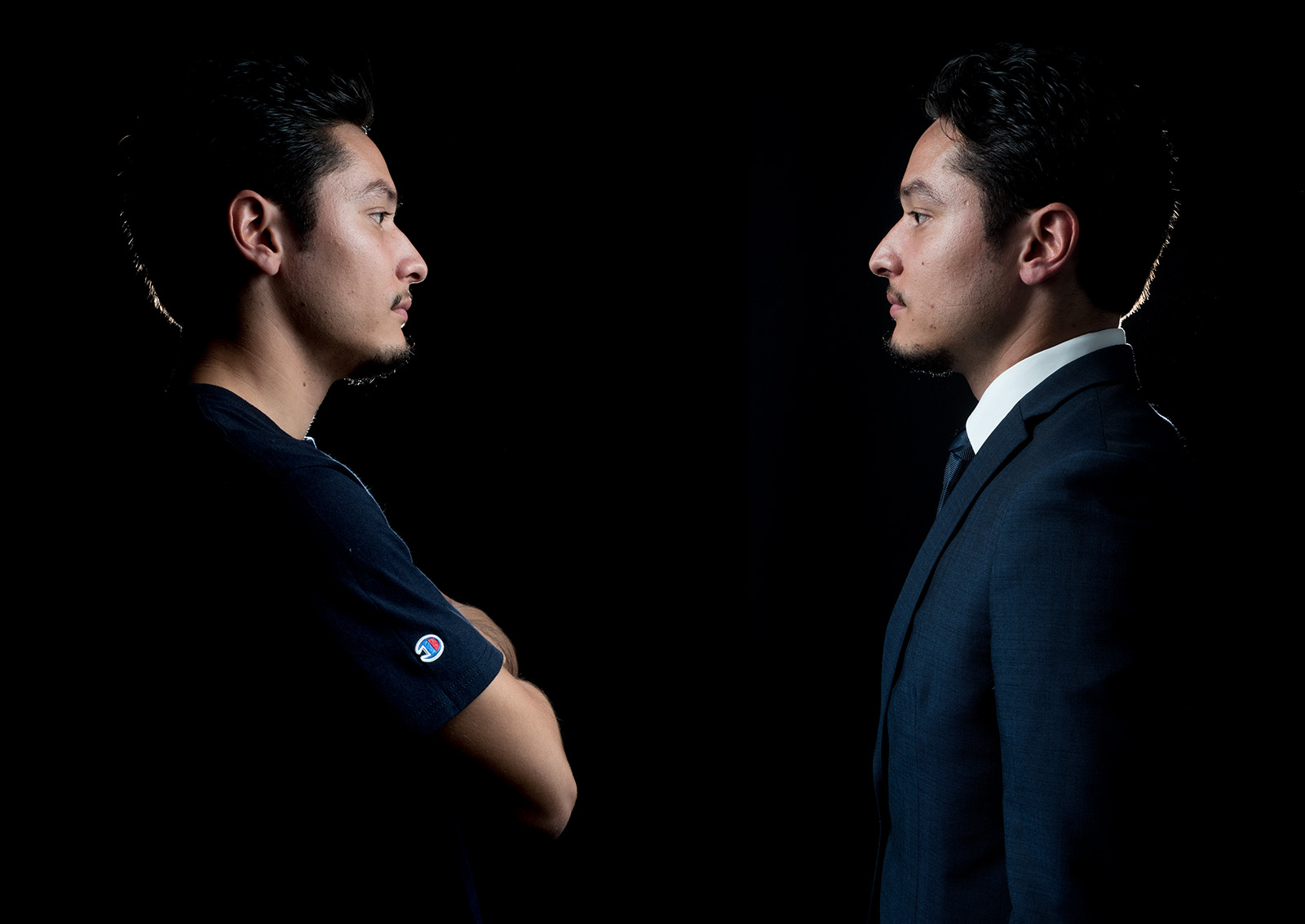 James Anderson, who got involved with gangs and drugs as a teenager, was accepted to UCLA this spring. His determination to establish a criminal rights and mentorship organization has seen him cross paths with Supreme Court Justice Sonia Sotomayor and President Barack Obama. (Photo Illustration by Daniel Alcazar and Miriam Bribiesca)
At 20, James Anderson walked out of more than three years in prison with $200 in his pocket.
Instead of buying street clothes or food, he used the money to purchase two suits, symbolizing his determination to establish a criminal rights and mentorship organization that would fight to help incarcerated youth and improve prison policy.
After spending his teenage years in and out of jail for gang violence and drug use, Anderson did not ever think he would be walking through UCLA lecture halls as a student and into the White House to speak in front of President Barack Obama.
"I've made a commitment to dedicate my life to helping others in need," said Anderson, a third-year transfer political science student. "I was given a second opportunity."
In 2010, Anderson met Scott Budnick, a prison volunteer, criminal justice advocate and executive producer of "The Hangover" series. The pair has spent the last three years growing the Anti-Recidivism Coalition or ARC, a group of about 250 formerly incarcerated men and women who mentor young adults in prison and work to improve criminal rights laws.
"There's power in bringing together all these people that have a similar background and want to do something good with it," Anderson said. "Who better to mentor you than someone who's been through the same thing?"
Anderson grew up in the San Fernando Valley with abusive parents who were struggling through a divorce. He came home from school each day to a brother who would beat him and a father who raced past him without a glance in the evenings to lock himself in his room.
After his parents separated, his older brother found the support and solace he craved in a local gang, whose members encouraged him to use drugs, Anderson said. He added his brother's addictions changed his personality and made him abusive on a daily basis.
In 2006, he joined the same gang and adopted the same addiction to crystal meth. For the next three years, Anderson was in and out of juvenile hall.
At 17, Anderson was facing 35 years to life in prison for participating in a gang fight that left a man seriously injured. He said he was lucky he was only assigned a seven-year sentence and a strike on his record in the juvenile court system.
Budnick said Anderson was completely devoted to his gang when they first met in juvenile hall. Nine months later, Anderson was unrecognizable – determined to change his life for the better and help the people around him.
"Young people have a real capacity to change and James is the epitome of that," Budnick said.
Anderson said he distrusted Budnick when they first met because he was an outsider.
"When you're in this institution, you're always defensive," Anderson said. "(But) it wasn't a show, (Budnick) was actually passionate."
Anderson was released from the Division of Juvenile Justice in 2012 after three and a half years for good behavior, and immediately began planning the organization ARC with Budnick. The two now work together to help formerly incarcerated men and women find housing, education and jobs after they are released.
"The gang was the only thing I was offered and I poured my heart and soul into it," Anderson said. "Now I'm doing the same thing with ARC."
As ARC's first employee, he worked directly with incarcerated youth and went to Sacramento to convince conservative legislatures that people like him are worth saving. He also managed clerical duties, including keeping track of membership and donations.
Carol Biondi, a founder on the ARC Board of Directors and Los Angeles County Commission for Children and Families appointee, said she believes Anderson's difficult past motivates him to prove to himself and others he is capable and deserving of the second chance he was given.
"He brings tremendous energy, heart and commitment to the program," Biondi said.
In order to participate in ARC, members must pledge to be drug- and gang-free, and seek employment and education. ARC also brings youth before the California legislature to share stories about their abusive upbringings and encourage lawmakers to allow them to prove themselves as adults.
"In order to change laws, (legislators) need to hear from those who are truly affected by it," Anderson said.
He estimates the laws ARC has helped pass have benefitted 18,000 minors, including a law that abolished life in prison without parole for juveniles.
Anderson has spoken at the White House five times over the last three years as a criminal rights advocate, and has met Chicago Mayor Rahm Emmanuel, Supreme Court Justice Sonia Sotomayor and President Obama.
Anderson was accepted to UCLA last spring and hopes to earn his master's degree from the University of Cambridge in the United Kingdom.
He called Budnick soon after to deliver the good news. Budnick said Anderson's acceptance confirmed what he always knew.
"It was one of the best calls of my life," Budnick said. "I was so insanely proud of him, but at the same time, it wasn't a surprise at all because he doesn't let anything stop him."

In July 2014, Gov. Jerry Brown appointed Anderson to the State Advisory Committee on Juvenile Justice and Delinquency Prevention.
Anderson said his brother plans to participate in ARC after he is released from prison, after watching his younger brother travel the world and begin college.
He said he hopes laws will eventually reflect his belief that everyone, especially minors, deserves a second chance to succeed, even if they have struggled in the past.
"It's never too late to change," Anderson said. "We should never give up on anyone."