UCLA Athletics Hall of Fame inducts softball alumna Janice Parks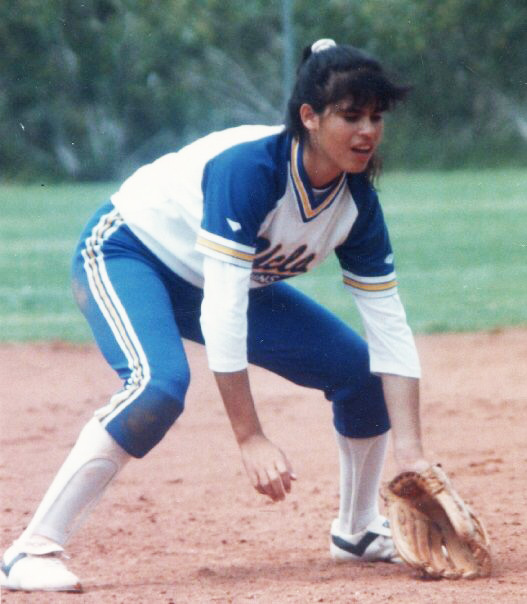 (Courtesy of Samantha Ford)
Feared. Humble. Reliable. Contagious confidence. The best player in the country. These are just a handful of words used to describe UCLA Athletics Hall of Fame inductee and former softball powerhouse third baseman Janice Parks.
When Parks, class of 1989, first put on a Bruin jersey, however, she was told she didn't have much of a shot at starting, let alone playing a position she wasn't used to. Recruited as a shortstop, Parks said she played a little her freshman year at second base or as the designated hitter, but never actually practiced at third.
But when the starting third baseman position opened up all of a sudden, Parks got the call.
"The coach was just like, 'You're going in to play third base,' and then she played there ever since," said pitcher Samantha Ford, also part of the class of '89.
On Friday, Parks will be inducted along with seven other UCLA alumni into the Hall of Fame class of 2015 at a ceremony in Covel Commons.
Parks' resume leaves little doubt that she deserves to be embedded in UCLA sports history. A two-time NCAA champion, Parks took home three first-team All-American honors, a spot on the 1980s NCAA All-Decade Team, the 1989 Pac-10 Conference Medal and the 1989 Honda Award – the highest individual accolade in college softball.
Yet Parks said she was surprised when she got the letter announcing her induction.
In early May, Mayfair High School, Parks' alma mater and where she currently teaches, framed her signed Olympic jersey and gathered the school together to celebrate the first jersey retirement at the school.
The day before, as Parks' got ready for one celebration of her career, she received a letter revealing another – a UCLA Athletics Hall of Fame induction. She thought the timing was planned.
"I was in shock," Parks said when she got the letter. "I thought they were connected somehow and they were indeed not connected at all."
In her four years at the hot corner, Parks displayed impressive range, a solid arm and defensive reliability, according to Ford and current softball coach Kelly Inouye-Perez, who roomed with Parks when she was a freshman and Parks was a senior.
"She was literally the best player in the country: for power, for average, and she was clutch," Inouye-Perez said. "We won a lot of games because of Janice Parks."
On her way to the Honda Award and her second-straight national title during her last season, Parks batted .426 and led the Bruins in hits, runs and RBI.
But it is not just the statistics and long list of accolades that cement Parks' name into the history books.
Both Ford and Inouye-Perez praised her leadership and the way in which she carried herself on and off the field.
Ford said she was the ultimate display of class on the field and as a leader.
"(Parks was) a silent leader, not one of those rah rah cheerleaders," Ford said. "Obviously there were disappointments but she never expressed that in terms of outward anger. … (She) just knew what she needed to do and got it done."
Inouye-Perez said that Parks had a high expectation for success and backed it up by embodying one of coach Sharron Backus' philosophies, "Walk quietly, but carry a big stick."
During her senior year, Parks quieted the dugout with her high expectations. No cheers could be heard from the Bruins' side nor a roar of celebration when a teammate made an exceptional play.
"It's what was expected," Parks said. "Of course you made a good play. That's why you're here."
Although her intensity dominated the field and fostered fear in her opponents, intimidation wasn't her only approach to competition.
At Inouye-Perez's first practice in 1989, she said she had anxiety about the high expectation to execute, but over time Parks' competitive, yet and silly personality brought the best out of everyone and injected fun, not anxiety, into the competitive moments.
As roommates, Inouye-Perez said the two would always compete against each other.
"She makes people better, she keeps people loose, she has a confidence about her that is contagious," Inouye-Perez said. "She had this loose, fun side of her. She took care of me as a freshman. She taught me a lot."
Some days Parks would break out a deck of cards, others she would challenge Inouye-Perez in racquetball or see who could lift more weights.
"She always made sure that she would push me and teach me how to be a little tougher but I knew I could always rely on her when things got hard, she was a great friend," Inouye-Perez said.
It is these moments that Parks said made her feel at home.
"It was just great to be part of the Bruin family," Parks said. "You have your own group that you belong to."
Parks continues to stay connected to the program, going to alumni events, attending games and staying in touch with other players over Facebook. By staying in contact with the softball program and carrying herself with the class and composure she learned as a Bruin, Park continues the tradition she learned from her coaches.
"Tradition is everything so you always want to be part of this tradition," Parks said. "You always want to hold yourself to the highest standards no matter where you are."