Football scouting report: Arizona State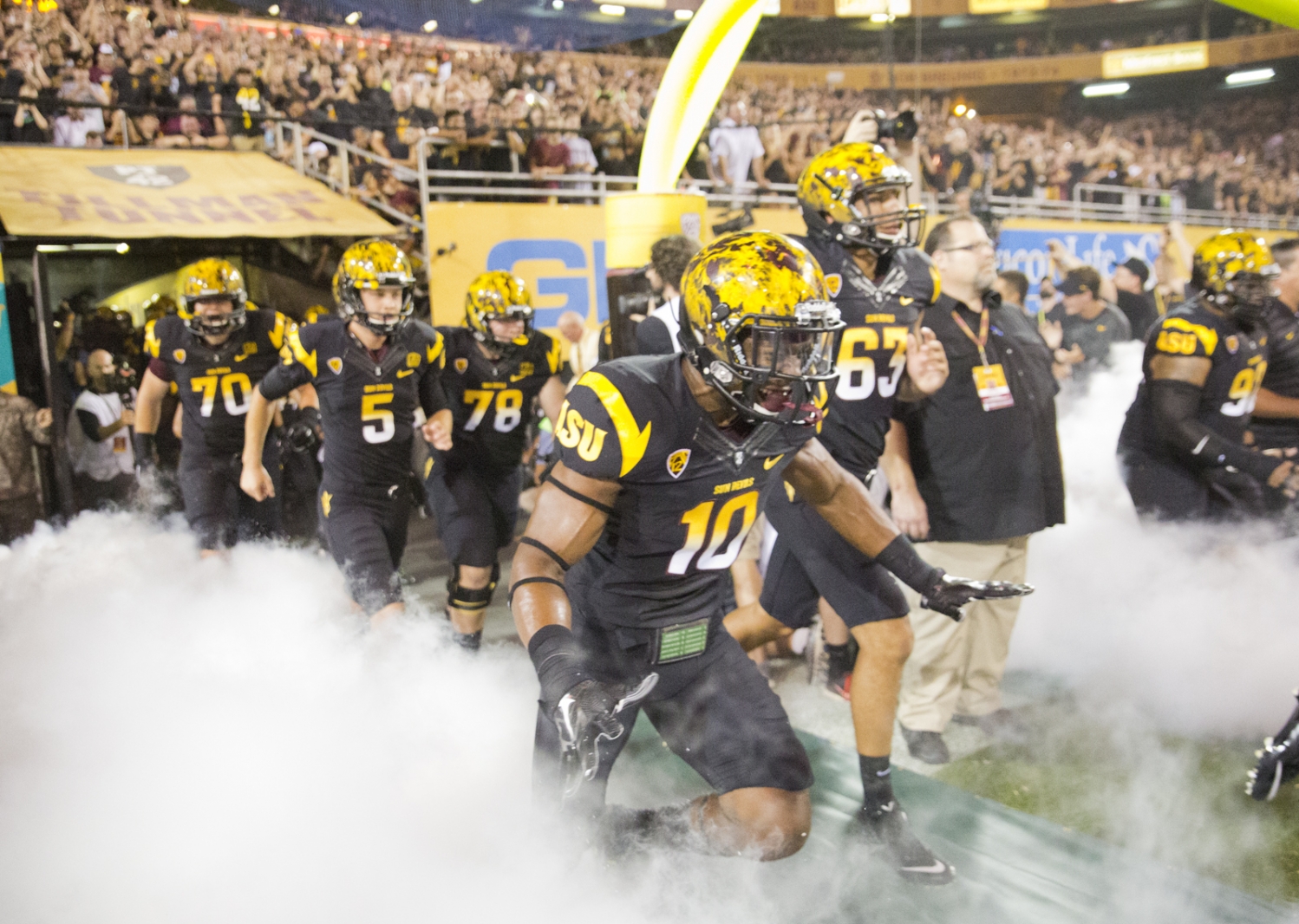 Arizona State enters the Rose Bowl this weekend fresh off a 42-14 loss at home to USC last Saturday. (Daily Bruin file photo)
No. 7 UCLA (4-0, 1-0 Pac-12) returns home to the Rose Bowl Saturday against Arizona State (2-2, 0-1). The Bruins are currently undefeated and making headway into national rankings.

Here's a scouting report of the aggressive Sun Devils, who could be competitors if they limit their mistakes against the Bruins.
Arizona State's offense
Base formation: Spread
Tendency: Read option / zone sweep
Blocking style: Zone
Strength: Exploiting mismatches
Weakness: Turnovers
X-factor: QB Mike Bercovici
After having its hands full with rushing quarterbacks when it faced BYU and Arizona, UCLA will get a break this week as it faces Arizona State's pass-heavy spread formation.
The unit, headlined by redshirt senior quarterback Mike Bercovici, ranks fourth in the Pac-12 in overall passing offense. This is an offense that likes to stretch the field, motioning players and using overload formations to take advantage of one-on-one matchups. The Sun Devils' ground game has been weak this year, ranking 10th in the conference.
Though they may have gotten things back on track last week, sophomore running back Demario Richard's 131-yard, two-touchdown performance was the lone bright spot in ASU's demolition at the hands of USC.
For the Bruin defense, coming off a miserable evening against Arizona's bruising rushing attack, this will be a welcome respite indeed. It's clear from their performances last year that the Sun Devils can be explosive when playing at their best – but they've struggled mightily this year, averaging only 25 points a game.
Much of this misery has been self-inflicted, as the Sun Devils have proven nearly incapable of holding on to the ball. Their minus-three turnover margin is tied for worst in the conference, and they have lost seven of 13 fumbles this year – including three against USC. For comparison, the Sun Devils fumbled 15 times total last year.
The Sun Devils' propensity for self-destructive play will be another opportunity for a Bruin team coming off a blowout win where they scored 21 points off of turnovers. But for UCLA defensive coordinator Tom Bradley, the statistics don't tell the whole story.
"I think they're a much better offense (than they've showed)," Bradley said. "They have an explosive football team so we'll have to understand how they will attack us."
If the Sun Devils are to live up to their potential against the Bruins, Bercovici will have to improve upon his performance so far this season – one in which he ranks 10th in the Pac-12 with a 127.8 passer rating.
Against UCLA last year, Bercovici put up big offensive numbers after coming on for injured starting quarterback Taylor Kelly – throwing for 488 yards and three touchdowns. But Bercovici has played inconsistently this year, averaging a modest 267.8 yards and 1.75 touchdowns per game.
Those numbers, though good for fourth in the Pac-12, have not been enough to fill the void left by ASU's poor running game. He will have to return to last year's form and shoulder much more of the load if the Sun Devils are to have a chance in this one.
Arizona State's defense
Base defense: Hybrid 3-4 / 3-3-5
Blitz tendency: Frequent
Strength: Attacking the quarterback
Weakness: Big plays
X-factor: LB Christian Sam
In UCLA's first game of the season, the Bruins faced a steady wave of pressure as their opponents blitzed on over 80 percent of plays. Against Virginia's aggressive 4-3 front, freshman quarterback Josh Rosen was stellar, remaining composed in the pocket and throwing for 350 yards and three touchdowns. The offensive line also held strong, not allowing any sacks.
Against Arizona State this week, Rosen and his offensive line can expect a steady diet of blitzes – the Sun Devil defense brought five or more rushers on 60 percent of its opponents' dropbacks last year. But if he wants to replicate his performance against Virginia, Rosen will have to contend with another wrinkle – ASU's constantly changing retinue of defensive fronts.
The ASU defense commonly alternates between a 3-4 and a 3-3-5, overloading frequently and varying the location and personnel involved in its blitzes. The team's aggressive secondary, headlined by senior Lloyd Carrington and redshirt senior Jordan Simone, is matched by a versatile group of linebackers. Those linebackers have been key to the unit's aggressiveness, with redshirt junior Salamo Fiso leading the Pac-12 in tackles for loss and sophomore Christian Sam tied for the Pac-12 lead with three sacks this year. Rosen's struggles against BYU's "psycho package" are well-documented, and he was sacked twice in two series against Arizona's adjusted defense at the start of the second half last week.
With their flurry of movement and shifty nature, the Sun Devils will provide another test of Rosen's ability to read coverages and make the right decisions.
"They've always done a great job there of giving you a lot of looks," said Bruin offensive coordinator Noel Mazzone. "(This is) a fluid defense with people moving … and will be a great challenge for Josh."
Despite this, the Sun Devil defense – much like its offensive counterpart – is hardly playing at its best; the team was lit up for 379 passing yards and five touchdowns against USC last week. Though the rush defense fared well against the Trojans, it has been poor all season, ranking 10th in the Pac-12 with 180.5 yards allowed per game.
This plays right into the hands of UCLA, which boasts one of the deepest backfields in the conference. The Bruins ran on 63 percent of plays last week against Arizona, consistently gashing the porous Wildcat defense –expect them to do the same on Saturday. The running back corps' ability to get the same kind of traction they did last week will be crucial to setting an offensive rhythm and taking some pressure off Rosen.
Compiled by Anay Dattawadker, Bruin Sports reporter.