Suspects plead not guilty to murder of UCLA student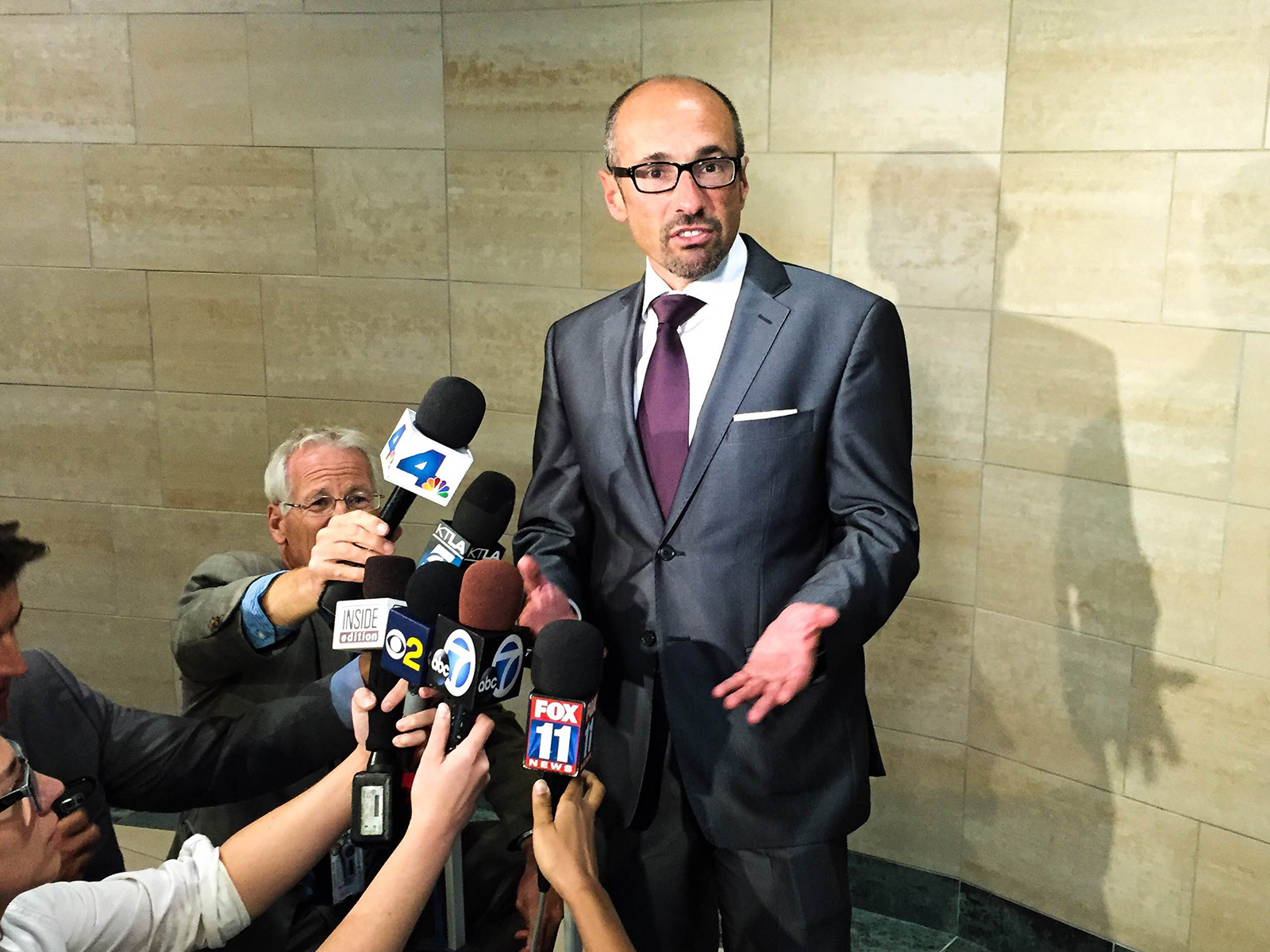 Dmitry Goren, attorney for Alberto Medina, gives a press conference after his arraignment. Medina was charged with capital murder with a special circumstance of murder during a robbery and could face the death penalty. (Angie Wang / Daily Bruin senior staff)
September 29, 2015 4:58 pm
Eric Marquez and Alberto Medina both pleaded not guilty Tuesday afternoon to the murder of UCLA student Andrea "Andy" DelVesco, and to other charges including burglary.
Judge Keith Schwartz said Medina is being held without bail because he was charged with capital murder with a special circumstance of murder during a robbery. Schwartz added Medina is eligible for the death penalty.
Marquez, a fifth-year biology student at UCLA, and Medina, a Fresno State University student, were arrested this weekend after investigators used witness statements and surveillance footage to determine a link between the two and DelVesco's death.
Prosecutors said Medina entered DelVesco's Roebling Avenue apartment on the morning of Sept. 21 and fatally stabbed her with a knife, before setting the apartment on fire.
Prosecutors charged both men with one count of murder and two counts of burglary. Medina was also charged with arson.
Both are set to appear in court for a preliminary hearing on Oct. 22.
The prosecutor, Victor Avila, alleged the men, who were high school friends, were also responsible for two robberies that occurred on Roebling Avenue on Sept. 21, between 2 a.m. and 7 a.m.
A witness saw a red car – later identified as Medina's – pass the block between 5 a.m. and 7 a.m., around the time of the second burglary, Avila said. The witness also reported seeing Marquez in the backseat of the car, which Avila said he believes was used as the getaway vehicle.
Avila also added property from both the apartments, including a laptop and stereo system from the first burglary and some property from DelVesco's apartment, was found in Medina's Fresno residence.
Surveillance footage revealed both Medina and Marquez entered Marquez's apartment on Strathmore Drive about 10 minutes after the murder, Avila added.
The footage also showed Marquez helped Medina cover his bloodied clothing with DelVesco's blanket, Avila said.
Marquez's attorney Steven Cron said no witnesses have reported seeing Marquez entering DelVesco's apartment.
Cron added Marquez is an exemplary student with no prior record.
About 20 of Marquez's friends and family attended the hearing to show their support.
Schwartz added evidence the District Attorney's office received are currently sealed and have not been made available to the public.
Medina's attorney Dmitry Goren said neither he nor Cron have received evidence from the prosecution to substantiate the prosecutor's claims.
Compiled by Shreya Maskara, Bruin senior staff.