Report Card: UCLA vs. BYU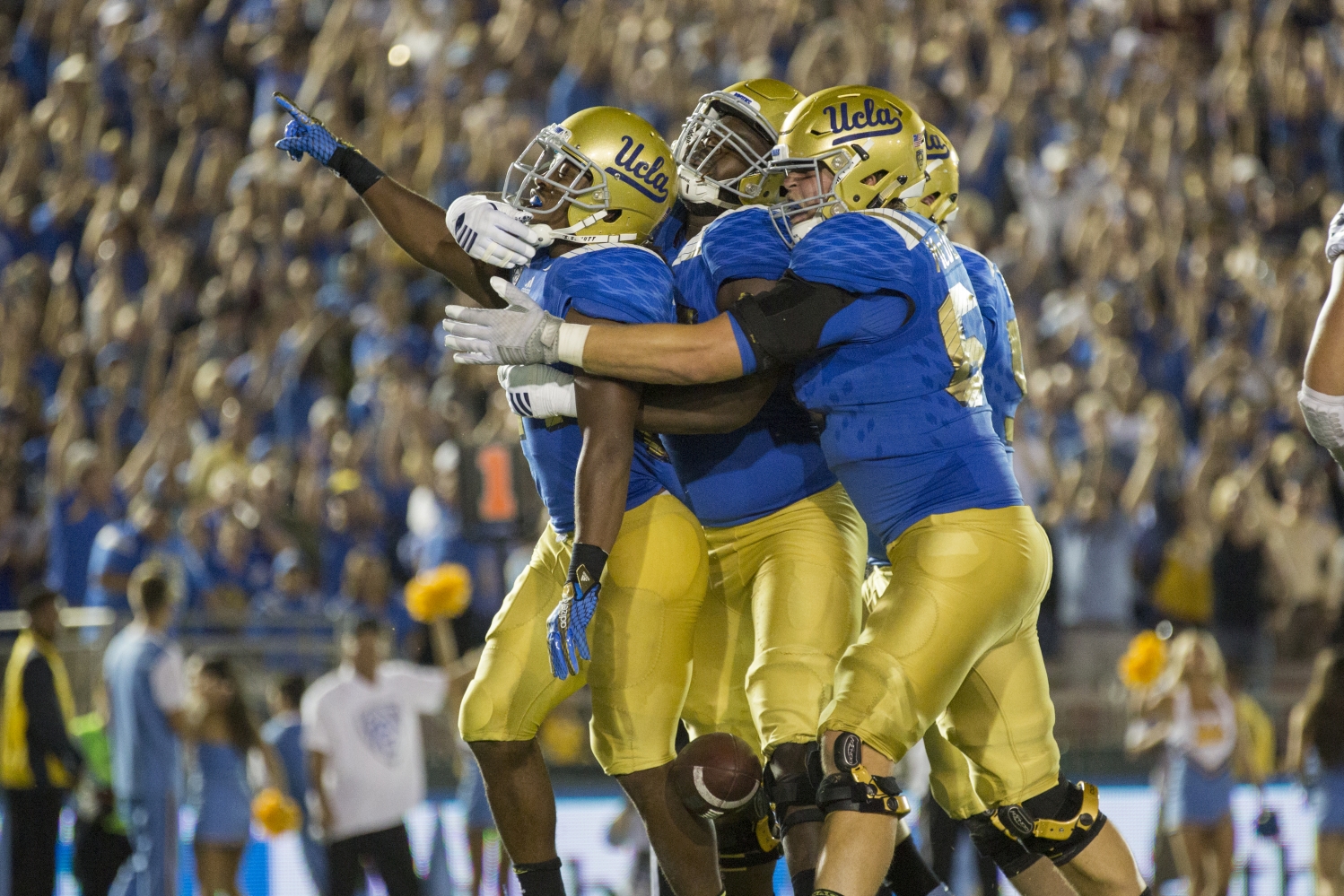 Redshirt junior running back Paul Perkins (left) set a new career high with 219 rushing yards on Saturday against BYU. (Photo by Daniel Alcazar/Daily Bruin senior staff)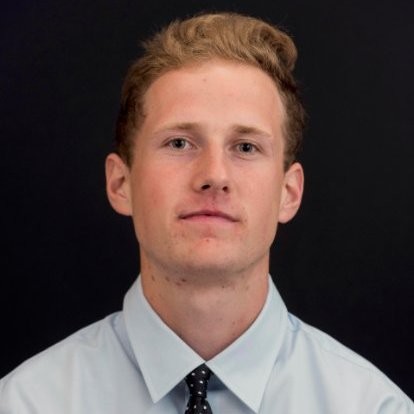 Each week, Daily Bruin Sports takes a look at the game film for UCLA football and grades each position group on its performance.
This week, we grade UCLA's 24-23 win over BYU. The grades aren't quite as stellar as they were in past weeks, as the Bruins struggled to win for the first time this season. Some position groups performed admirably, while some took a big step back.

Quarterbacks: D+
The quarterback position nearly lost UCLA the game against BYU, plain and simple. Freshman Josh Rosen threw two red-zone interceptions in the first half, costing the Bruins a chance at at least two field goals, if not two touchdowns. That kind of red-zone futility usually spells disaster for any team locked in a competitive, top-25 matchup.
What was concerning about Rosen's red-zone interceptions was that they were self-inflicted. He could have thrown both passes away, but instead took a risk and tried to make a play. Beyond that, Rosen committed a cardinal sin for all quarterbacks on both interceptions: He rolled to his right and threw back across his body to the left. That was a mistake Rosen got away with last week against UNLV – as the play below illustrates. But against a superior BYU defense, Rosen got burned.
One thing that stood out about Rosen's performance against BYU was his lack of field vision. There were a few plays – the red-zone interceptions included – where Rosen didn't appear to see a BYU defender or an open UCLA receiver.
There were also plays where Rosen looked off a receiver who ended up being open right afterward.
Rosen's struggles can potentially be attributed to the fact that he was facing a defensive approach that he hadn't seen yet at the collegiate level. Unlike Virginia and UNLV, BYU refrained from blitzing Rosen for the most part. The Cavaliers and Rebels decided to blitz Rosen on about half of his dropbacks, while the Cougars only blitzed Rosen about 30 percent of the time.
BYU's plan worked, as Rosen struggled significantly when BYU dropped seven or more men back into coverage.
Overall, Rosen had a subpar performance against BYU, but he still deserves credit for coming back in the second half and throwing a clutch touchdown pass in the fourth quarter. Without that precise pass, UCLA may have lost the game.
"He didn't play well, numbers-wise," said coach Jim Mora. "But when it mattered, he showed exactly who he is."
Running backs: A+
The numbers speak for themselves.
UCLA ran for 7.8 yards per carry on 38 attempts.
Redshirt junior Paul Perkins set a new career high with 219 rushing yards.
Sophomore Nate Starks did the same by posting 81 yards – 60 of which came on UCLA's game-winning drive.
What was perhaps most impressive about the Bruin running backs was how they were able to create some key runs on their own, without help from their offensive line. Make no mistake, the offensive line did a great job with run blocking for most of the game, but Perkins and Starks each had runs where they made something out of nothing.
What further validates this as an A+ performance by the running backs is that they did it against solid competition. BYU entered the game as the nation's 25th-best run defense, but Perkins and Starks made the Cougars' defense look weak.
Wide receivers: B
There's not much to grade the UCLA receivers on this week. With Rosen struggling to find a groove all game, the receivers didn't have many opportunities to make big plays. In total, there were only 23 pass attempts on the day, and seven of those passes were behind the line of scrimmage.
Similar to last week, the UCLA receivers did a decent job of gaining separation, it's just that Rosen failed to hit them.
An improvement for the UCLA receivers this week was that they minimized their number of dropped passes. There were only two dropped passes this week, and both came from senior wide receiver Jordan Payton. But Payton's second drop wasn't entirely his fault, as the ball was thrown behind him. For the most part, the receivers did their job against BYU, they just needed the quarterback to get them the ball in the right spots.
Offensive line: A
With the UCLA pass game dormant, it became almost a forgone conclusion that UCLA would stick to the run in the second half. The Bruins' first six plays of the half were rushes, and there were only five pass attempts total in the third quarter.
The fact that UCLA was still able to put up solid offensive numbers without much play-calling deception is a testament to the offensive line. Even when the Cougars anticipated the run and stacked the box, it didn't matter – UCLA's offensive line was too strong to be pushed back. One of the biggest plays of the game was a UCLA fourth down conversion inside the BYU 10-yard line, when the O-line powered its way ahead.
Aside from its standout run blocking, the offensive line also did a great job protecting Rosen. For the third straight game, the unit didn't allow a sack, and Rosen was hit in the backfield only three times all game. On certain occasions, Rosen almost had too much time to throw – and that's when he ended up getting into trouble with the throws across his body.
Defensive line: A-
This unit allowed more rushing yards than expected against a mediocre BYU running game, but more than made up for it in the pass-rush department. For the first time all year, the Bruins recorded multiple sacks in a game, and the defensive line played a key role in making that happen.
Junior defensive end Takkarist McKinley proved himself to be a potent edge rusher who can challenge junior weakside linebacker Deon Hollins for the team lead in sacks. Against BYU, McKinley had a tackle for loss on BYU quarterback Tanner Mangum – which wasn't recorded as an official sack – and he also had a punishing hit on Mangum that caused the ball to fly about 10 yards in the air. Junior nose tackle Kenny Clark was stout as usual, and nearly recorded his first career sack in the first quarter. Overall, it was just business as usual for UCLA's strong defensive line.
Linebackers: A
This unit – along with the running backs and the offensive line – really saved the Bruins on Saturday.
To start, two reserve inside linebackers turned in the best games of their careers. Juniors Jayon Brown and Isaako Savaiinaea both set new career highs with nine and 14 tackles, respectively, and several of those tackles were made in open space. Both of them attributed their success partly to defensive coordinator Tom Bradley's linebacker rotation system, which allows second-stringers to play multiple snaps each game.
"Rotation is a big thing – keeping everybody on their toes and keeping everybody ready," said Brown, who has never made an official start at linebacker for UCLA. "(When) Isaak (went) in, he was ready and prepared for that because of the time he was getting in from the prior games."
Brown and Savaiinaea were the unsung heroes of the Bruin defense on Saturday. Brown was particularly impressive all game long with his gap integrity and discipline against the run, as the play below illustrates.
Brown also provided a key quarterback spy on Mangum to force the game-winning interception. If not for Brown's pressure, Mangum could have had another second or two to dial up another game-winning touchdown pass.
As for Savaiinaea, he had a standout performance that went beyond the stat sheet. Not only did he have the 14 tackles and and 1.5 sacks, he also stepped up as the leader of the defense after sophomore Kenny Young was ejected in the first quarter.
Aside from Brown and Savaiinaea, junior Myles Jack had perhaps the best game of his career as well – in terms of pass coverage that is. Jack was targeted eight times in pass coverage, but only allowed three receptions for a mere eight yards.
Defensive backs: B-
This unit faced some adversity when senior and starting cornerback Fabian Moreau had to leave the game early in the first quarter with a foot injury. Moreau's replacement – redshirt freshman cornerback Denzel Fisher – wasn't nearly as efficient. Fisher was exposed frequently by BYU receivers on deep curl routes and out routes toward the sideline, allowing seven catches of at least eight yards in length.
Fisher can't be entirely to blame for all those eight-yard completions, as UCLA's loose pass coverage set him up for allowing those kinds of plays. On multiple occasions, the inexperienced Fisher was lined up about seven yards away from the line of scrimmage, as if to prevent BYU from making the big pass play over the top. The result was a proliferation of intermediate passes by the Cougars.
At the end of the day, Fisher and the Bruins' secondary succeeded in preventing Mangum from connecting on the deep ball. That's how Mangum won his first two games for BYU, but the Bruins wouldn't allow him to repeat the magic. Credit Bradley for devising a solid game plan to adjust to the situation.
Special teams: A-
Senior wide receiver Devin Fuller finally found his groove as a punt returner against BYU.
"Yeah, I think this was the first time (where) I was actual punt returner," Fuller said after the game.
In the first two games of the season, Fuller was thrust into the punt return position sporadically. Against Virginia, he went in for one return; against UNLV, he stepped in and returned two punts after redshirt junior safety Randall Goforth muffed a punt in the first quarter.
On Saturday, Fuller had his first full-time opportunity as punt returner, and he made it count. He was in for all five of the Bruins' punt returns, with two fair catches and three returns totaling 80 yards. Each of Fuller's punt returns went for at least 10 yards, and his 56-yard return early in the third quarter provided a much-needed boost for a struggling UCLA offense.
"I feel like I made some plays for this team (against BYU) that I haven't in the past," Fuller said. "And, you know, it felt good."
Aside from Fuller, the special teams performed well against BYU. Senior kicker Ka'imi Fairbairn was once again perfect on field goals and extra points, and UCLA was once again stout in return coverage. There were only two negative special teams plays on the day: a late reaction to a BYU onside kick and a 15-yard kick-catch interference penalty on redshirt junior fullback Taylor Lagace.
Joye joined the Bruin as a sophomore transfer in 2013 and contributed until after he graduated in 2016. He was an assistant Sports editor for the 2014-2015 academic year and spent time on the football, men's basketball, baseball, softball, men's soccer, women's tennis, track and field and cross country beats.
Joye joined the Bruin as a sophomore transfer in 2013 and contributed until after he graduated in 2016. He was an assistant Sports editor for the 2014-2015 academic year and spent time on the football, men's basketball, baseball, softball, men's soccer, women's tennis, track and field and cross country beats.