Metro requests federal funds for Purple Line Extension to Westwood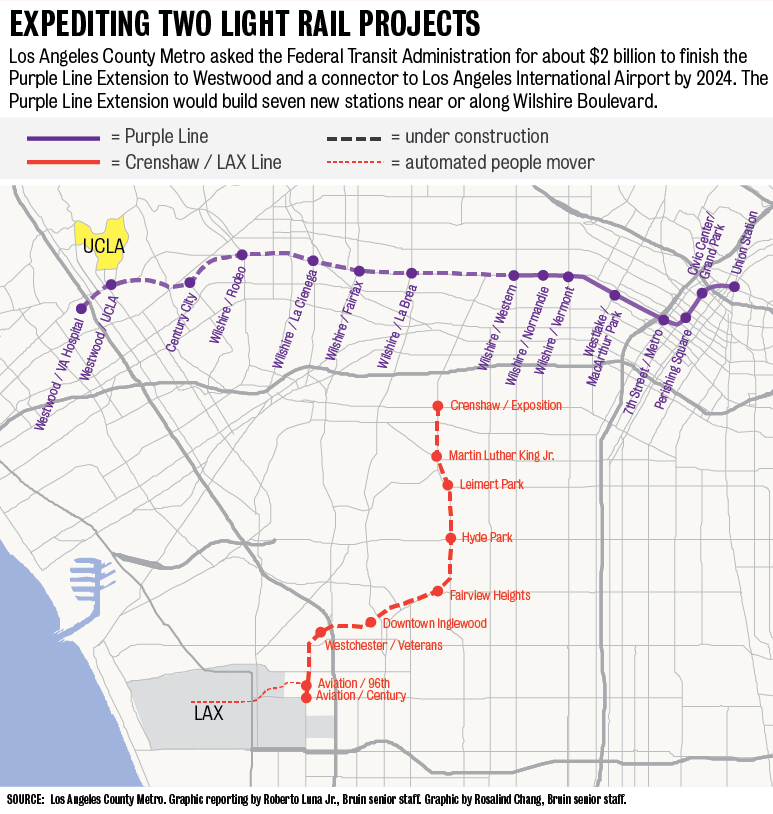 L.A. County Metro asked for about $2 billion in federal funding so it can expedite the Purple Line Extension project to Westwood by 2024 for Los Angeles' bid to host the Summer Olympics that year.
In two letters addressed to the Federal Transit Administration sent Tuesday, Metro CEO Phillip Washington asked to participate in a pilot program that would give Metro about $2 billion to finish the Purple Line by 2024. Additionally, Metro plans to build a Crenshaw/LAX train station at Aviation Boulevard and 96th Street near the Los Angeles International Airport, where an automated people mover, or a small train, would transport people to the airport.
Washington said if Metro was to get the funding, it would start constructing two Westwood train stations in 2018, instead of 2027.
"These dates are extremely aggressive but will be necessary to accommodate opening this critical transportation link in time for the 2024 Olympics," Washington said in the letter.
The United States Olympic Committee selected Los Angeles to be its official bid city on Sept. 1, putting Los Angeles besides Paris and three other cities in the race to host the Olympics in 2024. A host will be chosen in 2017.
The Purple Line, which currently runs from Downtown Los Angeles to Koreatown, is currently expected to reach Westwood by 2035.
Washington said finishing the Purple Line by 2024 would make it easier for spectators to get to UCLA, where four venues would host three athletic events, according to the official bid book. The Hill would also house journalists.
Metro officials are asking for $1 billion in accelerated funds and $742.5 million in loans for the Purple Line extension project, and $77 million for the train station and people mover in LAX. The total cost for the Purple Line Extension project would be $2.28 billion and $330 million for the LAX connector project.
Workers are currently building Purple Line stations on La Brea and Fairfax avenues and La Cienega Boulevard, all of which would open in 2023. According to the current plan, stations in Beverly Hills and Century City would open in 2026, and a station on Westwood Boulevard and in the Veterans Affairs West Los Angeles campus would open by 2035.
Washington said in the letter that if all Purple Line train stations are built at the same time, it would reduce construction costs and impacts.
He said there are about 150,000 jobs near the planned train stations, so finishing the project sooner would bring benefits to workers. He added the Purple Line Extension would complement the master plan that would renovate the Veterans Affairs campus.
Compiled by Roberto Luna Jr., Bruin senior staff.