Scientists hope to use SIMS water treatment technology to tackle drought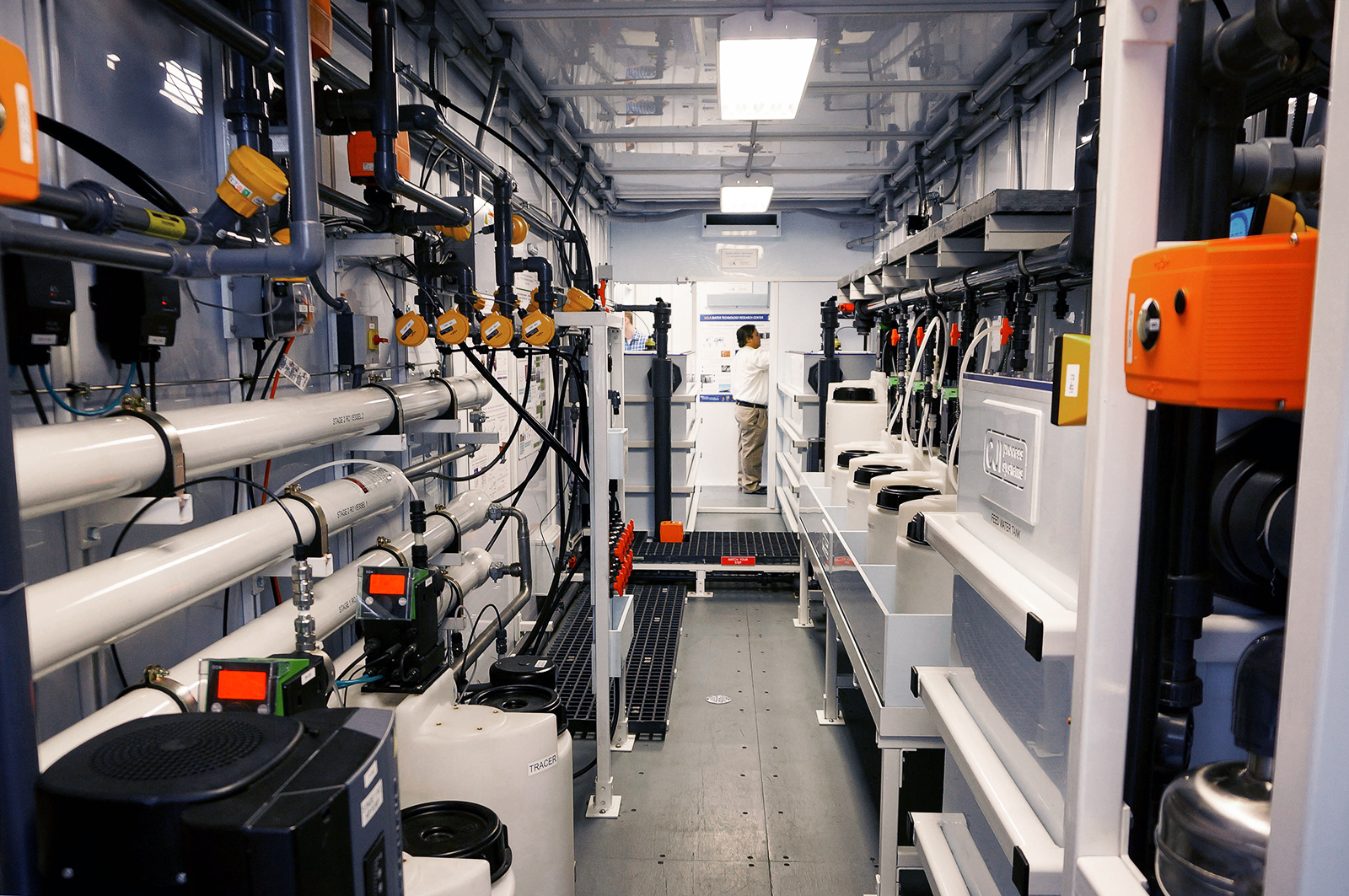 A water treatment plant created by UCLA Professor Yoram Cohen is installed in a large truck, and filters water in the San Joaquin Valley. (Courtesy of Yoram Cohen)
A portable, self-operating, Internet-equipped water purification plant that can be carried on a trailer truck has been turning contaminated water into clean water for over a year.
Known as the Smart Integrated Membrane System, or SIMS, the water treatment plant has steadily treated 25,000 gallons of clean water a day, enough to supply around 100 homes since being unveiled in May 2014, said Yoram Cohen, a professor of chemical and biomolecular engineering at UCLA Henry Samueli School of Engineering and Applied Science.
SIMS desalinates water and purifies it from pollutants, Cohen said. The SIMS plant uses reverse osmosis, a process that uses a semipermeable membrane to separate water from materials, like salt and bacteria. It began operating in a remote part of the San Joaquin Valley last May.
Cohen worked with Panagiotis Christofides, a professor at the UCLA electrical engineering department, Anditya Rahardianto, an assistant researcher at the UCLA chemical and biomolecular engineering department and several engineering students to design and build the plant.
Other water treatment plants have attempted to accomplish what SIMS has in the same location, but have only managed to stay in operation for a few months, Cohen said.
After its introduction last year, the SIMS plant was transported to the Panoche Water District and Drainage District in the farmlands of the San Joaquin Valley, where its ability to treat water with high levels of salt and and calcium sulfate was put to the test.
Rahardianto, who has a doctorate in chemical engineering, said the plant's self-adaptive technology caters well to changing salinity levels in the San Joaquin Valley groundwater supply. Water salinity at Panoche changes by 20 to 30 percent regularly, he said.
Cohen said he thinks the SIMS technology is also capable of addressing California's drought problems because SIMS converts California's underutilized high-salinity groundwater into drinking-quality water. He added that more water would be available for irrigation, and recycling industrial water would reduce usage.
Poor drainage in the San Joaquin Valley has increased the amount of high-salinity water, and the use of this water for irrigation leads to salt accumulation in what is already saline soil, Cohen said.
If this problem is allowed to continue, around a quarter of land in the valley will be unusable within 10 years, Cohen said.
High-salinity and contaminated water also makes its way into the aquifers that serve the valley's residents, making it dangerous for people to rely on this water for drinking and bathing.
Cohen said he has heard that some people choose to bathe their children with bottled water for fear of using the water from their local well.
"These communities are in the same position as many developing countries, at least when it comes to usable water," Cohen said. "While many don't realize it, they are falling through the cracks."
SIMS has been able to operate continuously with little direct human supervision, Rahardianto said. Scientists can observe the plant remotely from 250 miles away via the Web, and on-site maintenance is hardly ever required.
Larry Gao, a doctoral student in chemical engineering who worked on the autonomous control system, said his work consists mostly of remotely monitoring the plant in Panoche.
"In the rare case the plant does not fix the problem itself, it shuts itself down and sends me an e-mail detailing the problem," Gao said.
The next phase of the project is to provide this technology to disadvantaged rural communities that lack access to clean water, Rahardianto said. It will involve deploying SIMS technology in multiple communities in Central California that lack safe drinking water, Rahardianto said.
Cohen said he thinks the plants are a relatively simple solution, since installing one involves little more than an electrical connection and a couple of pipes.
"It's basically plug and play," Cohen said.
Cohen said he expects it will be difficult to convince people in rural communities a plant like SIMS is the solution. He added he hopes to persuade them by demonstrating the device's effectiveness and adaptability.
"Building confidence involves overcoming people's skepticism that a device like this works," Cohen said.
Water-deprived communities can also minimize the maintenance costs that are associated with SIMS equipment. Multiple communities can virtually add their plants to a network that would be monitored from one location, making on-site operators for each plant unnecessary, Rahardianto said.
They plan to have five SIMS plants running by the end of next year, he said.