UCSA picks mental health awareness as next campaign at annual congress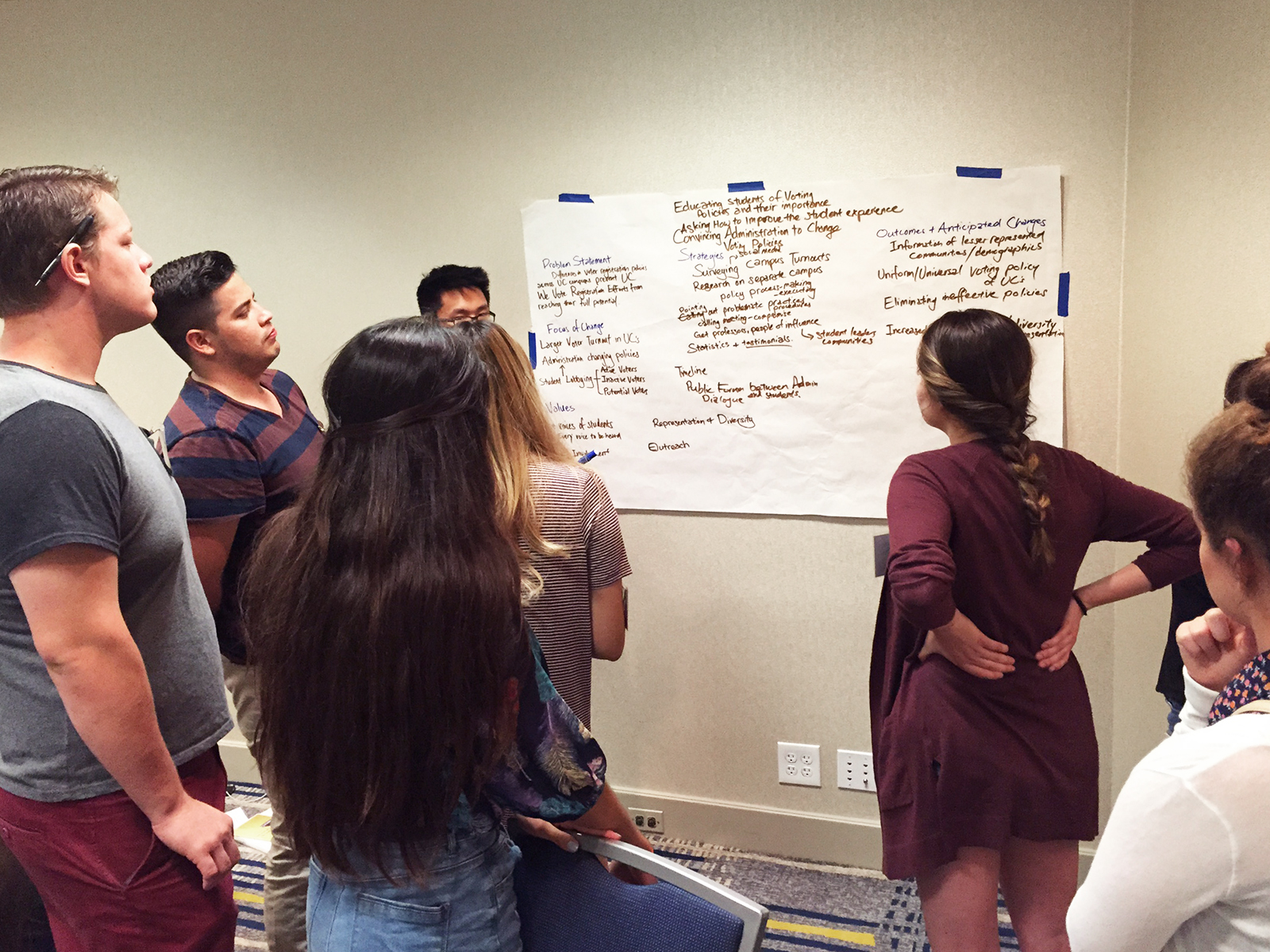 Students discussed ideas to increase student voter registration at the University of California Student Association's 17th annual congress that took place over the weekend. (Courtesy of Art Motta)
IRVINE — The University of California Student Association selected mental health awareness as the subject of its next campaign at its 17th annual congress that took place over the weekend.
At its annual congress, UCSA, which advocates for University of California students on various student-related issues, picks a campaign that will last for two years. The campaign typically involves lobbying and reaching out to student groups, administrators and legislators, said Kevin Sabo, UCSA president.
Previous selections include the Invest in Graduation Not Incarceration, Transform Education, or IGNITE, campaign which sought to address high incarceration rates among minority youth. The mental health awareness campaign will be in addition to UConsent, an ongoing campaign against sexual assault. UCSA typically funds these campaigns through grants and membership fees, Sabo said.
Julia Dunn, a student delegate and a rising second-year marine biology student at UC Santa Cruz, said this year's campaign, #LetsTalk, aims to increase students' knowledge of mental health issues, increase funding for mental health resources and hire more diverse and culturally sensitive counselors. Dunn added UCSA will be reaching out to campus and UC administrators and lobbying the state for additional funding for mental health resources.
The congress, which was held in Irvine this year, is one of three conferences held by UCSA every year, Sabo said. He said the congress typically focuses on campus action and helping student government officers develop leadership skills on a grassroots level.
Around 300 students attended the conference, with delegations from student governments at each of the 10 UC campuses. UCLA's delegation had around 30 members, said Zach Helder, the Undergraduate Students Association Council's external vice president. He said the delegation consisted of staff from the External Vice President's office and other students selected through an application process.
Over the course of the conference, students from the various campus delegations formed caucuses to discuss specific issues and lobby for particular themes to be a part of the campaign. Some of the issues discussed included the Black Lives Matter movement – which focuses on relations between the black population and law enforcement – environmental sustainability and undocumented student issues.
Each delegation was given one vote, as opposed to the previous systems of each individual delegate having a vote. In addition, each delegation ranked all of the campaigns proposed, and the results were calculated based on the campaigns with the highest rankings. Six out of the eight undergraduate delegations voted in favor of #Let'sTalk, with UCLA selecting it as its top choice, Helder said.
He said the UCLA delegation wanted a UC-wide campaign similar to mental health campaigns on campus, like All of Us.
While campus delegations discussed topics for the next campaign, the UCSA board, which consists of campus external vice presidents and their staff, picked its executive leadership for the year.
On the second day of the congress, UCSA elected Board of Directors Chair and Acting President Sabo as president and UC Santa Cruz undergraduate student government External Vice President Guillermo Rogel as board chair, among other executive positions.
Sabo said that as president he plans to lobby the state and the UC to extend the tuition freeze to out-of-state students and students at the professional schools, increase UCSA outreach to the individual campuses and better the association's media presence and marketing.
"This year is about defining the next generation of student activists," he said. "We will defend the promise of an affordable and quality education as fiercely as previous generations of students defended free speech and student diversity."
He said he also plans on traveling to various campuses to discuss a new funding proposal for UCSA called Student Advocacy, Governance and Engagement, or SAGE. Currently, campus associations that are part of UCSA require students to pay a minimum of $1.30 in membership fees every year.
Sabo said that instead of students being forced to pay $1.30 every year, he is proposing a system where students can voluntarily pay $4 a year to the association. He said students would be given the opportunity to opt out of the payment when they register at the beginning of the academic year.
Sabo said he expects students to donate after hearing about the benefits UCSA brings to them. He added that even if only 75 percent of students donate, it would still amount to more than what UCSA receives currently.
In addition to setting aside time to discuss ideas for the campaign, the conference included workshops given by campus leaders and student organizations on a variety of topics, including marijuana legalization, how to effectively campaign on a grassroots level and how to combat sexual assault.
Avi Oved, the UC student regent, led a workshop on his shared governance proposal to increase student representation on the UC Board of Regents. Oved said he is pushing for an additional nonvoting student adviser to be added to the board, closer interaction – such as more meetings between student representatives and regents – and the addition of one more student regent by next year.
He said UC President Janet Napolitano and several regents support his proposal and that he plans on working with UCSA to lobby for an additional student regent, which would require a constitutional amendment with more than half a million signatures to get it on the ballot. A majority of California voters must approve the amendment for it to take effect.
The next UCSA board meeting will be in September.
Bharanidaran was the News editor from 2017-2018. He was previously a news reporter for the campus politics beat, covering student government and the UCLA administration.
Bharanidaran was the News editor from 2017-2018. He was previously a news reporter for the campus politics beat, covering student government and the UCLA administration.