Alums donate century-old letters capturing Indian immigrant's experiences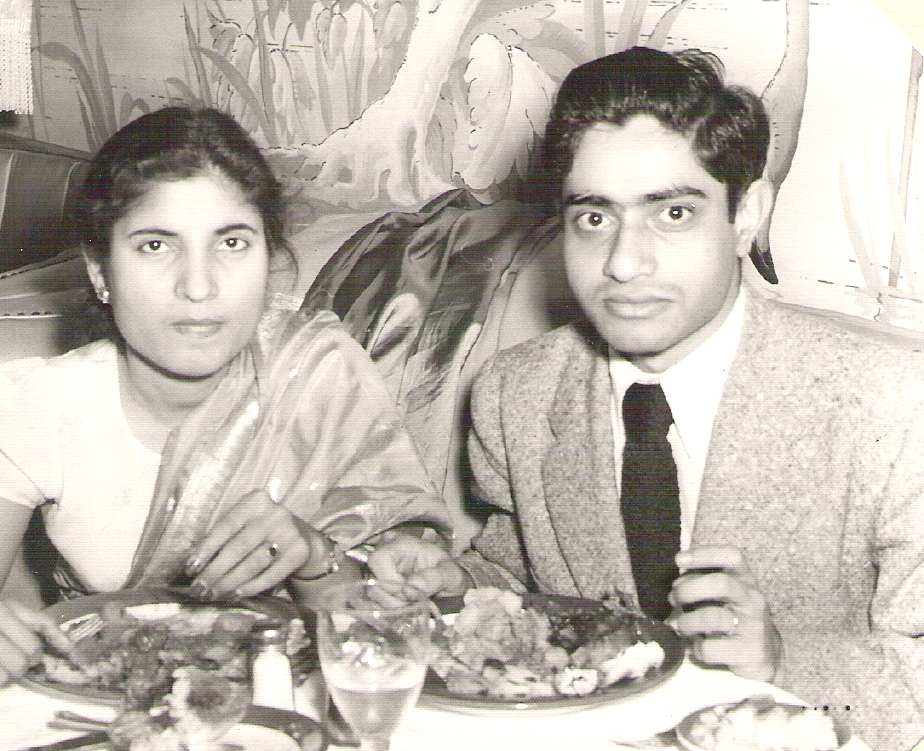 Raj Sharma and her husband Roshan Sharma met at UCLA in 1949. (Courtesy of Roshan Sharma)
Roshan Sharma was eating lunch outside Murphy Hall near the bus depot on Hilgard Avenue in 1949 when he saw a woman named Raj wearing a Punjabi outfit. He dropped his lunch, chased her down and helped her fill out her UCLA application.
He then found a place for her to live in the women's residence hall. They had several dinners together, and a connection sparked. Nine months later, the couple was married.
The UCLA alumni, now both 87 years old, went to the same college in the same small village in India, but they didn't meet until that one sunny lunchtime at UCLA. Now, they will donate about 600 letters from Raj Sharma's father to UCLA detailing his experience immigrating to California from India.
Roshan Sharma said he discovered both his love for Raj Sharma and his love for learning at UCLA.
In India, Roshan Sharma was forced to stick to physics and math – nothing else. He wasn't allowed to follow his other passions, like art and philosophy. It wasn't until he came to UCLA that he became fully well-rounded in his interests, he said.
"I found my freedom and I was basking in the sun of knowledge," Sharma said. "There was no ban to what I could study."
Because UCLA was so close to his heart, Roshan Sharma said he wanted to donate a part of history to the university's archives – the letters from Raj Sharma's father, Abnashi Ram, that dated back to 1920.
Michelle Caswell, an assistant professor of archival studies in the UCLA Department of Information Studies, met with the Sharmas Monday to discuss donating the letters to UCLA and the South Asian American Digital Archive, of which Caswell is a co-founder and board member. Several of the letters have already been donated there and are accessible to everyone nationwide.
Caswell said a 1923 U.S. Supreme Court case revoked the citizenship of thousands of Indian immigrants who had become naturalized citizens, and she thinks the letters are significant because they shed light on a period of time that historians know little about.
"A once-burgeoning South Asian American community started to dwindle, as many immigrants moved back to India in the wake of the decision," Caswell said. "These letters provide insight into what life was like for an Indian immigrant living in the U.S. during that time, and are an important, personal counterweight to official bureaucratic documentation of the time."
Ram first immigrated to escape an arranged marriage to a 15-year-old girl. Ram exchanged stories of triumph and tribulation with several pen pals during his immigration experience. Ram had to leave his daughter in India during the Indian independence movement, and he wrote he was worried she would be killed by other domineering men in their family.
Through correspondence, Ram helped many of his friends and acquaintances who immigrated to the U.S. find the resources they needed. Roshan Sharma said his father-in-law wrote letters to friends and correspondents until he died.
"I have tears in my eyes from reading (his letters)," Sharma said. "If I die, what good are they just sitting in the halls, if someone doesn't pick them up?"
Caswell said the letters also show a long history of South Asian American political activism against British colonial rule. She said she thinks they can spark conversation about activism against injustice today.
"I'm really excited that the letters are included in SAADA (so that) students, scholars, and community members can access them to learn more about the past."
About 19 years after he first arrived at UCLA, Sharma wrote a book in 1968 called "Holy Men and Holy Cows" about his beliefs and difficulties in coming to the U.S.
"The purpose of the original book was to describe my life's journey and what I had learnt through my struggles, dreams, and reflections," wrote Sharma, in the preface to the book. "I wrote about my native land of India, my chosen land of America and my inner land of ideas and beliefs. I wrote it for … anyone aspiring to realize oneself in pure freedom."
Sharma said he remembered feeling hungry as he waited in the customs line at the airport, after flying from India to America. A friend gave him a hamburger, which he gulped down without questioning its ingredients, and immediately asked for another.
When he found out it contained meat, Sharma said he could not believe he had eaten it – he was a vegetarian. But rather than feeling shame about what he had done, Sharma said he wanted to open himself up to the world.
"Life is a growing thing, something beautiful," he said. "(Many immigrants) don't live with virility – they bring the baggage along. UCLA taught me to open up and grow."