Capturing a Legacy: Family-run Bel Air Camera switches ownership after decades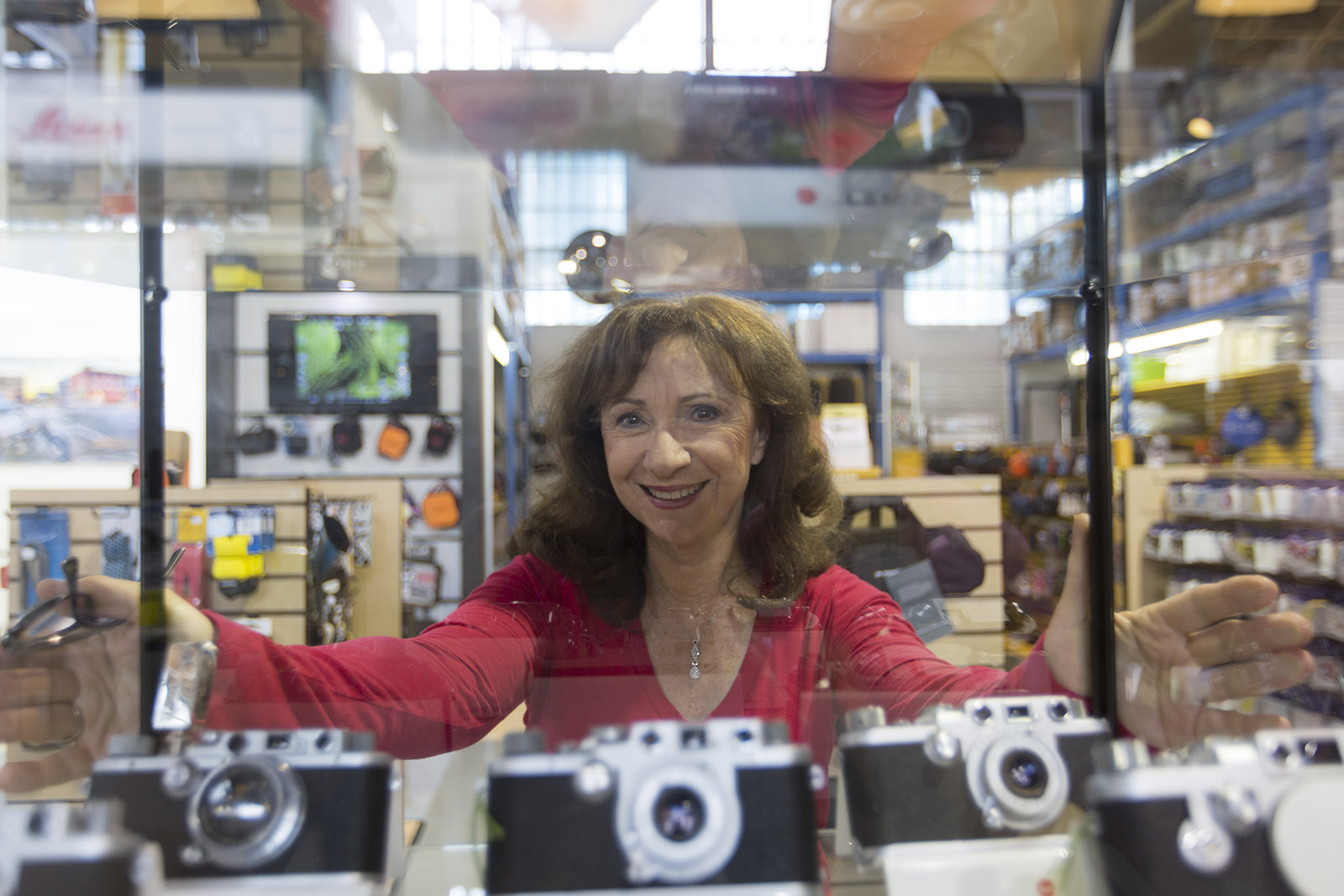 Bel Air Camera leaves behind the legacy of Holocaust survivor and founder William Herskovic after his daughter Suzanne Herskovic Ponder managed it for about 12 years. (Keila Mayberry/Daily Bruin)
Suzanne Herskovic Ponder handed over the keys to Bel Air Camera, a company that had been run by her family for more than 50 years, with a sense of finality.
The store, located at the corner of Gayley and Kinross avenues, was her home for decades and where she worked with customers on a daily basis.
Joseph Douek, owner of the New York-based Willoughby's camera store, bought the store on July 31 after it had experienced years of declining revenue and staff size, Ponder said.
Ponder's father, William Herskovic, opened the store in 1957 after escaping a concentration camp in Auschwitz and immigrating to the U.S.
During World War II, Herskovic attempted to flee to France with his family, but Nazi guards stopped them and put them on a train to a concentration camp. Herskovic was pulled off the train, taken to a different camp, and separated from his wife and two daughters, who he thinks were sent to the gas chambers.
Herskovic escaped from Auschwitz three months later on the first night of Hanukkah. He and two others dug out a pair of wire cutters they had hidden in the snow and cut through the chain-link fence while the guards were celebrating the festivities.
After running through the snow for hours, the three traveled back to Belgium and warned the Jewish community that the Nazi trains led to gas chambers instead of the rumored work camps. Herskovic's warning sparked the mobilization of a resistance and the rescue of hundreds who were about to be transported on the next train, wrote Ponder's younger sister, Patricia Herskovic, in her father's biography, "Escape to Life: A Journey Through the Holocaust: The Memories of Maria and William Herskovic."
Ponder said Herskovic delved into his work when he couldn't find his family.
"He was trying to heal himself," Ponder said. "There was no such thing as going to a psychologist or using drugs, so all he could do was work."
In 1946, Herskovic married his late wife's younger sister, Mireille, and moved to Brussels, Belgium, where they had three daughters and opened photography business. In 1957, Ponder's parents realized that Europe's constant wars were not conducive to raising a family and decided to move to the United States, where some of their friends had already immigrated.
"California was a dreamland," Ponder said. "Movies were made in Hollywood, and it was the land of milk and honey."
Ponder said Herskovic decided to open the store in Westwood Village because he thought the area was beautiful and liked its proximity to the university.
"Westwood was a paradise," Ponder said. "The Village was active, everyone was friendly and the UCLA campus was beautiful. There was nothing like that in Brussels."
Bel Air Camera originally opened at 927 Westwood Blvd. in the Holmby Hall clock tower building. Ponder recalls the store had a line out the door from the day it opened and her parents quickly built relationships with regular customers.
Aside from the Westwood regulars, Ponder remembered many celebrities, including Elvis Presley, Marlon Brando, Henry Fonda, Red Skelton and Tony Curtis, who frequented the store.
Ponder took over the store about 12 years ago, three years before her father died from cancer. She said she thinks business has slowed considerably over the past few years because of the prevalence of smartphones and the Internet revolution.
"The business was not very profitable, and we had to cut down our employees by more than half," Ponder said. "I am over 65, and my mother is over 90. It was just time to retire."
While on a vacation to New York City in April, Ponder visited Willoughby's, the oldest camera store in the city. She left a message with Douek, and they later discussed her plans to sell the Westwood business.
Ponder officially sold the store to Douek on July 31. She added that she and her family enjoyed the opportunity to develop relationships with a variety of repeat customers, from doctors and researchers to scientists and artists.
"It's been wonderful for our family to have this store and serve the community," Ponder said. "Now it's time for the younger generation who has the energy to work in what has become a difficult industry."
Douek will continue to work with most of the existing staff and will keep the store name. He said he wants to assess the market in Westwood before making any changes to the store.
Douek added he plans to emphasize products that the younger generation is interested in, such as GoPro cameras.
"My vision is to restore the shop to its former glory and once again make it a premier destination," Douek said.
General manager Fred Silvers, who has worked at Bel Air Camera for more than 40 years, said he has confidence in Douek's ideas for the store. He added he sees similarities between Douek and Herskovic, who had a passion for the industry and worked directly with customers in the store.
"Not only does Joseph have the energy to make the business a success, he's a hands-on owner who is willing to get out there," Silvers said.
Neomi Meir, purchasing director of Bel Air Camera, said she believes Herskovic's legacy will live on despite the change in ownership. She added that Herskovic's desk, with his original name plaque, remains in the main office, and Douek plans to display pictures of Herskovic in the store.
"(Ponder) talked about selling for many years, but this time she was ready," Meir said. "It was time for a change."
Sierra deSousa is currently a news reporter covering Westwood, transportation and Los Angeles. She has also covered the University of California.
Sierra deSousa is currently a news reporter covering Westwood, transportation and Los Angeles. She has also covered the University of California.