Dream Summer program provides internships to undocumented students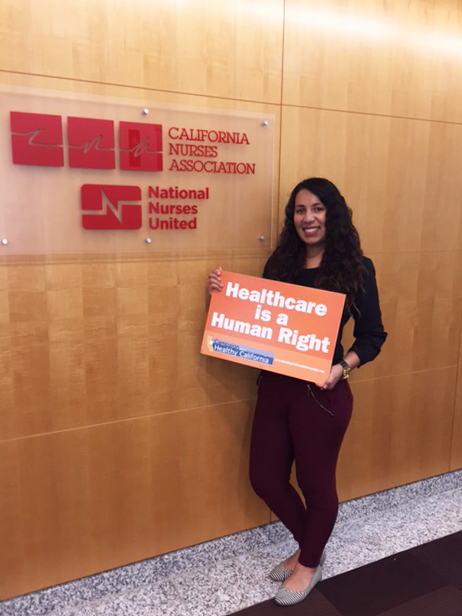 UCLA alumna Katherine Herrera, among other students, got accepted into Dream Summer, which helps undocumented students gain internships. (Courtesy of Katherine Herrera)
Katherine Herrera always wanted to work in public health. However, being undocumented meant that she did not have access to the networks she needed to achieve that goal.
"The only career experience I ever had was working in retail," she said. "I never had the opportunity to further my career goals and get professional experience."
Herrera, who recently graduated, said her desire to gain professional experience led her to apply for Dream Summer, a national, ten-week internship program primarily for undocumented youth.
The UCLA Labor Center's Dream Resource Center, which does research on immigration issues, runs the program that offers participants paid internships in nonprofit organizations and advocacy groups that focus on social justice causes.
Seth Ronquillo, a spokesman for the Dream Resource Center, said the center created the program in 2011, after Congress failed to pass the DREAM Act in 2010, which would have given undocumented youth who came to the United States before the age of 16 a pathway to citizenship.
Ronquillo added that the program also aims to encourage undocumented youth to push for nationwide immigration reform. He said the program brings together participants to discuss immigration issues during two summits in Los Angeles, one before and one after the internship.
"Many of the participants in the program go on to become the leaders of the immigration reform movement," he said. "By working in social justice organizations, they are given the resources they need to continue in activism."
Through Dream Summer, Herrera is interning at the California Nurses Association, a labor group where she is working on advocating for universal healthcare for all Americans, with an emphasis on undocumented individuals.

"Everyone, even undocumented individuals, should have basic access to healthcare," she said.
Last month, Herrera flew to Oakland to attend presentations on universal healthcare coverage and testified in front of Assemblymember Sebastian Ridley-Thomas' staff members about how her inability to receive healthcare as an undocumented individual took a toll on her family.
Ronquillo said the program also provides internships to allies who are simply interested in immigration issues.
Magdalena Vasquez, an ally and fourth-year Chicana/o studies student who is now interning at Faith in Action Kern County, a church group that provides services for undocumented individuals, said she joined the program because she is interested in working in the nonprofit or advocacy sectors in the future.
She said she is working on promoting Senate Bill 4, a bill in the California State Senate that proposes to expand health care coverage to undocumented individuals.
"A lot of people (in Kern County) don't know much about this law, so right now we're working on getting more people informed," she said.
For Ivette Becerra, an ally who also recently graduated, Dream Summer is about making the most of the opportunities available.

"I graduated high school in 2009, when there was no Deferred Action for Childhood Arrival," she said. "These days we say we're 'undocumented and unafraid,' but back then, we were afraid."
Becerra, who was previously undocumented and received a green card in 2013, said she thinks programs like Dream Summer give undocumented youth the connections they need to more easily achieve their goals.
"In spite of my undocumented background, I was able to succeed through support networks," she said. "I want to become an attorney for undocumented individuals, and this program connects me with people who can help make that happen."
Bharanidaran was the News editor from 2017-2018. He was previously a news reporter for the campus politics beat, covering student government and the UCLA administration.
Bharanidaran was the News editor from 2017-2018. He was previously a news reporter for the campus politics beat, covering student government and the UCLA administration.