Pac-12 adds sand volleyball, UCLA coach transitions to focused role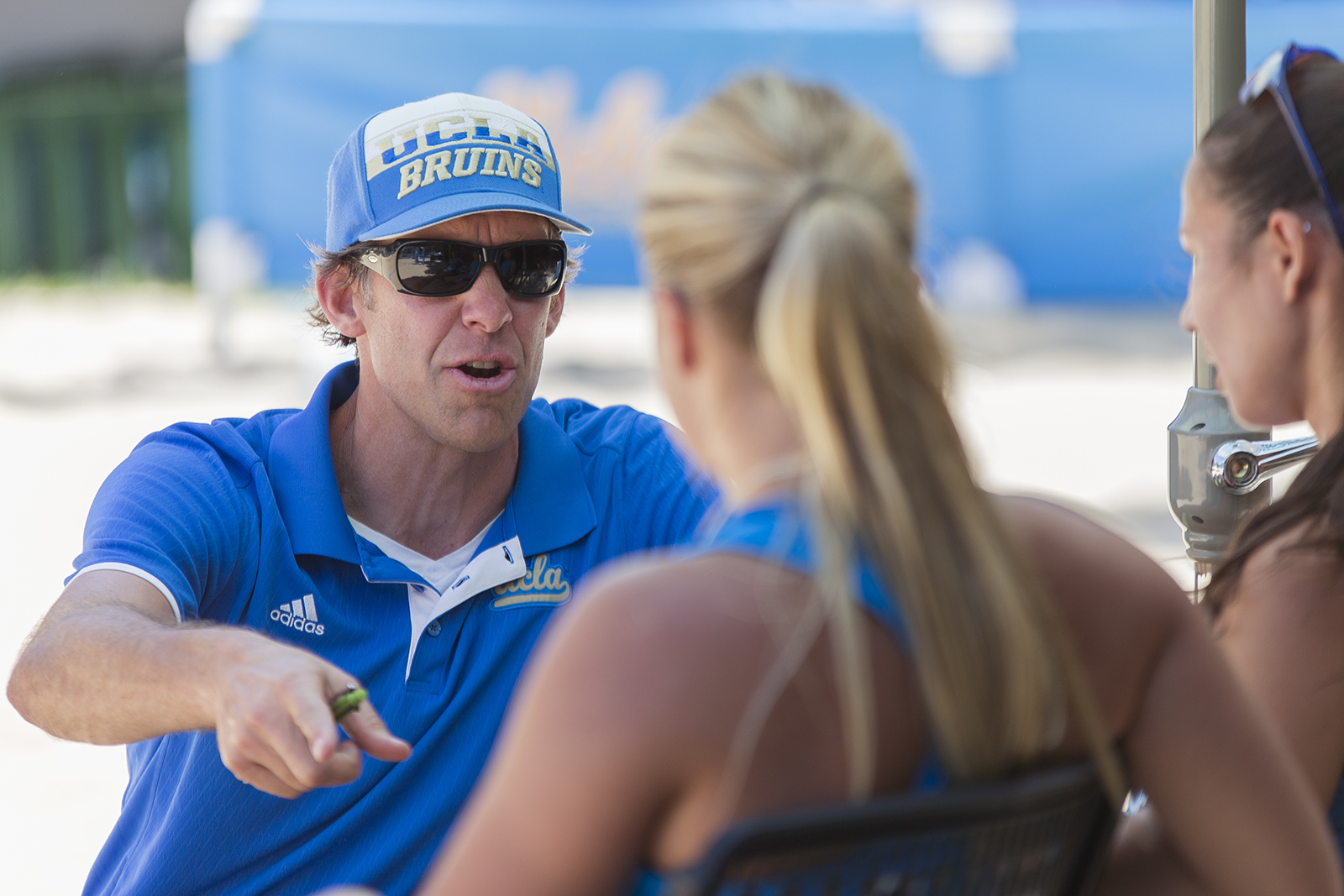 Stein Metzger, a UCLA Athletics Hall of Fame inductee, used to split time coaching UCLA women's volleyball and the fledgling sand volleyball program. Now that sand volleyball has officially gained Pac-12 Division I recognition, Metzger will move to coaching the team full time. (Aubrey Yeo/Daily Bruin senior staff)
A wave of change will hit the NCAA's newest collegiate sport in 2016.
With it will come new formats for teams looking to claim the conference and national title. Meanwhile, the head of the UCLA program will adopt a more focused role for a Bruin team that has continued to develop with each season.
The Pac-12's decision to officially recognize the sport was made on June 8 during its annual summer meetings and follows the NCAA's recognition of the sport in early January.
Kathy DeBoer, the executive director of the American Volleyball Coaches Association, said through a release on NCAA.com that she expects more conferences to follow suit.
"People are telling us that they are considering adding sand volleyball," DeBoer said in the release. "We've talked to people in the last week from Alaska, Wyoming and Nebraska. Once the NCAA adds a sport as a championship, it legitimizes the sport. Now people will look at it as something that is here to stay."
The conference currently has eight member schools with sand volleyball programs: UCLA, Arizona, Arizona State, Cal, Oregon, Stanford, USC and Washington.
In the upcoming 2016 season, those schools will compete in the inaugural Pac-12 sand volleyball championship with a new, to-be-determined format. In the recently concluded season, UCLA, Arizona, Arizona State, Cal and USC competed in a five-team Pac-12 Invitational, with the Trojans clinching the invitational championship.
The 2016 postseason will end with the first eight-team NCAA sand volleyball championship, tentatively scheduled to take place in May.
Since 2012, the top college sand volleyball teams on the AVCA poll competed for the annual AVCA sand volleyball championship, with Pepperdine winning in 2012 and 2014, Long Beach State winning in 2013 and USC claiming the 2015 title.
UCLA sand volleyball coach Stein Metzger, who has had the head coaching job at UCLA since the program's inception, will continue as coach of the Bruins in sand volleyball's first year as an NCAA sport.
"It's a dream come true to be the first full-time head coach in the sport, and at the institution for which I have so much history and fondness," Metzger said in a press release through UCLA Athletics. "I consider it a privilege to join this hard-working group of young women year-round as they work to fulfill their aspirations in the sand discipline."
Metzger, a UCLA Athletics Hall of Fame inductee, has accrued a multi-year beach volleyball career which includes 16 first-place finishes in the Association of Volleyball Professionals Tour, and a fifth-place finish at the 2004 Summer Olympics in Athens.
Prior to competing in the beach scene, Metzger spent four years on the UCLA men's volleyball team as a setter. Metzger helped clinch three NCAA men's volleyball championships during his time as a student-athlete.
Metzger returned to his alma mater in 2012, juggling his sand volleyball coaching responsibilities with a volunteer coaching position with the women's volleyball program. In 2013 and 2014, his role with the women's volleyball program was changed to an assistant coach. But after three years of coaching both teams at UCLA, Metzger will relinquish his indoor commitments in order to focus on the sand volleyball program.
"Stein did an amazing job juggling both programs while he needed to, but it was obvious that no one person could be asked to sustain that level for an extended amount of time," said women's volleyball coach Michael Sealy in a press release through UCLA Athletics.
Metzger's move to focus on sand volleyball mirrors UCLA's player roster throughout its three years as a program. In its first two seasons, the team largely had athletes borrowed from the women's indoor team, while the 2015 season saw a transition to a young roster consisting of mostly sand-only athletes.
The upcoming 2016 season will potentially see 13 of the team's 15 returning players, while the team is also expected to introduce incoming freshmen 2014 Youth Olympic Games silver medalists Megan and Nicole McNamara to its lineup.