Westside Special Olympics' artistic gymnast to compete in World Games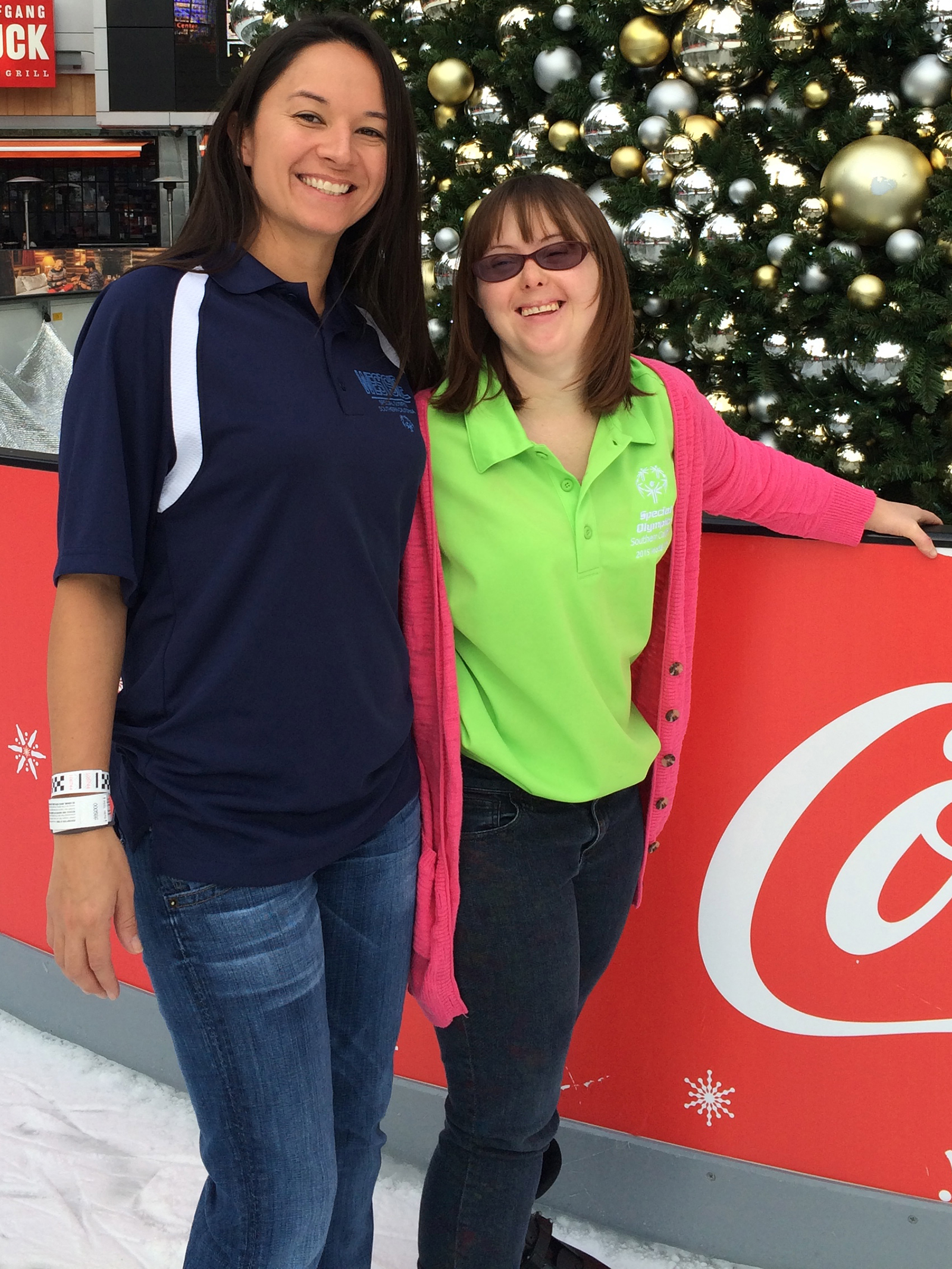 Artistic gymnast Caelyn Griffith is one of eight women artistic gymnasts picked to compete for Team USA in 2015 Special Olympics Summer World Games. (Courtesy of Natasha Burgos)
The original version of this article incorrectly said that the gymnastics competition will be held in the Pauley Pavilion. In fact, it will be held in the John Wooden Center.
Natasha Burgos knew her gymnast, Caelyn Griffith, was on vacation. But the good news couldn't wait.
The local gymnastics coach called her friend and Griffith's mother, Clausine Honda, and gave a family summer camping trip a happy interruption: Griffith had been selected to compete in the 2015 Special Olympics Summer World Games.
Griffith's selection was cause for excitement, but also somewhat unexpected given the thousands of eligible Special Olympics artistic gymnasts. Griffith, 20, of Culver City, was just one of eight women artistic gymnasts picked to compete for the United States in this summer's World Games, which start July 25 and include more than a week of competition at sites around Los Angeles, including UCLA and USC. She is the Westside Special Olympics gymnastics team's lone representative in the World Games and the first Westside gymnast Burgos has seen selected in 13 years of coaching.
Burgos said Griffith improved her chances by winning five gold medals at a Southern California Special Olympics competition last summer, but added the lottery selection process is still random.
"It's kind of like playing the lottery," Burgos said. "Realistically it's a very slim chance."
That slim chance has blossomed into an opportunity for Griffith, who has been training with Burgos in preparation for the competition, which will be held at John Wooden Center.
The two meet every Wednesday at Broadway Gymnastics School to nail down routines and practice alongside the rest of the Westside Special Olympics gymnastics team. While Griffith has been afforded a chance her peers have not, Burgos said her student has taken her selection in stride.
"I think Caelyn's done a really good job with that," Burgos said. "Caelyn has been a leader, which is great because she is an athlete I've had for a long time. In that aspect it's been great and truly a reason why they couldn't have picked a better person to represent us."
As a representative of Team USA, Griffith also went to Indianapolis in October to train with her new team.
"I liked it over there and the experience I had going there will help me," Griffith said. "I met new people, including my new coach."
Griffith won't see her national team coaches again until the World Games, so in the meantime Burgos has been posting her routines on YouTube for the national coaches to see.
The upcoming stage for Griffith will be bigger – Honda said she expects upwards of 20 family members and friends to attend­ – but her preparation has been familiar. Burgos has worked with Griffith for more than 10 years and said Griffith has become like a second daughter to her.
"She was in her early 20s and hadn't even graduated from college yet when Caelyn first started," Honda said. "I watched her grow up as Caelyn has grown up. She's been a good extension of our family."
That relationship goes beyond gymnastics. Burgos said a key principle of Special Olympics and her outreach program in Santa Monica for individuals with disabilities is learning to live a healthy lifestyle. In competing at the World Games, Burgos said Griffith can be a spokesperson for others living with disabilities.
It's something Griffith also applies to her daily life. She plans to attend Taft College in Bakersfield and is working toward living independently.
In the meantime, Griffith has a few goals to accomplish in the John Wooden Center. She said she wants to perform well and master her handstand, but she's also thinking about something more important.
"I want to challenge myself," she said. "I just want to get better for myself."
Burgos said she told Griffith to focus on the little things of gymnastics – pointing her toes, keeping artistic presentation in mind ­and, of course, remembering to smile. Honda said she echoes her daughter's goals and hopes she savors the moment.
"It's a once in a lifetime for sure," Honda said.