Employee explores healthy cuisine, hopes to impact students' lives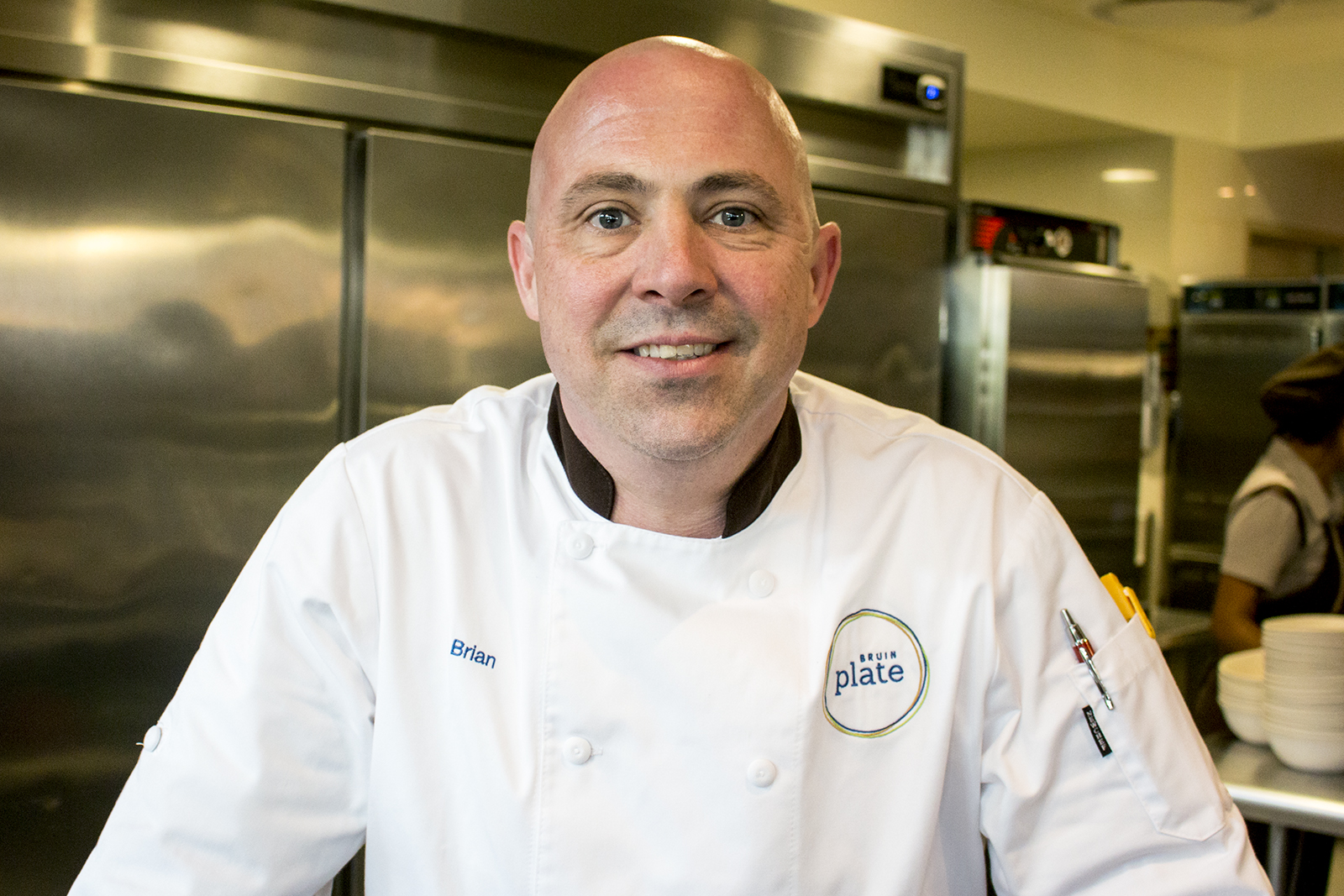 Brian Smith, a principle cook at Bruin Plate, dropped out of college to pursue a career in the culinary arts. (Jessica Zhou/Daily Bruin)
Brian Smith was on track to be a businessman or a lawyer, but he realized his true passion was cooking. At the age of 19, he dropped out of college to pursue a career in the culinary arts.
For Smith, now a principal cook at Bruin Plate, getting a job at the dining hall on the Hill meant finding his ideal workplace.
Smith's co-workers said he walks from station to station with a huge smile on his face, making sure food standards are met while greeting fellow employees.
While making his rounds, Smith approached a student to ask how her meal was. She said it was great, but wished there was more shrimp in her pasta salad. Smith apologized, went back to the kitchen and returned with a plate of shrimp.
As the principal cook, Smith fills produce orders, samples each dish to check for both high-quality presentation and taste, and oversees staff placement at each station to ensure efficiency, among other tasks.
At UCLA, Smith said he is able to explore his passion for cooking and experiment with new types of healthy cuisine that satisfies students. He added that he aims to create dishes that allow students to perform their best, while avoiding the negative connotations that come with the "healthy" label.
"It looks good and tastes good and you don't feel like you need to take a nap afterward," Smith said.
Smith came to Bruin Plate when the restaurant opened in 2013 after developing managerial skills in the insurance industry.
At the age of 19, Smith was attending Cornell College in Iowa, but said he longed for a creative, exciting work environment. Smith decided the best way to achieve that goal was to drop out of college and pursue a career in culinary arts. Since then, he has worked in upscale restaurants, catering ventures and hotels.
Virginia Smith, his mother, said cooking came naturally to Smith from a young age. She said her son could open the fridge and make something delicious out of whatever he found. Even when he was a toddler, he had a taste for finer foods, ordering salads at 3 years old, she added.
Smith got a job at an upscale French restaurant in Chicago called Jimmy's Place where he advanced from making appetizers to line grilling. It was here, Smith said, that he learned all the tricks of cooking, from making pastries to knowing which spices work best together.
After living in California for a while, Smith said he was attracted to Bruin Plate because of its relative novelty as a dining option for a college campus.
Smith said he has made lasting friendships at Bruin Plate and that those relationships keep him motivated through the day.
"Any place that you work, you get to know people closely," Smith said. "We've got good people who care about each other and the food, who take care of each other and work for the team."
Smith's caring attitude toward his fellow employees and his passion for his job makes him stand out, said Concepcion Carcano, an assistant food service manager at Bruin Plate.
"He's really outgoing and really focused on what he does," Carcano said.
Carcano said when Smith gets to work in the morning, he starts making his rounds right away. As soon as he walks through the door, Smith makes sure everything is taken care of, she added.
Roger Shanklin, an assistant cook at Bruin Plate, said Smith makes sure each person is having a good day. If staff members are facing hardships outside of work, Smith makes sure they receive signed condolence cards and gifts.
Shanklin said he thinks Smith's passion inspires others who work with him to take pride in their work.
"If you ever want to know anything about food, come see Brian. He really loves Bruin Plate," Shanklin said. "Our care for this place comes directly from him. He shows why you should care and gets you to take pride in working here."
Smith said he sees himself staying at Bruin Plate. He added that he finds his work meaningful because he impacts students' lives by influencing the food they eat.
"Sometimes you think, 'I just make someone's lunch,' but we feel we do a good thing," Smith said. "People acknowledge us, say 'thank you,' give us feedback and make us feel appreciated. This is my favorite place."