Bruin Plate worker, single mother, strives to be daughters' role model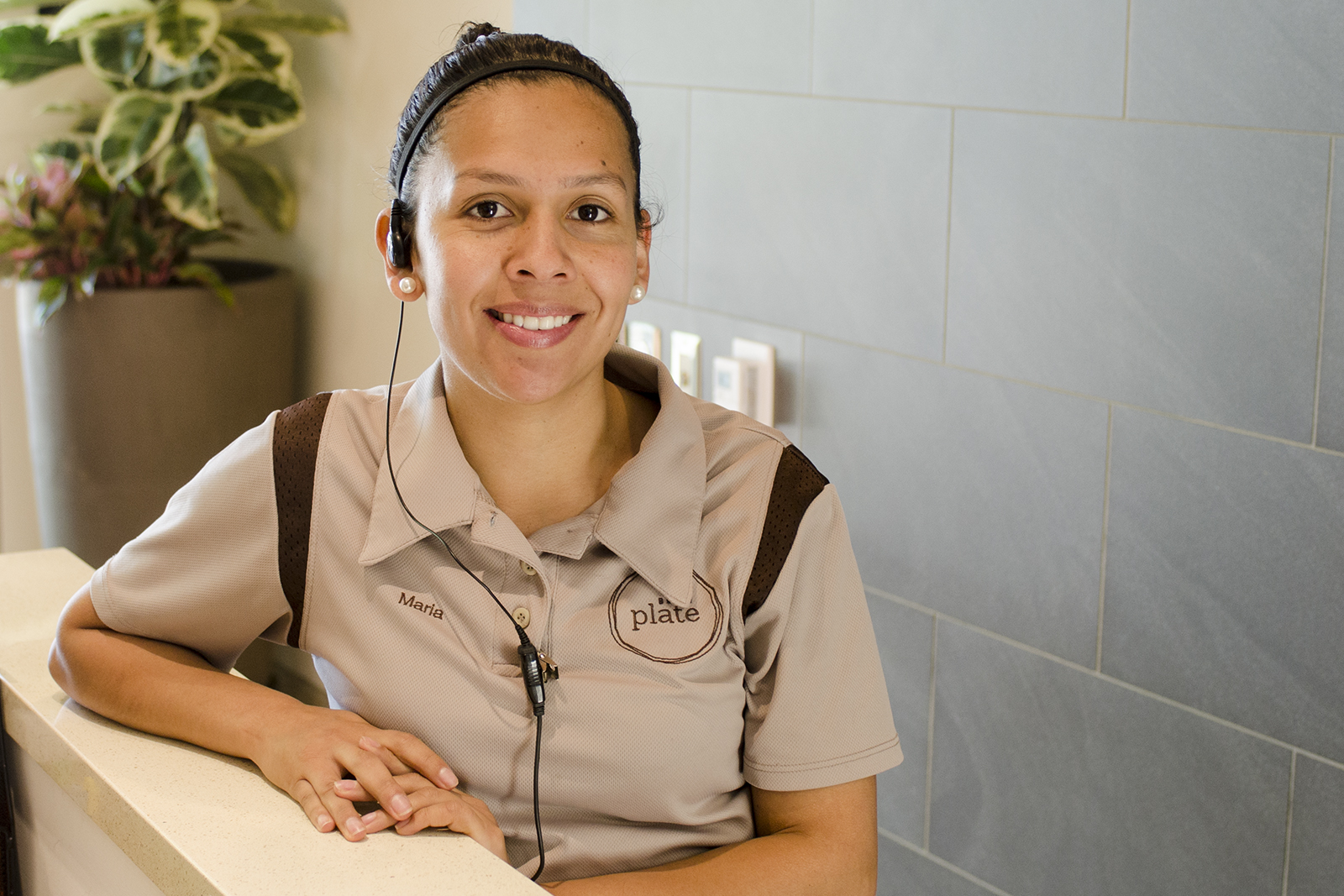 Maria Lopez, a food service worker at Bruin Plate, hopes to enroll in the UCLA nursing program in the future. (Bailey Greene/Daily Bruin)
When Maria Lopez held her daughter in her arms for the first time seven years ago, she could hardly describe her joy in knowing the little girl was really hers.
"(Your children) make you laugh, and just knowing that they're yours – I can't explain – they're your everything," Lopez said. "Even though they misbehave and you get upset, oh my gosh they're yours!"
Now, the 24-year-old single mother has found work in UCLA's Bruin Plate, a dining hall on the Hill. She hopes to one day work as a nurse at the Ronald Reagan UCLA Medical Center.
Lopez, a food service worker, came to UCLA about two years ago when Bruin Plate first opened. She was looking to find work to support her two children, 7-year-old Kimberly and 3-year-old Samantha. At Bruin Plate, Lopez works at the hostess station and swipes students in.
Lopez said she is grateful to work at Bruin Plate because she can earn money and benefits while having a flexible schedule that allows her to be with her daughters after school. She spends her shifts interacting with students, who have helped her come out of her shell.
Lopez said she loves her job because of its benefits and perks, but she still dreams of becoming a nurse.
She said she wants to one day finish her high school degree and enroll in the nursing program at UCLA. She developed a passion for nursing by helping others over the last few years, but she has put her potential nursing career on hold so she can support her daughters.
Lopez dropped out of Birmingham Community Charter High School at the age of 16, after she was told her pregnancy was high-risk.
Lopez said being the youngest of eight children has its benefits. Her older siblings with children taught her how to change diapers and feed babies, but having a child of her own was a completely new experience.
Though Lopez earned a medical assistance diploma, she could not find the time to go to nursing school. After having a second daughter three years ago, Lopez said she knew that she had to find work.
"They motivate me to keep going," Lopez said. "I come to work regardless of how I feel (that day) because I need money to support the girls, and honestly I really like working here."
Oliver Del Rosario, a food service manager who has worked with Lopez her entire time at Bruin Plate, said Lopez is endlessly positive and goes above and beyond in her work.
Del Rosario said Lopez goes around to the people at each station before the dining hall opens and asks how she can help. He believes Lopez would make a fantastic nurse because she takes care of everyone around her.
"She has a great capacity for empathy," Del Rosario said. "She goes out of her way to talk to anyone who is sick, and is a beacon of positive energy."
Jenny Escobar, another food service worker at Bruin Plate, said Lopez makes sure each person feels included. She said Lopez brings balloons and cake on co-workers' birthdays.
"When you get overwhelmed, she'll come by and we'll talk and laugh and make jokes about random things," Escobar said.
Lopez said it is sometimes hard to stay so positive, especially after facing so many challenges in her personal life.
She said she is not on bad terms with her family, but there is a newfound tension regarding her decision to be a single mother.
"You have to be strong, and it's your decision and you know what's best for you," Lopez said. "It hurts knowing they don't approve of what you want to do, but they are your family so you still love and respect them."
Lopez said her family still supports her and watches over her children frequently.
Her sister, Sonia Lopez, said that as the baby in the family, Maria Lopez was always the one protected from the outside world. Now that she is supporting her own family, she will be able to succeed in anything she does, Lopez added.
"She knows how to take care of people and she has great patience," Sonia Lopez said. "We are happy to support her."
Maria Lopez said that while she cannot go to nursing school for the next few years because of her young daughters, she wants her daughters to look up to her and see her as a role model for hard work.
"I want them to be proud of their mom," Lopez said. "Later on maybe, when I become a nurse, they can look up to me and (know that) even though she had us young, she still did something with her life."