Bruins move on to NCAA West Regional following Pac-12 championship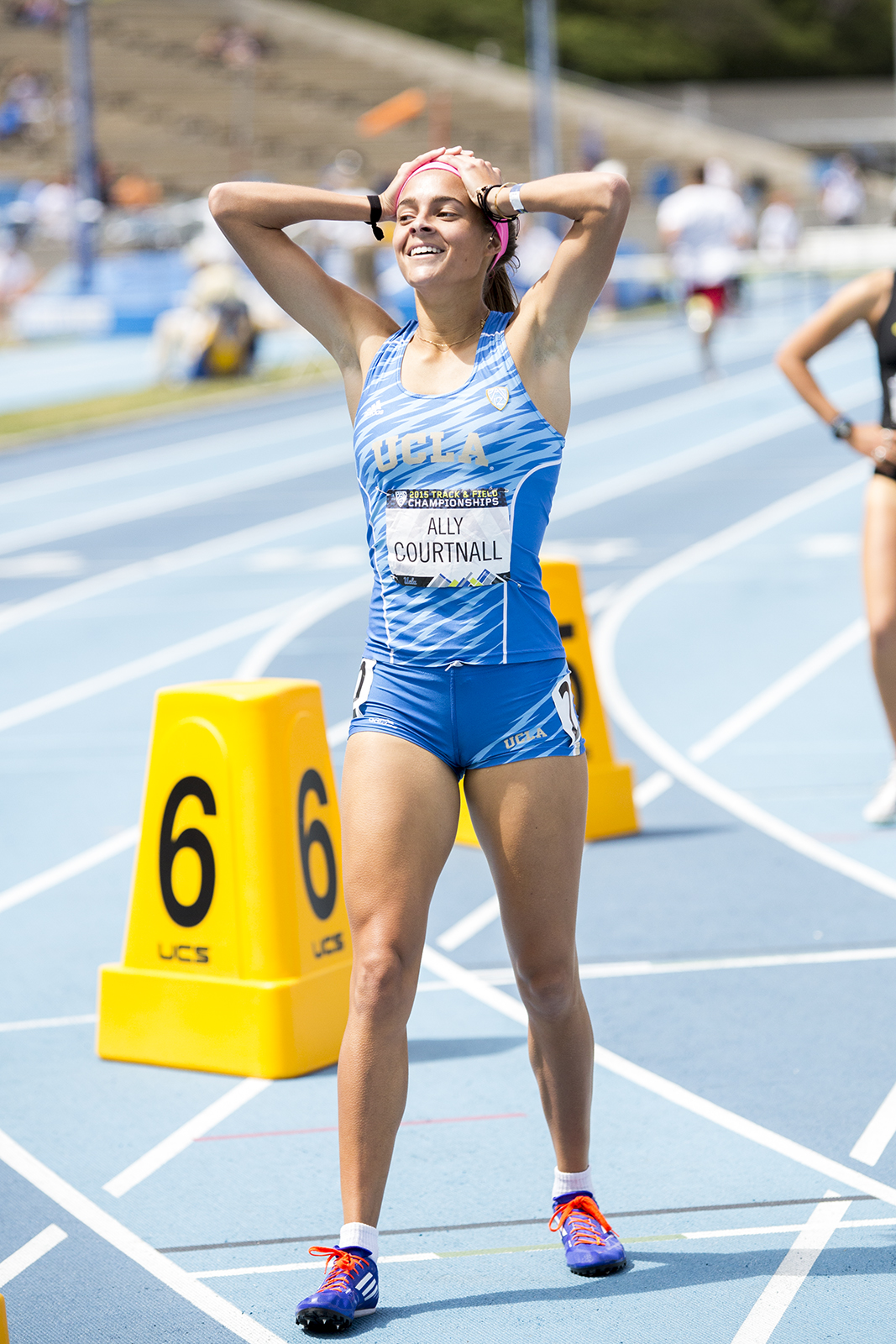 Senior middle distance runner Ally Courtnall dropped her personal-record time in the 800 meters by over three seconds in Sunday's Pac-12 championship. With her fifth-place time of 2:05.48, Courtnall qualified for the NCAA West Regional in Austin, Texas on May 28. (Owen Emerson/Daily Bruin)
Of the 21 participants competing in the women's 800 meters on Saturday at the Pac-12 conference championship at UCLA's Drake Stadium, Ally Courtnall was the lone senior.
Courtnall, who sported a large pink headband throughout the weekend, was easily visible from anywhere on the track. As she and the other six participants in her heat approached their stances, the once-boisterous Drake Stadium suddenly fell into silence.
Seconds later, the start gun was shot, and she was off.
Courtnall was fresh off a first place victory in the 800m at the USC dual meet. Yet, coming into this Pac-12 title meet, the senior's top 800m time of 2:09.57 ranked No. 18 in the Pac-12 and No. 157 in the nation. A dual-sport athlete who was also a defender for UCLA women's soccer from 2011 to 2014, Courtnall said she decided to take some time off from soccer in order to improve her times for the current track season.
Placed in the last of the three heats, Courtnall was able to finish third in her preliminary heat, slightly improving her time to 2:08.89. Coming into the final round on Sunday, Courtnall could be seen jogging around the UCLA Intramural Field, pink headband and all, warming up for her first Pac-12 final event in the 800m. Despite being the only senior in the event, Courtnall was faced with the likes of immense competition as Oregon's standouts Raevyn Rogers and Annie Leblanc who each boasted personal bests of under 2:04.
As assistant sprints, hurdles and relays coach Joanna Hayes put it last week, "There's no pressure to win. Just pressure to perform well."
By 3 p.m., the final seven runners were lined up on the track, Courtnall in lane five. At the start of the race, Courtnall kept in the middle of the pack for the first lap. As the second lap commenced, Rogers and Leblanc began to work with each other to take the lead. Despite this gap, Courtnall maintained composure and began to kick in the last 200 meters. Suddenly, despite the two Oregon runners creating a seemingly insurmountable lead, Courtnall was in the hunt for third.
In a close finish, Courtnall finished fifth, only 1.48 seconds separating the third and fifth place finishers. However, as Courtnall looked up at the newly implemented score board at Drake Stadium, it read "2:05.48" next to her name on the large screen. Courtnall not only achieved a personal best that was over three seconds faster than her last, but also secured a spot as the seventh-fastest time in Bruin track and field history and earned a trip to the NCAA West Regional. As she was seen again running around the IM fields, this time preparing for the women's 4x400m relay, Courtnall said she was lost for words.
"Oh my God, it feels amazing, I would've never thought that I could've done something like that," Courtnall said. "It feels amazing and unreal to accomplish something to that extent."
Even still, Courtnall said she's aware that her goals must be realistic. At this point in the season, it might be almost impossible for her to keep dropping her personal records by seconds at a time, but this does not mean she cannot improve. Courtnall was clear in her goals for regionals and subsequently nationals.
"For me I think it's just getting out harder," Courtnall said. "I think the races are going to speed up, especially the first lap not being as conservative, and just focusing on my speed that's going to carry me into the second lap."
Courtnall's standout performance at Pac-12s left a lasting impression on her fellow 800m runner and All-American teammate, junior Nick Hartle.
"Ally is amazing," Hartle said. "I looked up and saw 2:05 and I was like what? Is that real? She crushed it."
As for his own achievements and goals, Hartle finished third in the 800m and said he hopes to improve further during the last two weeks of the outdoor season. Having been to nationals in 2014 but failing to make the finals, Hartle said he will use his experience to his advantage.
"I kinda know what it's gonna take at that stage this time," Hartle said. "Assuming I make the finals this year at nationals, next year I'll know how it feels. So if not this year then definitely next year hopefully I'll be able to get the 10 points for UCLA at the national meet."
Setting the bar high
Redshirt sophomore Cody Crampton was able to successfully follow a specific plan this weekend in the high jump. Finishing third in the event with a jump of 7 feet, 1 inch, Crampton said he and his coaches are excited about his opportunity.
"My coach created a plan for me to peak at the beginning of regionals, so that nationals could be a huge opportunity," Crampton said. "The work this week was just to take it up as far as we could go, so right now I'm at the middle of what we called 'the peak cycle.'"
Crampton has his sights set clearing 7-3 at nationals, as he said he believes this will be a confidence-boosting mark for his participation in international competition this summer. However, just like Courtnall and Hartle, the high jumper credits much of this weekend's success to experience.
"Last year I came to Pac-12s, and it didn't go as I wanted," Crampton said. "But this time I knew how it was, I wasn't a deer in a headlights, and so these championship-type meets become easier and I know what to do and not do."
Courtnall, Hartle and Crampton will travel to Austin, Texas on May 28 along with a few other Bruins for the West Regional, where experience could once again play an integral role in the Bruins' performance.
Sairam joined the Bruin as a freshman in 2015 and contributed until 2018. He spent time on the football, women's soccer and track and field beats.
Sairam joined the Bruin as a freshman in 2015 and contributed until 2018. He spent time on the football, women's soccer and track and field beats.