UCLA graduate student incorporates dance background into activism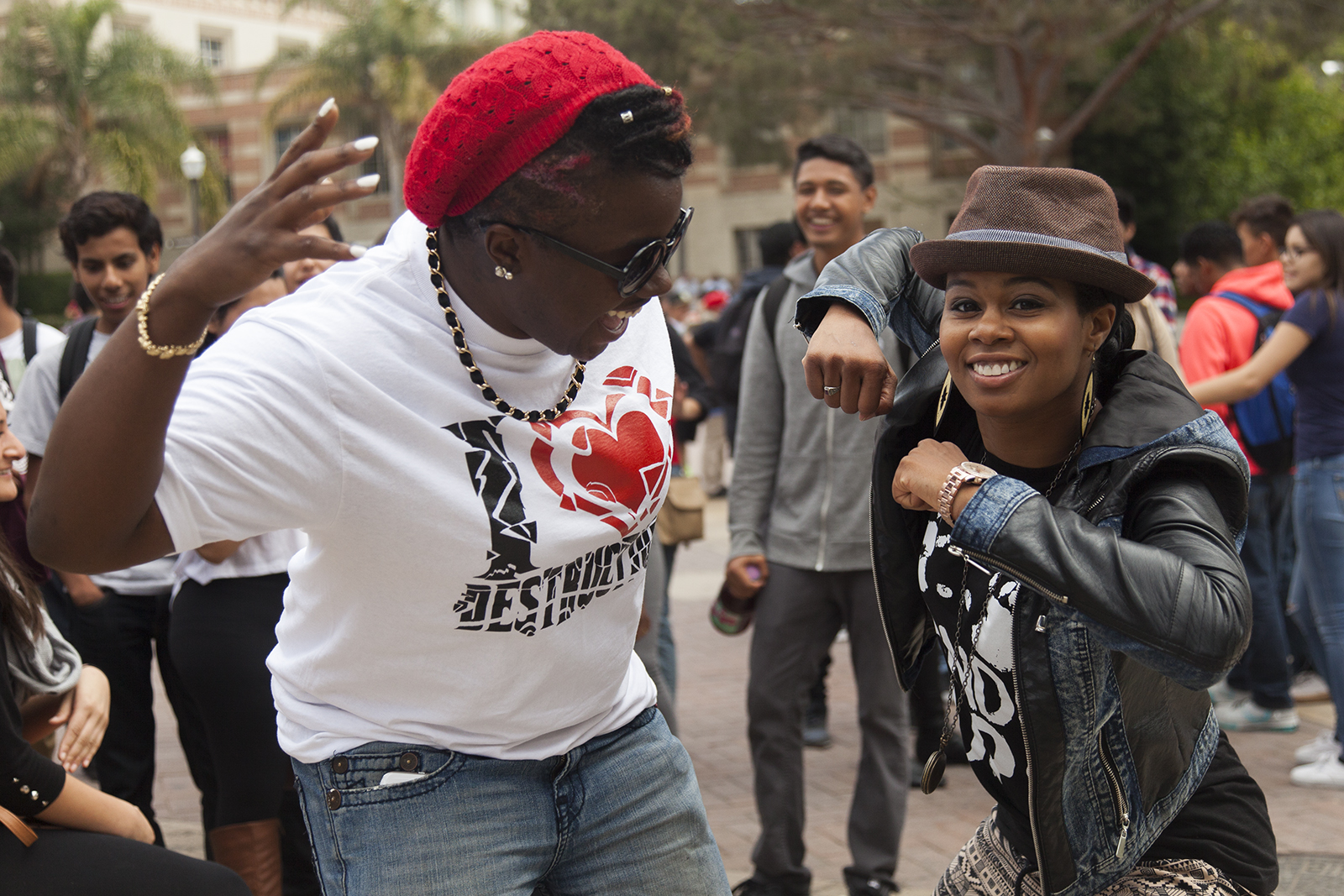 Shamell Bell, a UCLA graduate student in culture and performance, and Deidra "Krucial" Cooper demonstrated some of the street dance moves they incorporate into their protests. (Hannah Ye/Daily Bruin)
She stood in front of the downtown Los Angeles police station for hours, repeating movements and instructions before a small group while music blared from a speaker. Shamell Bell was teaching street dancing to protesters and passersby as part of an 18-day protest following the release of Ezell Ford's autopsy report on Dec. 29.
"We all danced as a form of liberation," Bell said. "Whatever talent you have, you can use it to be a part of social action."
The graduate student in culture and performance uses her background as a dancer in her work as an organizer for the Black Lives Matter movement by incorporating dance into protests and events. Black Lives Matter started after the acquittal of George Zimmerman in 2013 for the shooting death of unarmed black teenager Trayvon Martin.
Ford, a mentally ill black man, was shot and killed by police in August. Massive protests have taken place across the U.S., including in Baltimore and Ferguson, Mo., in response to the killings of black people by police.
Bell said her role as an organizer and one of the founders of Black Lives Matter in Los Angeles began with her undergraduate education at USC.
She said she took a class with Robin Kelley, who currently teaches history at UCLA, on race and class in Los Angeles. She said Kelley helped her to realize that her papers on displacement and gentrification could have an impact beyond the academic sphere.
"At the end of class we would have these A papers and I was wondering, why don't we do a town hall?" Bell said. "I wanted to be able to do more than theorize about issues."
Melina Abdullah, a professor of Pan-African studies at California State University, Los Angeles, met Bell when she was a student at USC.
Abdullah said she and Bell were some of the original organizers of Black Lives Matter in Los Angeles. They had been involved in organizing events for victims of police brutality, but Patrisse Cullors, one of the founders of Black Lives Matter, encouraged them to think about the protests as part of a larger movement.
"Two days into demonstrations with Trayvon Martin, we were convened by Patrisse to think about how we could become a movement, not a moment," Abdullah said.
Bell said her background as a street dancer and krumper has become integral to her activism. Krumping is a highly energetic form of street dance that was popularized in the 1990s and used by black youth as an alternative to gang life. Bell was part of the krump movement when she was younger and was in a documentary about krumping called "Rize."
During the civil rights movement, images of black people being beaten by the police helped to boost support from the public, but Bell said she thinks images of people being beaten do not shock people anymore. She said she hopes using art and dance can help create empathy from people who are not involved in the movement.
"If someone is at the Grove shopping and they see a flash mob for black lives, then there is an opportunity for a dialogue about what we are fighting for," Bell said. "Artistic political engagements are key in this current movement."
Abdullah said she doesn't think the movement could be sustained without the artistic element of dance, music, poetry and visual art.
"Art allows the movement to be one that speaks to folks on a soul level," Abdullah said. "This work can get really heavy and the art allows us to be nourished by the movement rather than depleted by it."
In addition to helping organize Black Lives Matter, Bell helped form another organization in November called the Black Infinity Complex.
The Black Infinity Complex acts as a liaison between existing groups that work toward ending police brutality and state-sanctioned violence, said Marques Vestal, a graduate student in history and an organizer for the Black Infinity Complex.
"We wanted to help groups link up so we are not reinventing the wheel every time we want to do something," Vestal said.
Vestal said Bell's contributions to the movement go beyond her skills as a dancer and an organizer.
"It is exhausting – emotionally and mentally challenging – to keep doing this in the midst of more murders," Vestal said. "She checks in on people, not just on organizational matters, but to be sure everyone is taking care of themselves and that they are doing well psychologically."
Bell said she hopes to connect with UCLA students who are interested in becoming more involved in the movement, in part through a coalition she formed on campus called UCLA Students 4 Black Lives. The coalition wants to reach out to black students and allies who are interested in radical change, she said.
"UCLA has intellectual students who are angry but are not doing anything," Bell said. "I wanted to build a coalition of people who are going to be called to action."
The coalition will be hosting a meetup Monday at 1 p.m. in front of the Bruin Bear to discuss campuswide actions connected to a Black Lives Matter talk hosted by Kelley last week.