Senior closer David Berg's unique style of play helps anchor team's bullpen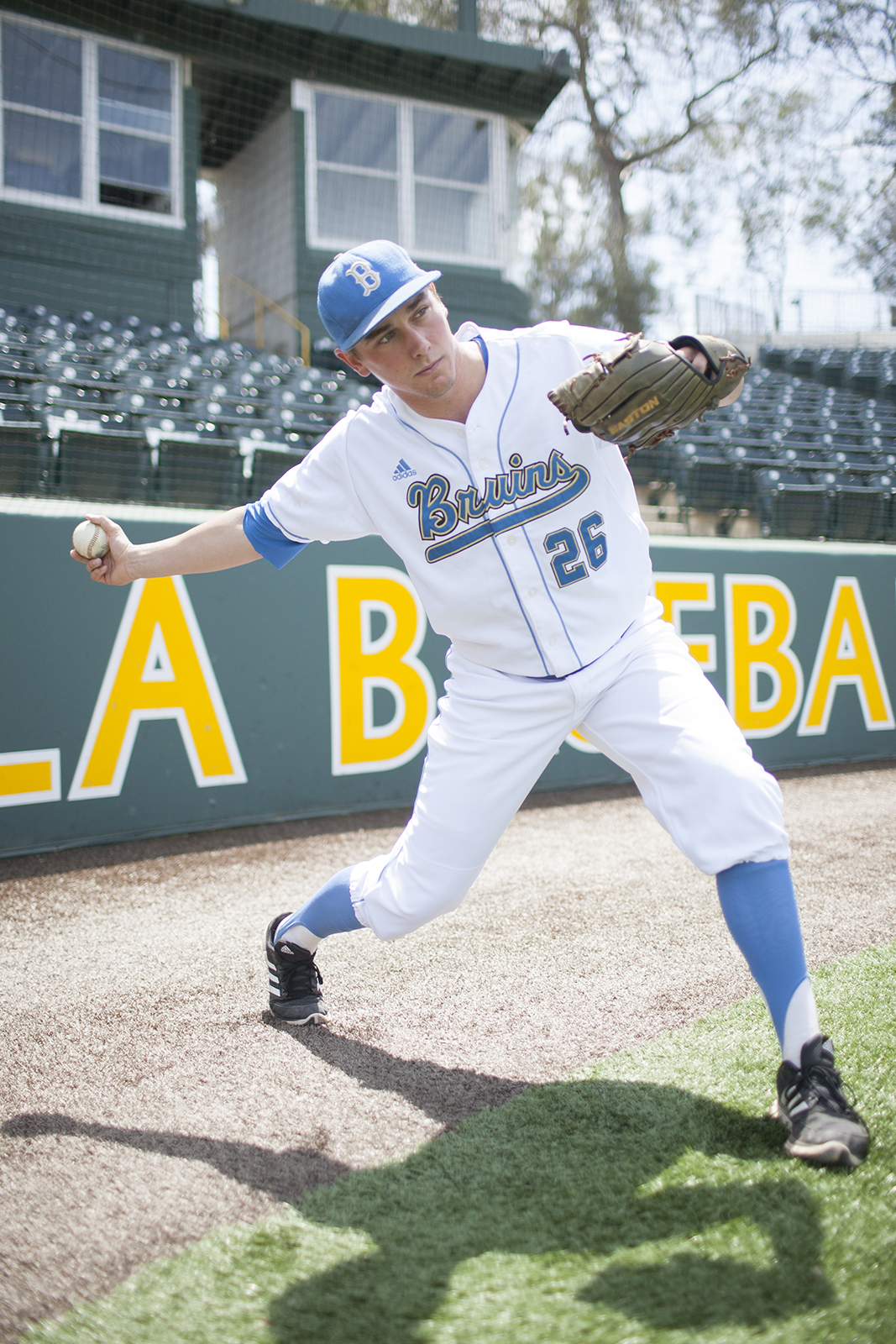 Senior closer David Berg has been developing his sidearm delivery since his junior year of high school. While results weren't immediate, he devoted his practice to mastering the craft of deception. (Erin Ng/Daily Bruin senior staff)
With no outs and the bases loaded in the fifth inning, David Berg took the mound. Equipped with a newly developed sidearm delivery, the junior pitcher at Bishop Amat High School toed the rubber to preserve his team's three-run lead in the 2010 National Classic, a high-profile high school tournament.
Earlier in the season, Berg started experimenting with a sidearm release to gain playing time on a deep roster. Only throwing 81-83 miles per hour over the top without a decent off speed, Berg was not effective enough. His coaches, notably assistant coach Chris Beck, saw potential in the new movement.
The senior closer has been the anchor of the Bruins' bullpen for three years and is just six saves shy of setting the NCAA career saves record. But Berg wasn't always as dominant as he is now. On this night, the project was still in its developmental stages.
One out, seven hits, two walks and eight runs later, Berg left the mound with his team trailing by five runs.
"It was disappointing. I thought I had something going for a while and then it got completely wiped out there," Berg said. "I didn't want to be somebody who was sitting on the bench when the game was on the line."
He finished his season without giving up another run, but in club play that following summer, he faced another bases-loaded situation and gave up a grand slam.
It was in that moment that Berg said he grasped how short his baseball career could be.
"I realized, 'Hey, you've loved playing this game, but if you don't do something more than what you're doing right now in terms of work ethic and commitment to the craft, you're gonna be done, you're gonna be out of this really quick,'" he said.
Berg devoted himself to the craft of deception – mastering the sweeping motion, developing his slider and pinpointing the moment of release. Gliding forward Berg dips to his right and reaches his arm back, hiding the ball for a split second before whipping back across his body sending the ball hurtling from a low, side angle. Beck said that hitters were once comfortable in the box against Berg, but when he dropped his arm, players came into the box uncomfortable and left looking bad.
The next spring, Berg finished his senior season with a 1.05 ERA, a CIF Southern Section Division IV title and a walk-on spot with the UCLA baseball team.
"He always worked hard, but he definitely stepped it up a notch especially that senior year of high school when the team was not predicted to do well," said his mother, Kathleen Berg.
The next fall, Berg was again in an underdog role as a walk-on without the numbers on the radar gun to prove his worth. Competing with scholarship players, Berg took the mentality that vaulted him to success in high school. He said he made it more personal – putting a chip on his shoulder whenever he pitches – and worked on mastering his technique instead of throwing the ball as hard as he could. Once again his inner voice kicked in.
"'Obviously there's a reason why they're on scholarship. They're probably more talented than me, a lot of people perceive that they're gonna have better careers than me,'" Berg said. "So I just knew that I had to come in and try and outwork everybody my freshman year."
That intensity is what his teammates and coaches say sets Berg apart, making him the guy they want on the field when the game is on the line.
"He goes out there and you can just tell by the look in his eyes – he goes out and he knows he's gonna beat you," junior left fielder Ty Moore said.
Sure enough, that was where Berg stood when UCLA made the final out to capture its first-ever College World Series title in 2013.
This year, in his final season at UCLA, Berg eclipsed 161 career appearances – the most ever by a college pitcher. That mark is just another notch on a resume that already includes the NCAA single-season save record, a Pac-12 Pitcher of the Year award – the first reliever ever to do so in the conference – and a College World Series trophy, to name a few.
"He'll go down as the best reliever, I believe, in the history of UCLA without question and arguably in the NCAA," said coach John Savage.
Savage, who coached the previous record holders of career appearances and single-season saves, UC Irvine's Blair Erickson (2004-2007) and USC's Jack Krawcyzk (1995-1998), said what makes Berg so valuable is his reliability and durability.
"This guy can do three (innings) without blinking an eye and he gets better as the weekend gets along," Savage said.
Although Berg does not blow fastballs by hitters or fool them with a gross amount of movement on his slider, Moore said he thinks he's the most feared pitcher in college baseball.
"His stuff is harder to hit than anybody else's in the country and it's fun to watch him pitch," Moore said.
While Berg is mowing down batters and sending them back to the dugout, his successful experimentation with the sidearm release has helped pave the way for other young pitchers around the country, Beck said.
"David Berg has changed baseball … he has created opportunities for kids that in years past probably saw their careers ending (or) over," Beck said. "I think he's provided them a model … for guys who go, 'Hey I can carve out a role for myself and be a huge contributor to a quality program.'"
Beck said one of his players that graduated in 2014, Andrew Eppenbach, has had a similar career path as Berg and saw his reinvention as motivation. Beck said after Eppenbach got cut from the San Diego State team, he went to play for Orange Coast College and recently looked to Berg as inspiration to turn his career around.
Berg's accolades speak for themselves and his coaches speak to his abilities, but the senior closer himself shies away from pointing out his achievements. He said his return to UCLA this year was not motivated by a desire to go for the career saves record. He was drafted by the Texas Rangers in the 17th round of the 2014 MLB draft.
"At the end of it, I didn't come back (to UCLA for my senior season) for any type of those records, I really came back 'cause I saw the opportunity that we had with the team we had coming back," Berg said.
When Savage makes the call to the bullpen, Berg said he places a chip on his shoulder. With the taste of Omaha, Neb., in his mouth and the memories of high school seared into his brain, he stares into the batter's box, strides, dips to his right, whips and releases – daring anyone to hit him.