Bruins take extra-inning momentum into Tuesday's battle with Titans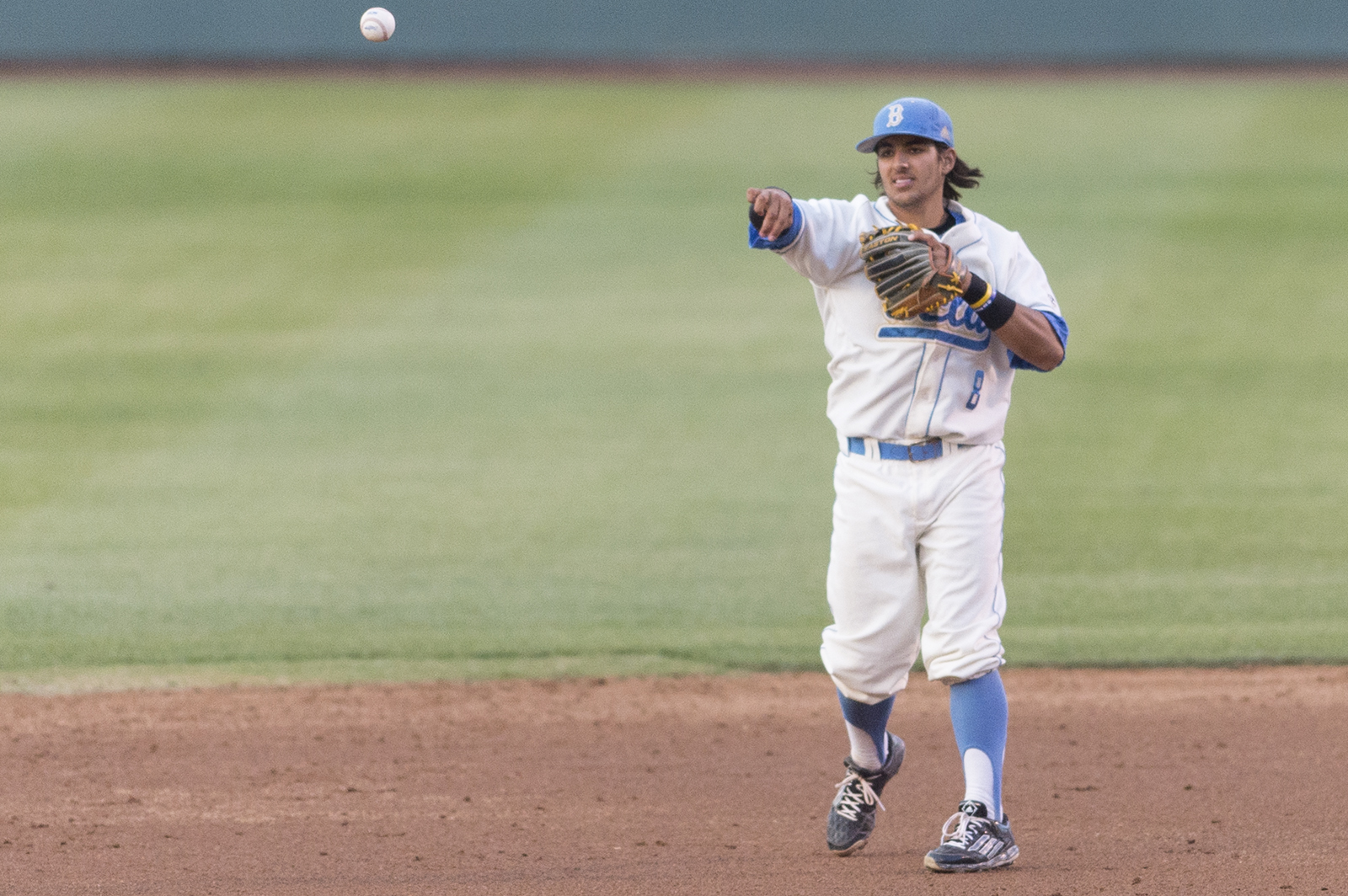 (Max Himmelrich/Daily Bruin)
Rest is at a minimum for the UCLA baseball team after a wild weekend on the road.
However, the Bruins will have momentum from the weekend to balance the fatigue of travel and extra innings as it heads to Cal State Fullerton Tuesday night.
The Bruins are used to quick turnarounds after playing two Tuesday games just after leaving Los Angeles for the weekend. They didn't waste any time after arriving home Sunday evening as they hit the field Monday to prepare for the Titans.
"It's always good to practice before a game, especially on Tuesday and playing Fullerton, they're a pretty good ball club right now," said junior second baseman Trent Chatterton.
No. 2 UCLA took two of three from No. 16 Arizona State this weekend, including a 17-inning marathon that concluded in the wee hours of Sunday morning – no more than seven hours before the team had to head back on the field for Sunday's game.
Redshirt junior shortstop Kevin Kramer said Saturday's game ranks as the longest and one of the most dramatic games he's ever played.
"I can't think of one off the top of my head that beat that or that rivals that," Kramer said. "Obviously the longest game that I've been a part of … I don't know if it did it greatness, but (it's) definitely up there."
Although the Bruins (36-12, 18-6 Pac-12) dropped the final game of the series, Kramer said wins like Saturday serve as a rally point and a reminder that the team has the strength to stay with the grind and outlast its opponents.
"In terms of momentum, it's either gonna be a very big lift or it's gonna be a really big dagger if you lose the game," said senior closer David Berg. "It was definitely a really good win, it was one of the craziest games I've been a part of."
That momentum will be important against Fullerton (28-21, 13-5 Big West), which has won nine of its last 12 including two of three against No. 12 UC Santa Barbara. The Gauchos hadn't lost a weekend series since March 1, until the Titans held them to three runs all weekend, displaying their dominance on the mound.
However, the prospect of a low scoring game after struggling to put runs on the board Sunday did not phase Kramer, who said that Saturday proved to other teams that his squad is not easy to put away.
"It shows to everyone really that we have good character on the team, that we can outlast people," Kramer said. "I think the biggest thing is, if things aren't going exactly how we planned, we can turn it around. We can grind it out and scratch out a couple runs."