Fearless Project challenges stereotypes about LGBT athletes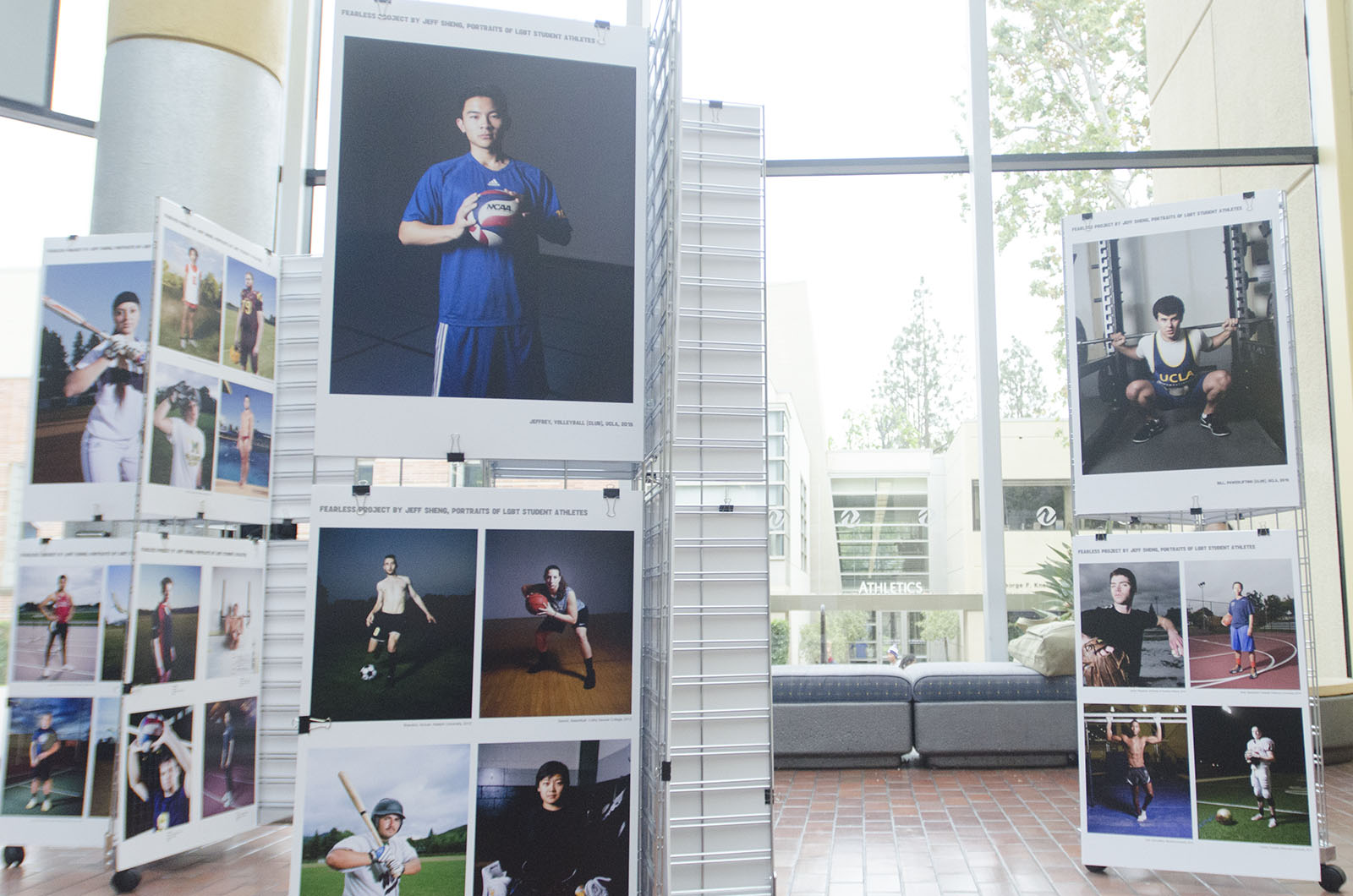 The Fearless Project, which chronicles the stories of openly gay, lesbian, bisexual and transgender student-athletes, is currently on display in the John Wooden Center. Eight UCLA student-athletes are featured in the project. (Max Himmelrich/Daily Bruin)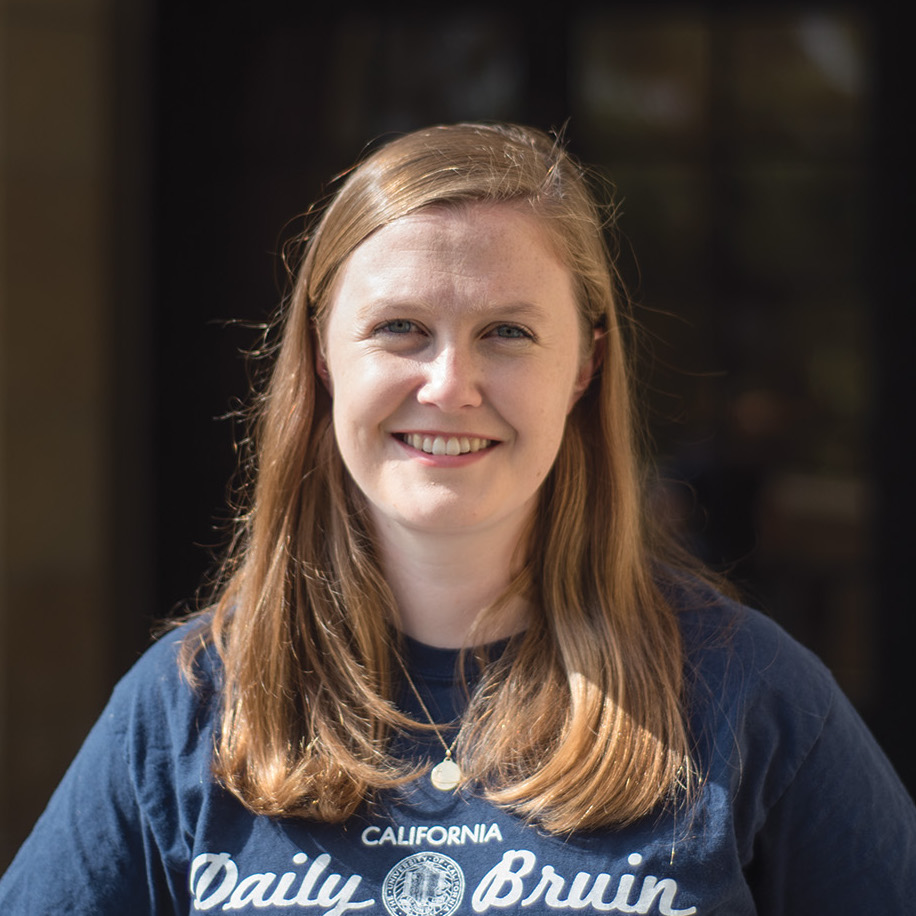 The whispers started on the sidelines.
Wesley Kerr, a student at the David Geffen School of Medicine, decided to wear a rainbow patch on his Ultimate uniform to express his identity as a bisexual athlete. When he took to the field, he said he could hear people talking about him.
"The coming out process isn't one thing – it's all the time," Kerr said.
As an undergraduate student at the University of Pennsylvania and a graduate student at UCLA, Kerr participated as an openly bisexual member of the club Ultimate and running teams. He said that misconceptions and stereotypes – including the idea that he would be attracted to his male teammates – plague the experience of many lesbian, gay, bisexual and transgender athletes.
Dispelling these preconceived notions and increasing the visibility of openly LGBT athletes are what inspired photographer Jeff Sheng. This quarter, Sheng's Fearless Project is on display in the John Wooden Center, exhibiting the stories of multiple Division I, varsity and club athletes at the college and high school levels who are openly out. Eight of these athletes are also UCLA students.
"When I finished college, I actually didn't come out myself as part of the LGBT community until I could get away from college fully," said Sheng, who grew up in the San Fernando Valley as a UCLA sports fan. "After I graduated from undergrad, I decided to work on a photo project that kind of spoke about athletes who are able to be out about their lesbian, gay, bisexual, transgender identity and still play sports."
Sheng and other organizers of the exhibit, which includes photos and profiles of the featured athletes, are working to change the socially accepted image of athletes.
"I think historically there has been a reign of stereotypes," said Wendy Motch, the director of sports equity for UCLA Recreation, who worked with Sheng to bring the Fearless Project to campus. "There has been a social awakening within the sports community to be better role models."
The Fearless Project came to UCLA through the combined efforts of Motch, softball assistant coach Kirk Walker and UCLA Athletics.
Motch, in partnership with UCLA Athletics, has created three initiatives geared toward improving the experience of LGBT athletes on campus. The Fearless Project is the latest of these initiatives.
Motch and UCLA Athletics organized the Athlete Allies initiative, which added Athlete Ally Day to LGBTQ Awareness Week. They also hosted a panel of speakers, including Billy Bean, Major League Baseball's ambassador for inclusion; Cyd Zeigler from Outsports; and other UCLA coaches and athletes in April 2013.
The Athlete Allies initiative also released a You Can Play video in April 2013 designed to reduce homophobia in college athletics. In the video, UCLA football coach Jim Mora vocally supported gay athletes, the first time an NCAA Division I coach had done so.
Walker said this support was not always as visible when he attended UCLA from 1984 to 1988. Walker said he struggled during his time as an undergraduate assistant coach at UCLA and his time as a full-time assistant coach following graduation.
"What I lacked when I was there was a visible role model or a visible sign that you are not alone and it's OK, you are welcomed," Walker said. "If you can play, you can play. You are welcome here even if you're struggling with your identity."
Walker said he wanted UCLA Athletics to not only be an accepting institution, but to also be at the forefront of progressive change for the LGBT sports community.
Following his graduation from UCLA in 1988, Walker worked as an assistant with the softball team before taking the coaching position at Oregon State. During his time away from Westwood, Walker said he became more accepting of his sexuality and identity. Once he and his partner decided they would adopt a child, Walker knew he had to tell his team. In 2006, Walker became the first openly gay NCAA Division I coach.
"For about the next year and a half, I was fielding interviews and questions from ESPN, The New York Times, local media – there was just a barrage of constant questions, and I was constantly labeled as 'the gay coach,'" Walker said. "It was really disconcerting to me, and I wasn't ashamed of being gay and I wasn't ashamed of my coaching career – I was sort of ashamed that my coaching career, which was pretty successful, was taking a backseat to my sexuality."
Despite the drawbacks of the media attention, Walker said he realized that he was becoming the kind of resource that he had sorely missed while in college: a visible role model.
"A switch really went off for me when I just went, 'Perfect, call me the gay coach all you want – I don't really care. Anyone who cares about my coaching career or my contributions as a coach can easily find that or see that,'" Walker said. "But clearly my role as the gay coach, that title they're giving me, was impacting lives that would never else be impacted."
Walker began working with Nike and Outsports to create a more public dialogue about LGBT coaches and athletes. At a panel hosted on the Nike campus in 2008, Walker was introduced to Sheng, who had begun work on the Fearless Project.
Once Motch and Walker began bringing a similar panel to UCLA, they knew they also wanted to include Sheng's exhibit to further their goal of increasing visibility of the openly gay athlete experience.
Junior catcher Jazmine Sosa, one of the featured athletes, belonged to Walker's softball program. Coming from a Catholic all-girls high school where she was often questioned about her sexuality, Sosa said she didn't expect anyone else on her college team or on UCLA's campus to be gay.
"I think coming out on a sports team, you're put on a stage. Now especially with social media … it's public knowledge," said Sosa, who identifies as gay. "If you come out, yeah it's just on a team, but it's also at a university level."
On a visit to Westwood in February, Sheng added UCLA club and varsity athletes to a project that spanned college campuses across the country and featured more than 40 student athletes.
"For a student, being an athlete is one identity, but being LGBT is another identity," Motch said. "We want to think of the multiple intersections of identity through sport."
Fahy joined the Bruin as a freshman in 2013 and contributed until she graduated in 2017. She was the Sports editor for the 2015-2016 academic year and an assistant Sports editor for the 2014-2015 academic year. Fahy spent time on the football, men's basketball, men's water polo, men's volleyball and swim and dive beats.
Fahy joined the Bruin as a freshman in 2013 and contributed until she graduated in 2017. She was the Sports editor for the 2015-2016 academic year and an assistant Sports editor for the 2014-2015 academic year. Fahy spent time on the football, men's basketball, men's water polo, men's volleyball and swim and dive beats.