Block discusses fundraising, administrative positions and office hour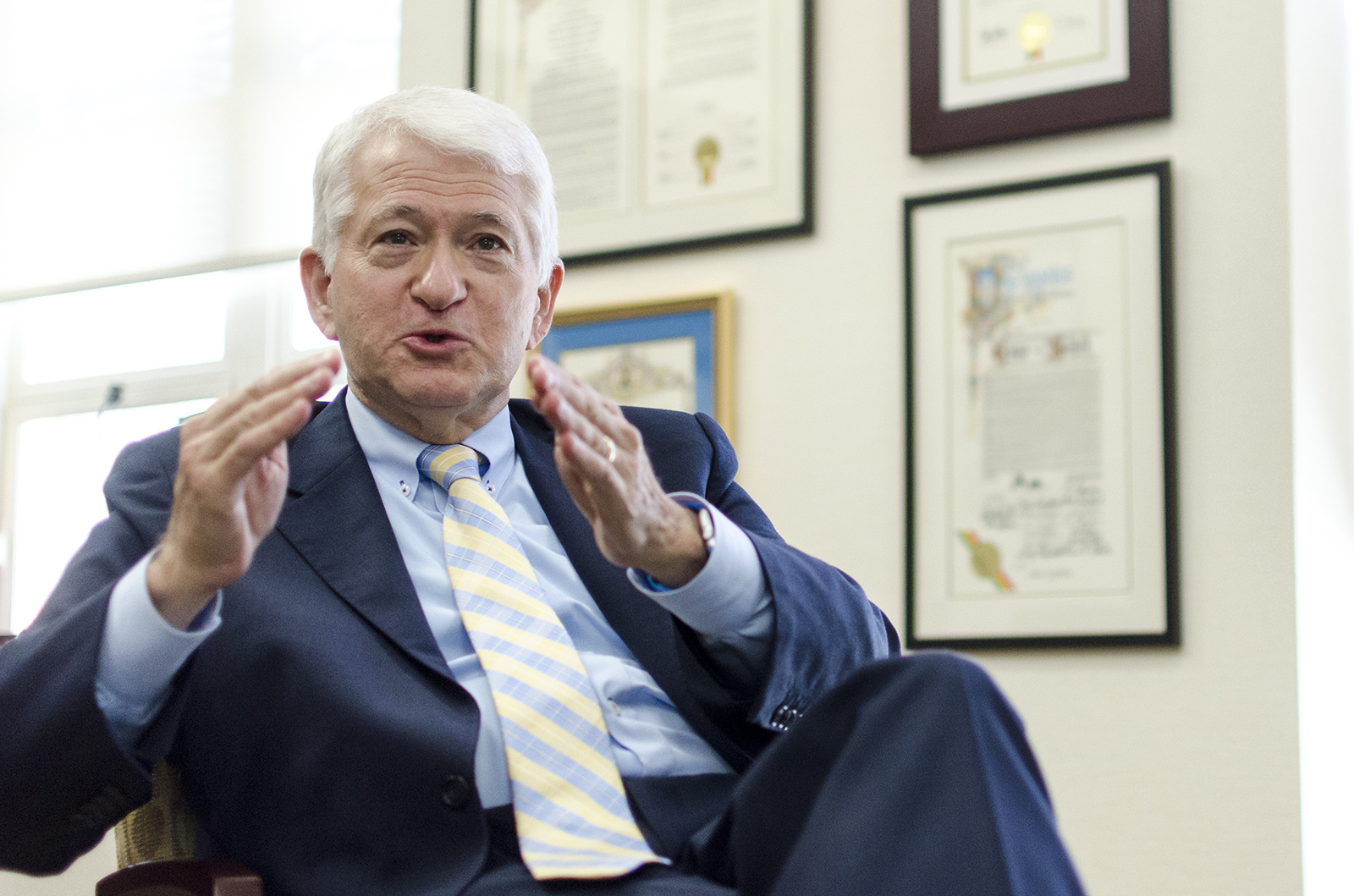 At a meeting with members of the Daily Bruin Editorial Board on Monday, Chancellor Gene Block discussed fundraising, administrative positions and his quarterly office hour. (Daniel Alcazar/Daily Bruin)
Chancellor Gene Block meets with members of the Daily Bruin Editorial Board every quarter to discuss issues affecting the campus and to explain administrative decisions. At a meeting Monday, Block discussed the Centennial Campaign for UCLA and campus fundraising, his scheduled trips abroad, the new vice chancellor for equity, diversity and inclusion position and funding for student mental health programs. He also spoke about perceived conflicts of interest, filling top-level positions at UCLA and his quarterly student office hour.
Block said UCLA plans to launch a second Grand Challenges project that will tackle depression and focus on the UCLA campus.
Jerry Kang, the new vice chancellor for equity, diversity and inclusion, will begin work in early June and is still creating his office's budget, Block said. Some salaries in the office include Kang's, which will be $354,900, and two discrimination prevention officers, who are paid $122,500 per year, UCLA spokesman Steve Ritea said in an email statement.
Block said the Centennial Campaign for UCLA has raised more than $1.6 billion so far of the campaign's $4.2 billion goal.
Block said the university is aware that some student groups struggle to pay for performance and meeting spaces such as Royce Hall, and he said officials try to keep costs down. He added that some new spaces may open up for student groups when the UCLA Meyer and Renee Luskin Conference and Guest Center opens in 2016.
Ritea said in the email statement that construction bonds on the conference center will be fully paid off 27-30 years after construction is completed.
When asked about the frequency and length of his quarterly office hour with students, Block said he would like to hold more frequent office hours, but that his schedule makes it difficult for him to find the time to hold meetings on campus. He said that in the future he would be interested in holding more breakfasts with students or student groups on the Hill to learn more about student issues. One hundred eighty-five students applied to meet with Block for this quarter's office hour.
In the meeting, Janina Montero, vice chancellor for student affairs, said the university may have increased funding for student mental health resources if tuition and fees rise.
Block said campus officials determine on a case-by-case basis when to send campuswide emails following controversial incidents, such as the discovery of posters in February and April that described Students for Justice in Palestine as supporting terror groups. At the meeting, Montero provided a submission to The Bruin as a response to racist stickers recently posted on the Afrikan Student Union's bulletin board and other areas of campus. She added that she has reached out to the Afrikan Student Union about the stickers.
Officials are searching for applicants to fill some top positions in the university's leadership, including the position of dean of the UCLA School of Law, Block said.
Compiled by Sam Hoff, Bruin senior staff.