Heather Rosen to lead Bruins United majority council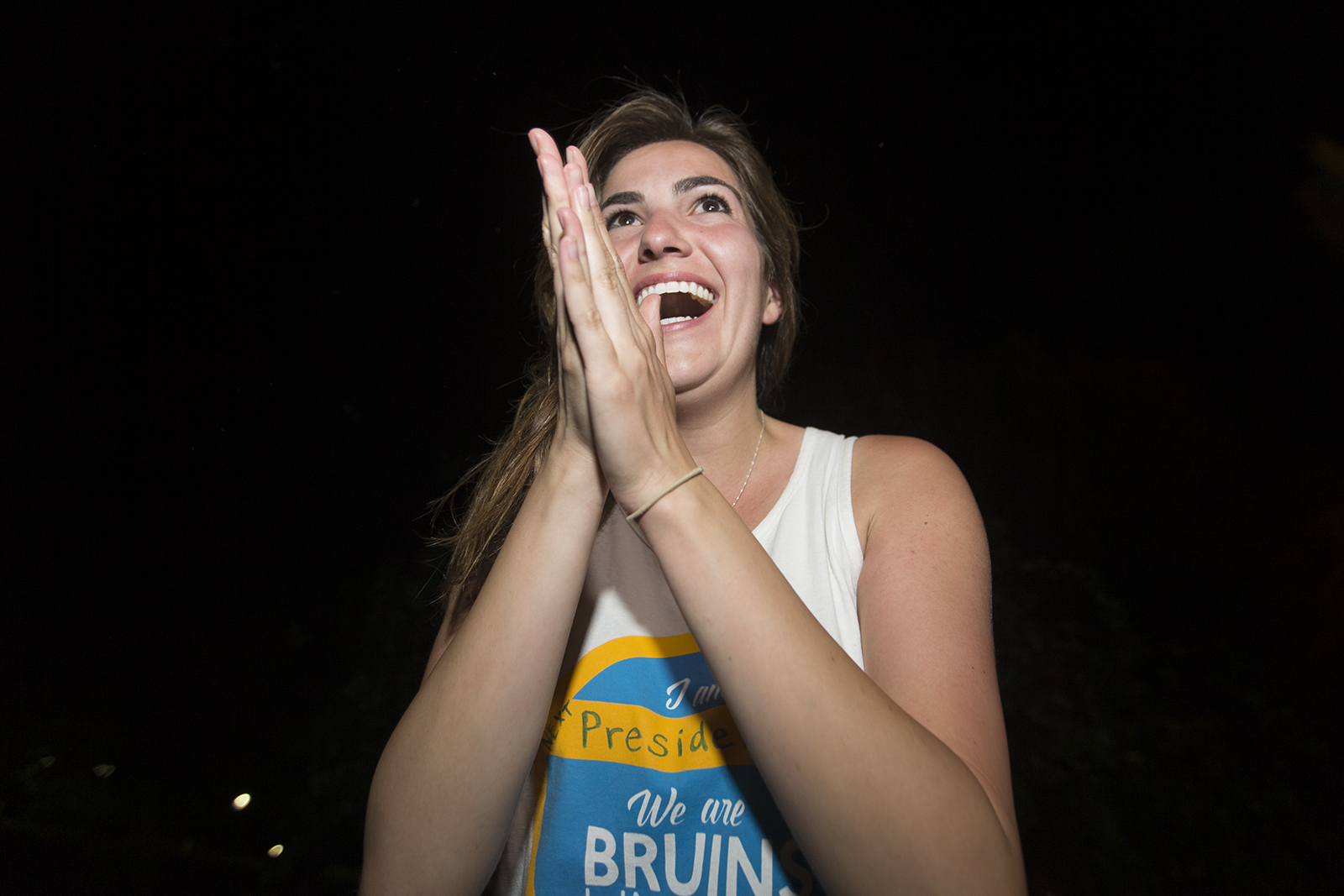 Bruins United candidate Heather Rosen celebrates after her election as the next USAC president. (Aubrey Yeo/Daily Bruin senior staff)
This post was updated on May 1 at 9:41 p.m.
Bruins United candidates dominated this year's undergraduate student government election, taking seven of nine contested positions, officials announced Friday night.
The slate hasn't held a majority of seats on the council since 2012.
For the first time since 2007, Bruins United candidates took all executive positions, following close races for the external vice president and internal vice president seats. The external vice president position is typically held by a LET'S ACT! candidate.
This is the first time in the past three years that a Bruins United candidate, Heather Rosen, has been elected to lead the council as president.
Twenty-five candidates ran in this year's Undergraduate Students Association Council election. Bruins United and LET'S ACT!, the two dominant USAC slates, ran 10 candidates each.
As is typical in USAC elections, several of the candidates ran unopposed as independents for commissioner positions. Ian Cocroft, of Bruins United, ran unopposed for Facilities commissioner this year in a race that is usually contested.
Friday night's results come after a heated election week, during which documents surfaced Monday alleging that LET'S ACT! members sold marijuana and alcohol and illegally used student fees to fundraise for their campaigns. LET'S ACT! members denied the allegations but confirmed that some of the documents were real.
The USAC Election Board is still investigating the allegations but has said it cannot investigate incidents from past elections. If any elected candidates are found guilty of the allegations, they could be ineligible for office and lose their seats at the table, resulting in a special election to fill the position.
J. Cesar Flores, the only candidate to run as an independent for a contested position, lost the race for transfer student representative, winning just 713 votes.
The referendum that would have raised quarterly student fees by $3 for student group activity funding failed with 46.1 percent of the vote. The referendum would have needed a majority of the vote to pass.
About 8,265 undergraduate students, or 29.6 percent of eligible students, cast their votes this election. Voter turnout in USAC elections has fluctuated around 30 to 35 percent for the last few years.
Here is a list of the candidates and the percentage vote each received. Winners are listed in bold.
President
Heather Rosen, of Bruins United: 60.2 percent
Morris Sarafian, of LET'S ACT!: 39.8 percent
Internal vice president
Devyani Rana, of LET'S ACT!: 48.2 percent
Heather Hourdequin, of Bruins United: 51.8 percent
External vice president
Denea Joseph, of LET'S ACT!: 49.4 percent
Zach Helder, of Bruins United: 50.6 percent
General representative
Danny Siegel, of Bruins United: General Representative 1
Aaliya Khan, of LET'S ACT!: General Representative 2
Anais Leontine Amin, of LET'S ACT!: General Representative 3
Jaimeson Cortez, of LET'S ACT: eliminated
Jason Banks Ergina, of The After Party: eliminated
Matt Hezlep, of Bruins United: eliminated
Aditi Agrawal, of Bruins United: eliminated
Transfer student representative
Ariel Rafalian, of Bruins United: 52.3 percent
Keytiana Hempstead, of LET'S ACT!: 47.7 percent
J. Cesar Flores, an independent: eliminated
Academic Affairs commissioner
Kevin Sandoval Casasola, of LET'S ACT!: 47.0 percent
Trent Kajikawa, of Bruins United: 53.0 percent
Financial Supports commissioner
Erineo Garcia, of LET'S ACT!: 47.5 percent
Ruhi Patil, of Bruins United: 52.5 percent
Student Wellness commissioner
Marvin Chen, an independent: 100 percent
Campus Events commissioner
Lexi Mossler, an independent: 100 percent
Community Service commissioner
Zack Dameron, an independent: 100 percent
Cultural Affairs commissioner:
Amy Shao, of LET'S ACT!: 100 percent
Facilities commissioner
Ian Cocroft, of Bruins United: 100 percent
Compiled by Amanda Schallert, Bruin senior staff.