USAC votes to investigate LET'S ACT! fundraising allegations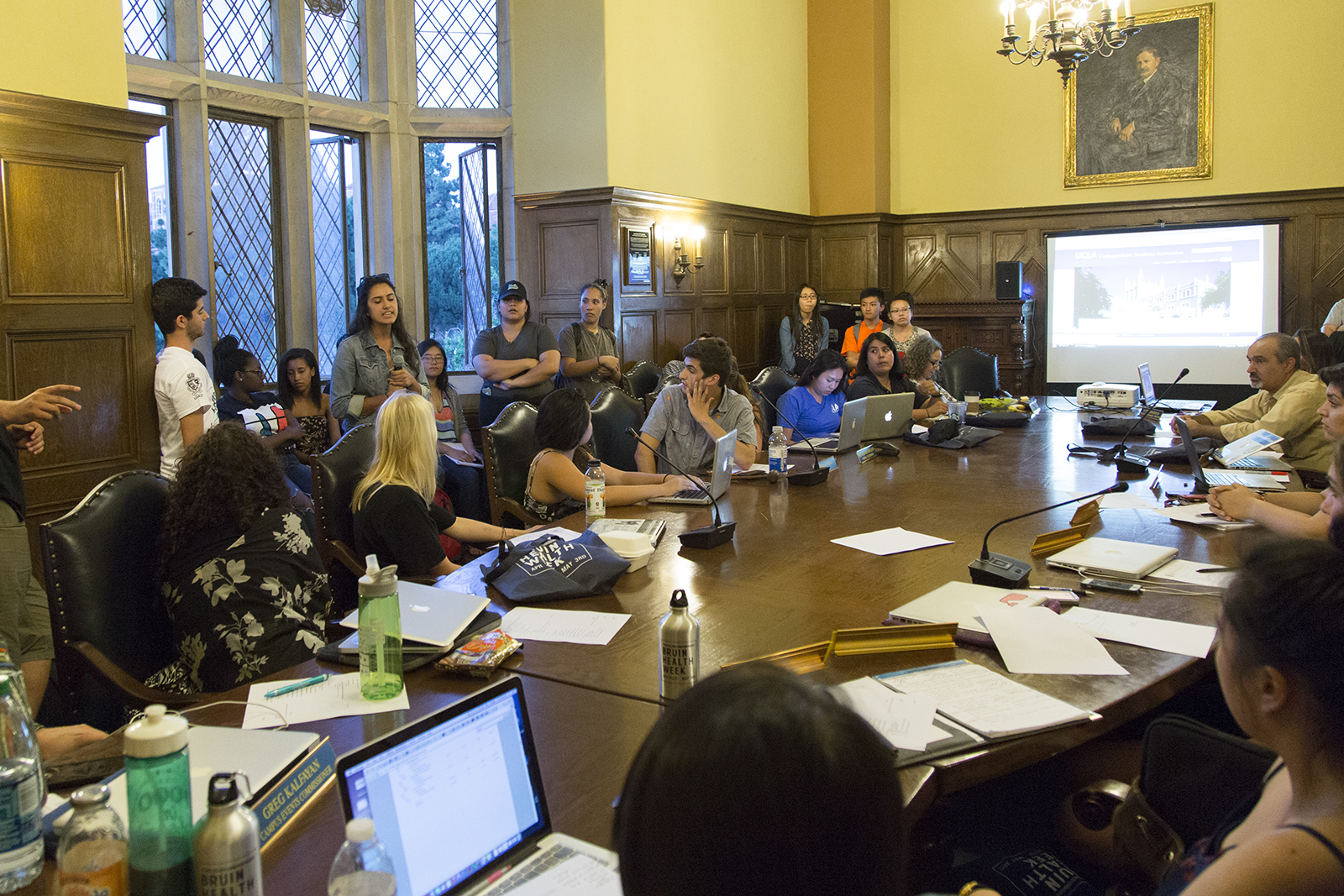 USAC officers discussed the recent allegations against the LET'S ACT! slate at their weekly meeting Tuesday night. (Owen Emerson/Daily Bruin)
This post was updated on April 29 at 11:07 a.m.
The undergraduate student government unanimously voted Tuesday night for the Election Board to investigate allegations that the LET'S ACT! slate used illegal fundraising tactics for multiple campaigns, possibly delaying the release of this year's election results.
Because elections cannot officially end until all complaints are closed, the Undergraduate Students Association Council may announce voting results later than Friday, though voting will still close at 3 p.m. that day as previously set.
Documents leaked Monday appeared to show that LET'S ACT! slate members illegally channeled money from student fees and sold marijuana and alcohol to fundraise for its 2013 and 2014 campaigns. Slate members confirmed that some of the leaked documents were real but have denied any wrongdoing, including fundraising through drug and alcohol sales and using funds from student fees.
A Facebook event page also appeared to show that current LET'S ACT! members posted about selling alcohol and marijuana at a party in January, though those members claimed the funds did not go toward the slate.
Since the allegations go back to previous years, USAC Election Board Chair Shagun Kabra said in an email early this morning that the Judicial Board and the current council have the authority to investigate the claims. The Election Board does not because it only has jurisdiction over this year's election.
USAC President Avinoam Baral said USAC did not set a date for the investigation to close because the council is trusting Election Board to conduct it as comprehensively and quickly as it can.
Baral added that he thinks Election Board should be able to start investigating allegations about this year, even though a formal complaint was not filed, because USAC oversees the Election Board.
Baral said he plans to talk soon with Student Government Accounting about allegations regarding previous elections.
Compiled by Amanda Schallert, Bruin senior staff.