Israeli Independence Day celebration sparks enthusiasm, appreciation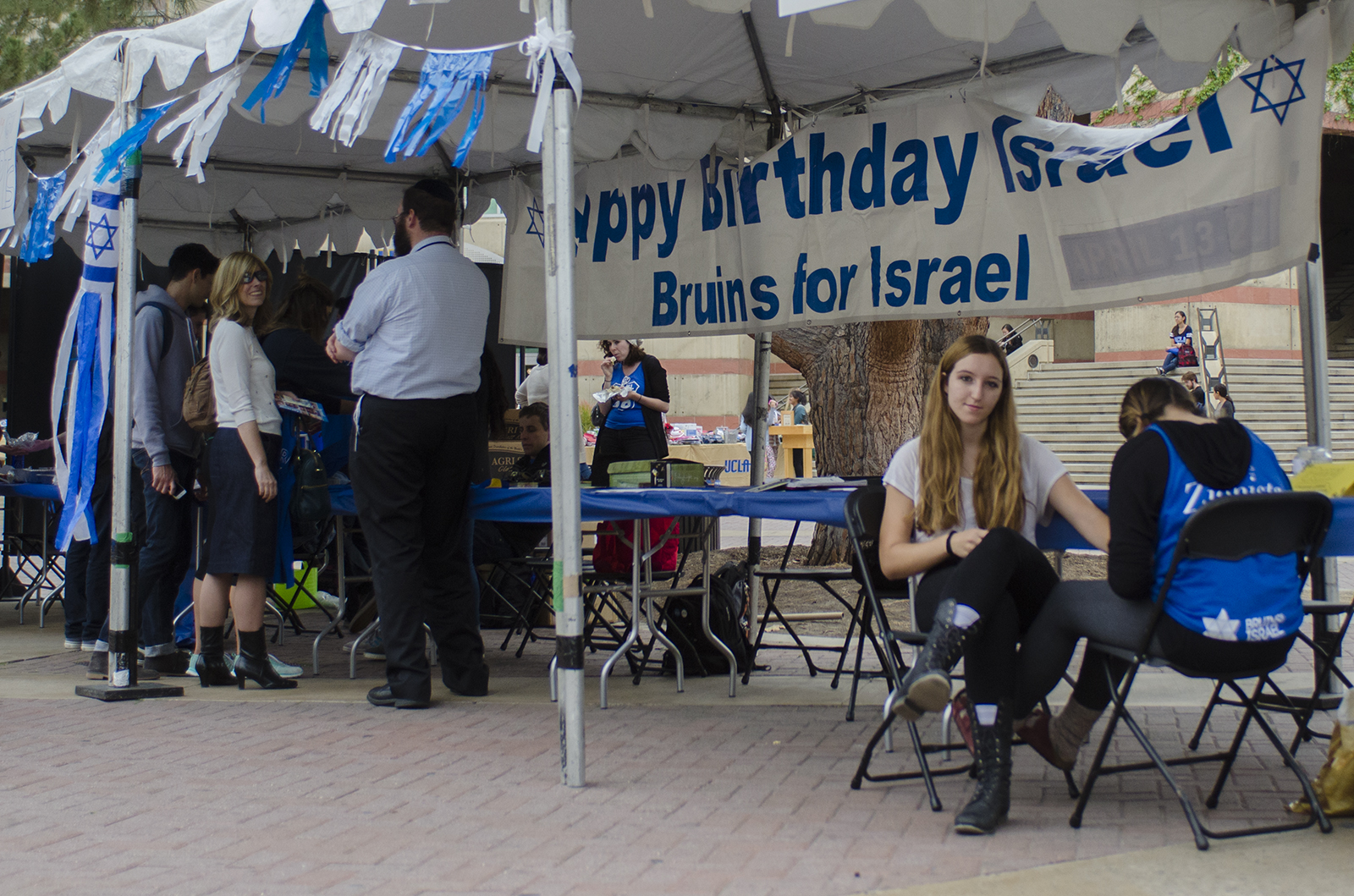 (Max Himmelrich/Daily Bruin)
UCLA Jewish community members transformed Bruin Plaza into a large social event Thursday, as hundreds of students, faculty and staff gathered to celebrate 67 years of Israeli independence through singing and dancing.
The event, hosted by Bruins for Israel, featured speakers, musical performances and booths with information about Israel's contributions to science and politics.
Israel's Independence Day, known as Yom Ha'atzmaut, marks the anniversary of the creation of the Israeli state. Thursday's event in Bruin Plaza was the last in a weeklong celebration on campus commemorating the anniversary.
"We are celebrating 67 years of freedom and liberty," said Tamir Mizrahi, a third-year chemistry and material science student of Jewish faith at the event.
In the early years of Israel's creation, the Jewish community members faced struggles in defending their homeland upon reuniting after the diaspora, said Rabbi Chaim Seidler-Feller, executive director of Hillel at UCLA.
From noon to 1 p.m., participants, arms linked with one another, danced to the Israeli music playing in the background. Some students walking by also ordered food and danced before going to class.
"I didn't know today was Israel's independence (day) but I stopped by to check out the celebration," said Jennifer Barrantes, a second-year biology student, as she ordered a falafel wrap. "I even learned a lot because the people celebrating were really helpful in telling me more."
Some UCLA alumni and admitted students also attended the event to celebrate the occasion.
"It's great the Jewish community is doing such a big thing to celebrate our heritage," said UCLA alumnus Ken Bendik who graduated in 1980.
Booths and posters in Bruin Plaza highlighted aspects of Israeli culture and the nation's global contributions.
Arielle Mokhtarzadeh, a first-year undeclared student and director of public relations of Bruins for Israel, said she thinks some of the booths were educational for students who might have misconceptions about Israel.
"Israel is often misrepresented, and we want to present another side to show all the amazing things Israel has done," Mokhtarzadeh said.
As the music came to an end, Siedler-Feller said he felt the event was successful.
"You transformed this place," Seidler-Feller said. "You made this celebration possible. Let no one say that you can't celebrate Israel on campus today, because you did."