High-end stationery store Paper Source plans fall opening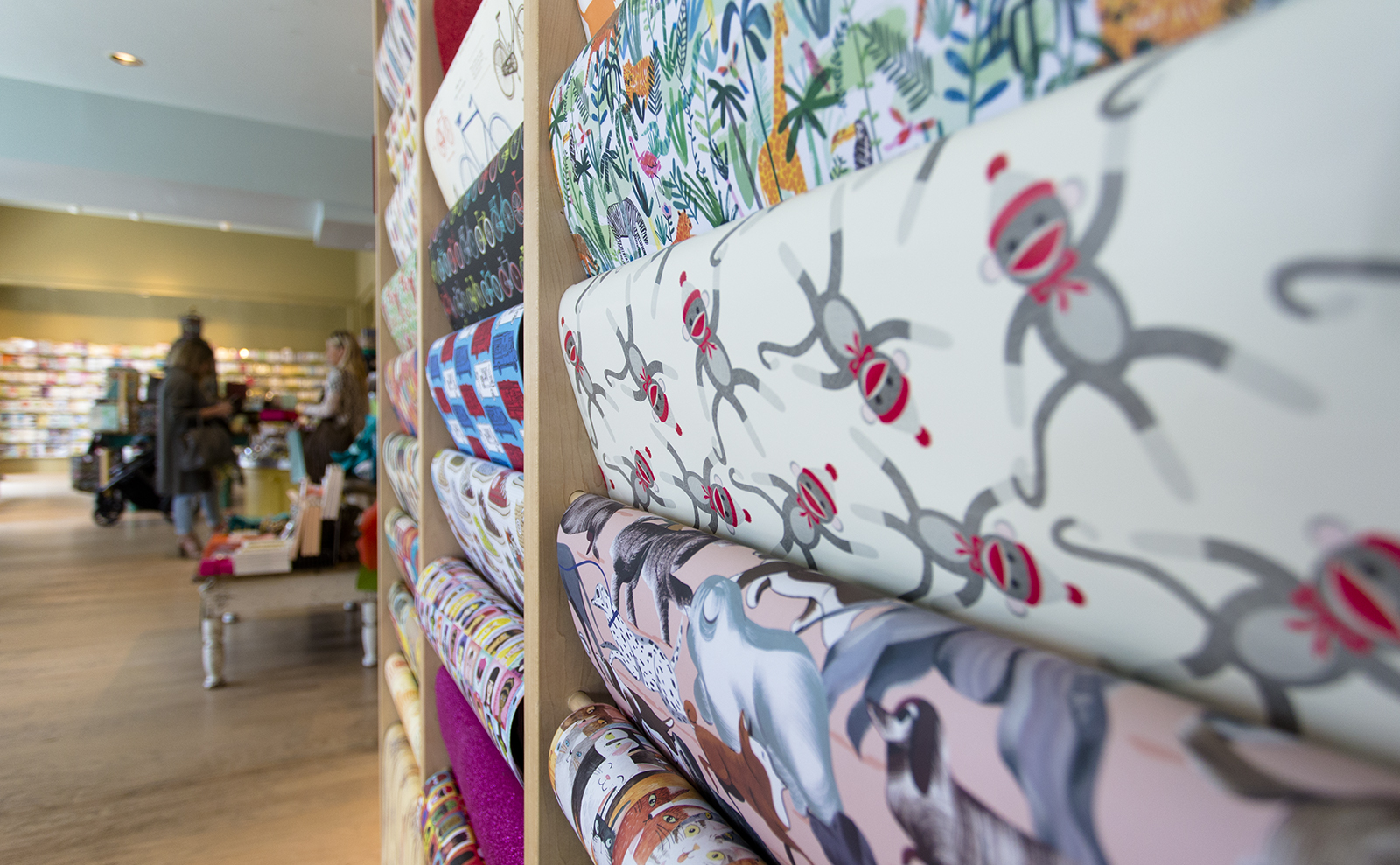 Paper Source, a stationery store, plans to open a new storefront in Westwood. Shoppers will be able to buy different types of paper for crafting purposes, many of which are printed with colorful patterns. (Kelsey Kong/Daily Bruin)
April 22, 2015 12:06 a.m.
The original version of this article incorrectly stated that two entire buildings would be demolished for the new stationery store. In fact, only two spaces inside one building will be demolished to create one single space and no whole buildings will be demolished.
Paper Source, an upscale stationery retailer, plans to open a new 5,000-square-foot location in the middle of Westwood Village by the start of fall quarter.
As a stationery store and gift retailer, Paper Source offers high-end stationery, office supplies, custom engraved invitations, greeting cards and personalized gifts.
The store will open across the street from Urban Outfitters, occupying what are now the empty spaces at 1029 and 1033 Westwood Blvd. In the next few weeks, the building's interior will be demolished and rebuilt into a single retail space, said Jim Brooks, president of Topa Management, the owner of the most property in Westwood Village.
Paper Source had been in talks with landowners for years about opening a store in Westwood, and decided to move in after Urban Outfitters opened last year, Brooks said.
After construction finishes, the building will be handed over to Paper Source on June 1 to begin renovating and on-site training, Brooks said.
The two adjacent spaces on Westwood Boulevard has not had permanent residents for several years, but were most recently filled by temporary "pop-up shops" A.G. Jeans and Clark and Madison, said Steve Sann, chair of the Westwood Community Council.
Paper Source spokesperson Jennifer Stinnett said in an email statement that the company looks forward to opening in Westwood, and will also offer in-store workshops and classes on various crafting techniques for customers.
Some students walking by the building said they don't think Paper Source will become a major destination for UCLA students.
"It's definitely not the best use of space, since there are so many other options, (like) cheaper stores that are also in Westwood, or online resources," said Ricky Yin, a third-year biochemistry student. "I would rather see another restaurant open up, even though there are already so many here."
Grace Flores, a second-year international development studies student, described the stationery store as unnecessary.
"There's Target, CVS, course reader shops and the Internet," Flores said. "As college students, it's not a store we need."
Marisa Statton, a fourth-year communications studies student, said she is surprised by the choice of location and size, but loves the Paper Source brand.
"We'll just have to wait and see how business goes," Statton said. "I'll definitely go check them out."
Contributing reports by Amanda Wilcox, Bruin contributor.