Commencement speaker elicits lukewarm student response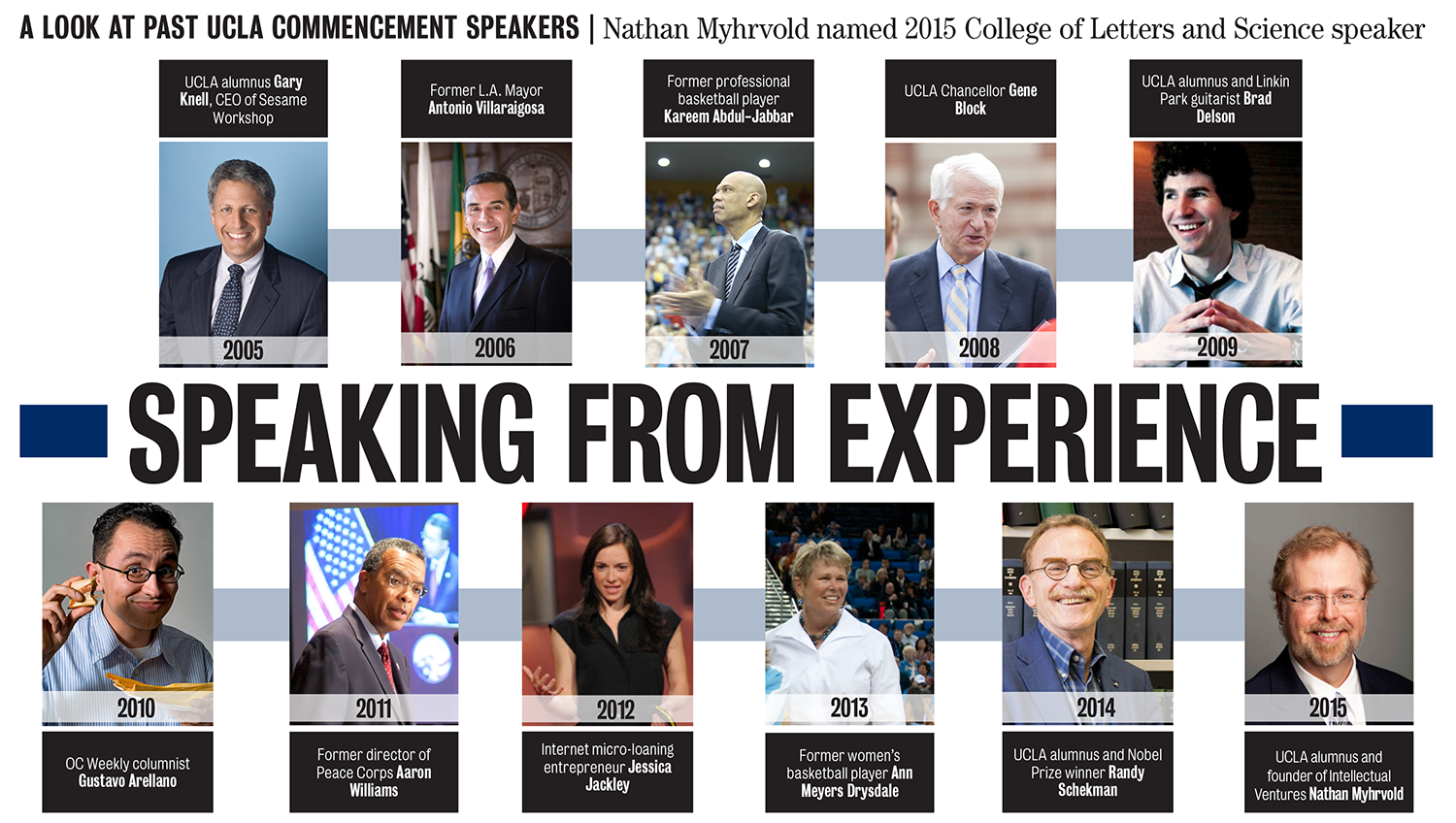 (Emaan Baqai/Daily Bruin)
April 22, 2015 12:09 a.m.
Students expressed confusion and tepid approval about the recent announcement of UCLA alumnus Nathan Myhrvold as the keynote speaker for this year's College of Letters and Science commencement ceremony.
Most students, when asked for their thoughts on Myhrvold, were unaware that he is scheduled to speak and did not know who he is or what he has accomplished.
Joseph Rudnick, senior dean of the College of Letters and Science, said the commencement speaker selection committee – which consists of two faculty and two students and is chaired by Dean of Humanities David Schaberg – chose him because they believe he can inspire students and because he is tied to UCLA.
"We try to find a speaker who we think is going to be inspirational by example and is able to give a speech that the undergraduates will find compelling," Rudnick said. "We would also like them to have a UCLA connection."
Seven out of the last 10 commencement speakers have been UCLA alumni.
Myhrvold graduated from UCLA with a bachelor's degree in mathematics and a master's degree in geophysics and space physics in 1979.
"(Myhrvold is) not a household name, but he is somebody whose life should be inspiring," Rudnick said. "He's worked in science, in technology, in cooking and in a number of different areas."
In 1983, Myhrvold was a postdoctoral fellow at Cambridge University, researching cosmology, quantum field theory and quantum theories of gravitation with Stephen Hawking for a year. He also served as chief technology officer for Microsoft from 1996 to 2000 and founded a company that manages one of the largest intellectual property portfolios in the world, Intellectual Ventures.
An interview with Myhrvold could not be arranged for this article.
Some students said they were enthusiastic about the selection of Myhrvold as their commencement ceremony speaker.
"He sounds like a good option and (is) well-rounded," said Colby Ellis, a second-year economics student. "He seems like someone who can show what you can do with an education from the College of Letters and Science."
Fahima Zaman, a fourth-year integrated biology and physiological sciences student, said she thought Myhrvold sounds interesting, but she remembers that President Barack Obama spoke at UC Irvine's commencement ceremony last year.
"I wanted something on par with that," Zaman said.
Other students expressed some reservations about Myhrvold's ability to relate to graduates.
Gloria Garcia, a fourth-year sociology student, said that as a social science major she would find it hard to connect with Myhrvold.
"It's hard to connect with him because he's a south campus major," Garcia said.
Miriam Ramirez, a fourth-year sociology student, agreed.
"It is your graduation, so you want someone you can connect to," she said. "Fame isn't important but he has to be relatable."
Myhrvold will speak at the College of Letters and Science's commencement ceremony on June 12.
Contributing reports by Darakhsha Siddiqi, Bruin contributor.