Bruin Plate to remove all meat from dinner menu for 'Green Mondays'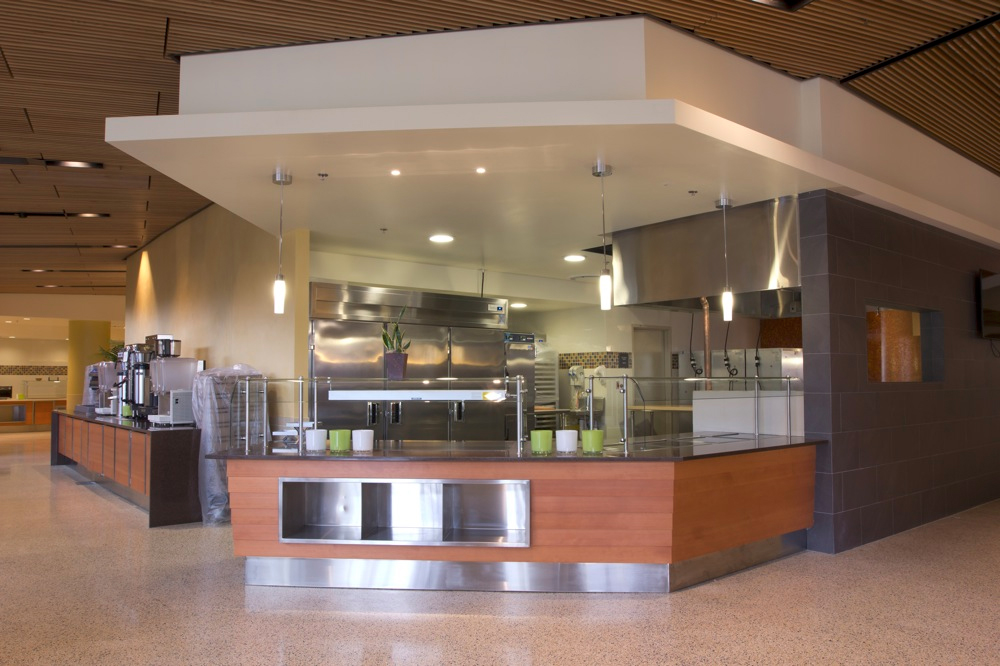 Bruin Plate plans to change its Monday night menus for the next few weeks to eliminate all meat options. (Courtesy of Felicia Caldwell/H&HS photographer)
Bruin Plate plans to remove all meat options from its Monday dinners starting May 4 as part of a pilot program for a new green campaign.

The campaign, called "Green Mondays," formed when the student group Bruins for Animals approached UCLA Dining Services winter quarter with a plan to serve more sustainable meals for Hill residents once a week at the health-oriented dining hall.
Dining officials plan to eliminate meat, including fish, from the dinner menu on Mondays, though other animal-based products such as dairy and eggs will still be served. The program is set to continue for five Mondays unless there is a decline in student attendance or students voice complaints, said Emma Sorrell, the sustainability manager for UCLA Housing.
UCLA Dining already offers Beef-less Thursdays in all of its dining hall facilities, but the new campaign will attempt to educate students about sustainability through a fully meatless meal, said Adam Gushansky, a second-year environmental science student and the campaigns officer for Bruins for Animals.
"What we eat and water are tightly linked," Gushansky said. "We felt that Beef-less Thursdays wasn't enough to cut it, especially with California's severe ongoing drought."
According to a report from the state's Air Resources Board website, 80 percent of California's water goes to agriculture. Raising one pound of beef takes from 1,000 to 2,500 gallons of water, while one pound of wheat takes between 10 to 25 gallons of water.
Gushansky said he thinks some students don't realize how much water goes into food production.
"If you see water coming out of a faucet, you see it being used right there, but when you see food on your plate, it's not an automatic light bulb," Gushansky said. "Seeing a pound of beef doesn't make you think 'This took 1,000 gallons (of water) to raise.'"
If the pilot program is successful this spring, Gushansky said he hopes it will extend throughout the 2015-2016 academic year. However, the success of the program will depend on student response.
Christine Holland, a second-year communication studies student who eats at Bruin Plate several times a week, said she thinks the pilot program is a good idea because students may not realize how much water is used in meat production.
Holland said she was surprised to learn how much water goes into meat production after reading some articles on the topic. She said her interest was sparked after Gov. Jerry Brown announced mandatory reductions in water use for state residents.

Some other students said they do not plan to eat at Green Mondays because they want meat options.
Chloe Purgason, a second-year biochemistry student, said she thinks eliminating the meat option on Mondays eliminates students' freedom of choice.
"It's not a fair way to go about it," Purgason said. "We didn't get to vote."
Purgason said that as a runner, she needs the protein that meat offers, and the high-protein plant-based foods do not sustain her in the same way.
"I need a lot of protein. I'm an athlete. I work out and I have blood sugar issues," Purgason said. "There are other high-protein substitutes, but meat offers a higher access (to protein)."
Purgason said she is planning on eating at a different dining hall or off campus on Monday nights.

Dining officials are currently developing menus and are working to ensure students get all of their nutritional needs fulfilled through non-meat options, Sorrell said.
Dining officials are looking into potentially providing meat substitutes such as vegetarian chicken strips and tofu-based products for Green Mondays, Sorrell said.
Dining officials and Bruins for Animals will survey students throughout the pilot program to gauge student response, she said.