UCLA running back recruit arrested, booked on charge of evading arrest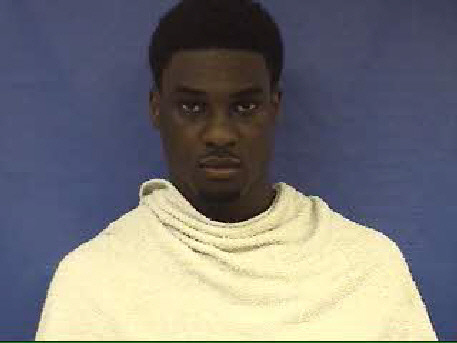 Sotonye "Soso" Jamabo was arrested and booked early Sunday for drinking and evading a police officer with a vehicle. (Courtesy of Kaufman County Sheriff's Office)
This post was updated on April 19 at 4:50 p.m.
UCLA running back recruit Sotonye "Soso" Jamabo was arrested and booked early Sunday for evading a police officer with a vehicle, according to police records.
According to a statement from Kemp Chief of Police Robert D. Walker, Jamabo was driving a Ford pickup eastbound on Texas State Highway 175 about 7:20 p.m. local time Saturday when a Kemp police officer attempted to stop the car.
Police said Jamabo then ignored a stop sign and turned onto State Highway 274, at which point he and three passengers – a 19-year-old man, an 18-year-old woman and a juvenile – began passing other vehicles in a turning lane while swerving and throwing objects out of the windows, Walker said in the statement.
After eventually stopping the vehicle, Kemp Police Department officers detained, cited and released the three passengers. Jamabo was booked into Kaufman County jail for evading arrest or detention with a vehicle just before 1:30 a.m. local time Sunday, according to the statement and Kaufman County jail's online police records.
Jamabo posted $7,500 bond Sunday afternoon, said a spokeswoman at the Kaufman County Sheriff's Department. A court date has not been set yet.
A senior at Plano West Senior High School in Plano, Texas, Jamabo posted on Twitter Saturday afternoon about attending Plano West's Senior Prom, which lasted from 9 p.m. Saturday until midnight local time, according to the Plano Independent School District's website.
Jamabo is the No. 4 running back in ESPN's Class of 2015 rankings. He signed with UCLA Feb. 4 and is one of 10 ESPN four-star recruits in UCLA's 2015 recruitment class.
UCLA Athletics spokesman Josh Rupprecht acknowledged Jamabo's arrest but declined to comment further.
"We are aware of the reports out of Dallas regarding Sotonye Jamabo. We are obviously concerned about these reports and are currently gathering more information," Rupprecht said in an email statement. "As this is a continuing process, we will withhold further comment until the appropriate time."
Compiled by Andrew Erickson, Bruin Sports senior staff.