Firefighters extinguish blaze in UCLA School of Dentistry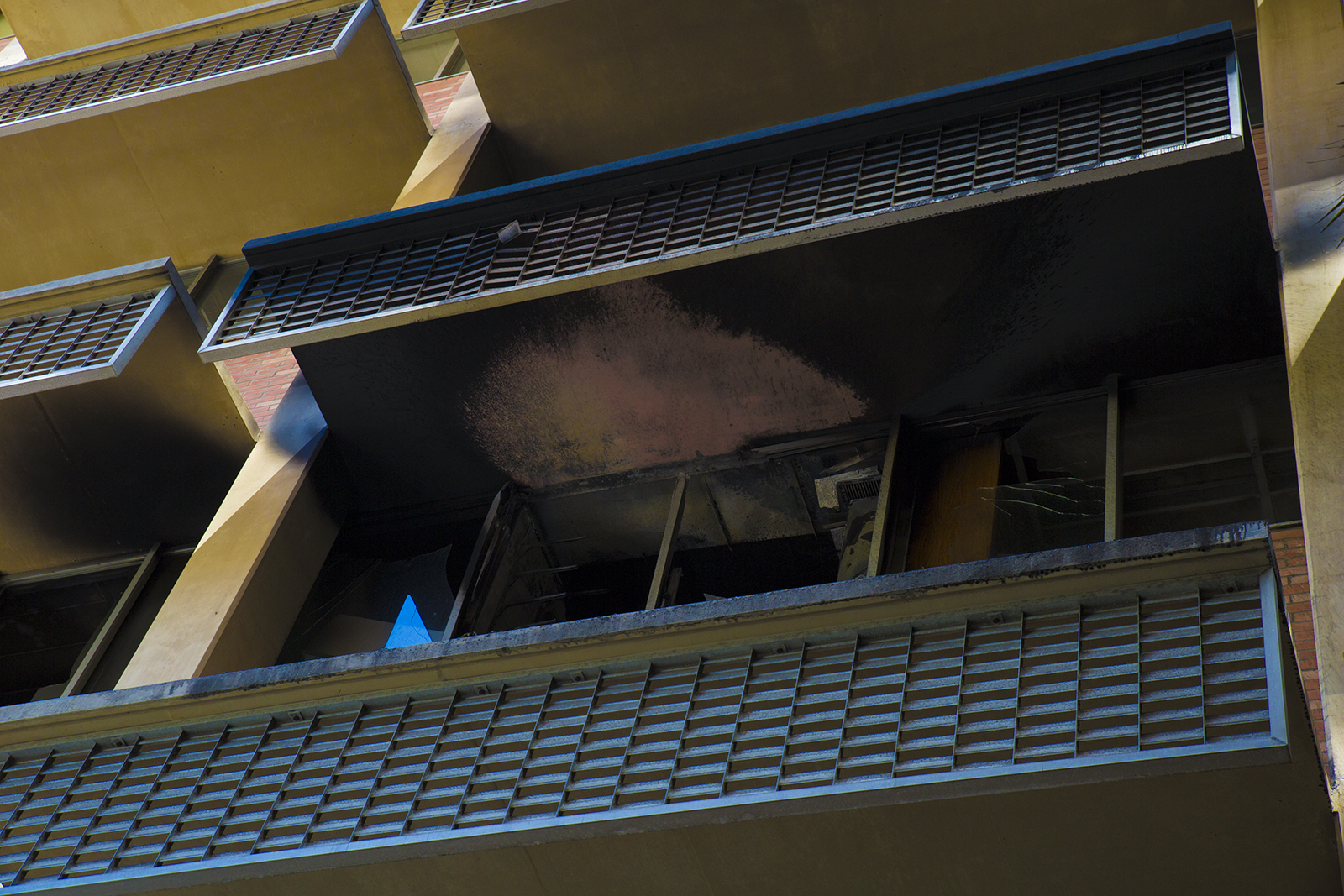 Firefighters battled a blaze on the third floor of the UCLA School of Dentistry early Tuesday morning. (Eu Ran Kwak/Daily Bruin)
April 14, 2015 10:31 a.m.
This post was updated April 14 at 3:29 p.m.
More than 100 firefighters fought down a blaze in the UCLA School of Dentistry early Tuesday morning that damaged half a floor in the school, although there were no injuries.
All classes at the dentistry school were cancelled Tuesday. Classes will start again as early as tomorrow if the air quality is deemed acceptable by UCLA Office of Environment, Health and Safety officials.
Most patient care at the school has been cancelled and all speciality and student clinics are closed for Tuesday, said Jeffrey Goldstein, director of the dental center. The oral and maxillofacial surgery clinic and implant surgery clinic, located below the first floor, have been unaffected by the fire and are the only two clinics open for patient care Tuesday.
The Los Angeles Fire Department was called in at 1:31 a.m. Tuesday to extinguish a fire in an office suite on the third floor of the dentistry school building, where smoke and flames could be seen through the windows. A total of 115 firefighters confined the blaze to a classroom and office space and extinguished it in 42 minutes.
Goldstein said the fire started in a esthetic dental laboratory on the third floor.
"Everything inside got burned down," Goldstein said. "The half of the floor where the fire started was severely damaged by smoke, water and fire."
Goldstein added that many patient charts in the area were damaged by water used to extinguish the fire. There were no injuries and nobody had to be evacuated from the building, said Erik Scott, Los Angeles Fire Department spokesperson.
According to a UCLA statement, all floors of corridor 3, the academic wing of the school, were closed Tuesday. The Center for Health Sciences breezeway to the school is closed while workers restore the area's utilities and remove water and smoke.
The cleanup process may take months, Goldstein said. Even if the air quality is safe, the areas affected by the fire must be cleaned and approved before the facility can receive patients.
Officials are currently investigating the cause of the fire and calculating the cost of the damages, which include some parts of the building outside the office suite. The fire began in room 33021, said Joe Sanchez, arson investigator with the LAFD.
"Any student that was in that room yesterday … it would be great if they could tell us any information, even if they just saw a flickering of the light. Any insignificant information can be significant to us," he said.
Compiled by Kristen Taketa, Bruin senior staff and Nicholas Yu, Bruin contributor.