Alzheimer's, dementia care program offers support to caregivers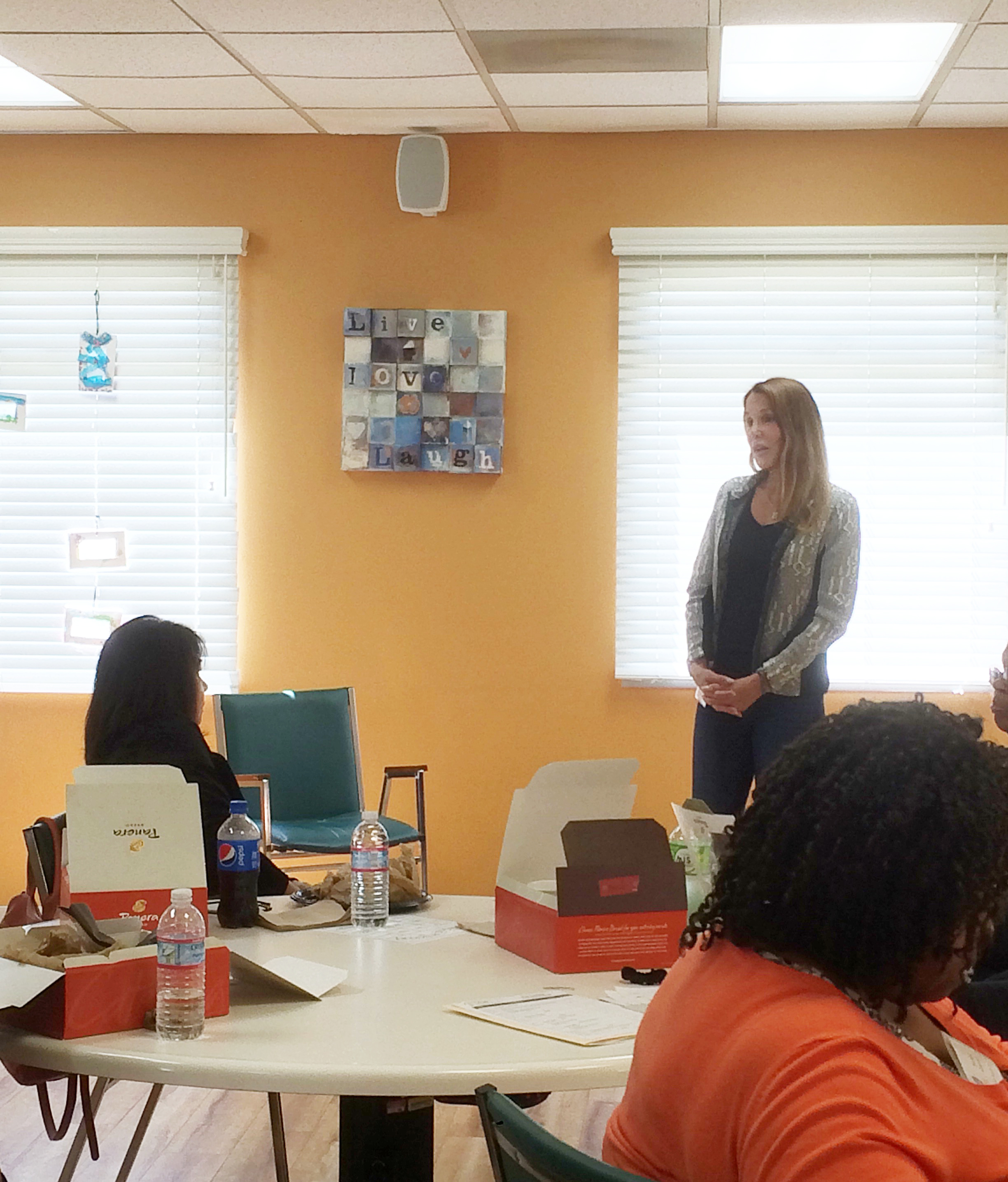 Patti Davis, who co-facilitates a support group called Beyond Alzheimer's twice a week, spoke to attendees at the 2nd annual I-CareD Bootcamp for Caregivers of Dementia. (Allison Ong/Daily Bruin)
April 13, 2015 11:12 a.m.
When Patti Davis' father announced his diagnosis of Alzheimer's disease to America through a letter in 1994, strangers began approaching her in public to share their personal stories and struggles with the disease.
Everybody knew who Davis' father was: Ronald Reagan, a former president of the United States. But in the 10 years her father was ill, Davis said people rarely asked her how she was coping.
"It feels like the definition of who you are has shrunk down to 'I am the daughter of a parent who has Alzheimer's,'" Davis said. "(But) you are still allowed to have a life. It's a part of who you are now, but it's not the entirety of who you are."
Three years ago, Davis started a support group for caregivers in Los Angeles. The group, Beyond Alzheimer's, meets twice a week through UCLA's Alzheimer's and Dementia Care program. On Saturday, Davis shared her experiences with an audience of about 20 people at the second annual Improving Caregiving for Dementia Caregiver Bootcamp, or I-CareD, at Santa Monica's WISE & Healthy Aging Center.
During the boot camp funded by the Archstone Foundation and organized by UCLA, caregivers from across Los Angeles attended presentations and live demonstrations about the scientific progression, behavioral issues and treatment of Alzheimer's and dementia.
Alzheimer's disease accounts for 60 to 80 percent of all dementia cases, said Dr. Zaldy Tan, the medical director of the Alzheimer's and Dementia Care program. Dementia is a brain condition resulting in the deterioration of memory, behavior and mental functions. Common behaviors associated with advanced stages of Alzheimer's include impaired short-term and long-term memory, personality changes or delusional behavior.
Amorin Mullins, who has been a private caretaker of such patients for five years, said she attended the boot camp to educate herself more about providing individual care to patients.
"I still want to learn more. (The boot camp has) given me new ideas of what to do when my patients are upset," she said. "I want to do my job well."
The Dementia Care program as a whole currently enrolls 1,200 patients with dementia and distributes them among five nurse-practitioners, said Tan, who is also an associate professor of geriatric medicine at the David Geffen School of Medicine. The program's services for caregivers include educational resources, support groups and weekend respite programs, in which patients receive entertainment and meals while caregivers can concentrate on learning about dementia care and management.
"The caregivers are as much our patient as the patient is," Tan said. "The boot camp is an intensive way of providing education, especially for caregivers who are the most stressed and have the highest need."
During the boot camp, Davis co-facilitated a support group session with Dr. Linda Ercoli, a professor of geriatric psychology at UCLA. Davis said she named the group Beyond Alzheimer's to instill the idea that there remains life – a human soul – in people with deteriorating brains. She said she wanted her group to be a safe environment for caregivers to discuss feelings and issues they felt uncomfortable talking about elsewhere.
"Nobody flinches in the room when somebody says, 'You know, I just wish it was over at this point,'" Davis said. "We all get it. We all understand."
When her father was battling Alzheimer's, Davis said she lacked adequate support and navigated her own way through her journey as a caregiver and daughter.
"It was kind of a lonely passage, but I did it and learned a lot, " she said. "When you do that, you learn to give that back to people."
Dementia Care used to be a pilot program funded by the Centers for Medicare and Medicaid Services to test whether its type of care management will lead to better outcomes and reduced cost, Tan said.
The program will continue to support caregivers, as it plans to host its first live Spanish-language webinar over UCLA MD chat this Wednesday, Ercoli said.