Travis Fife: UCLA must pressure NCAA to let student-athletes sign endorsement deals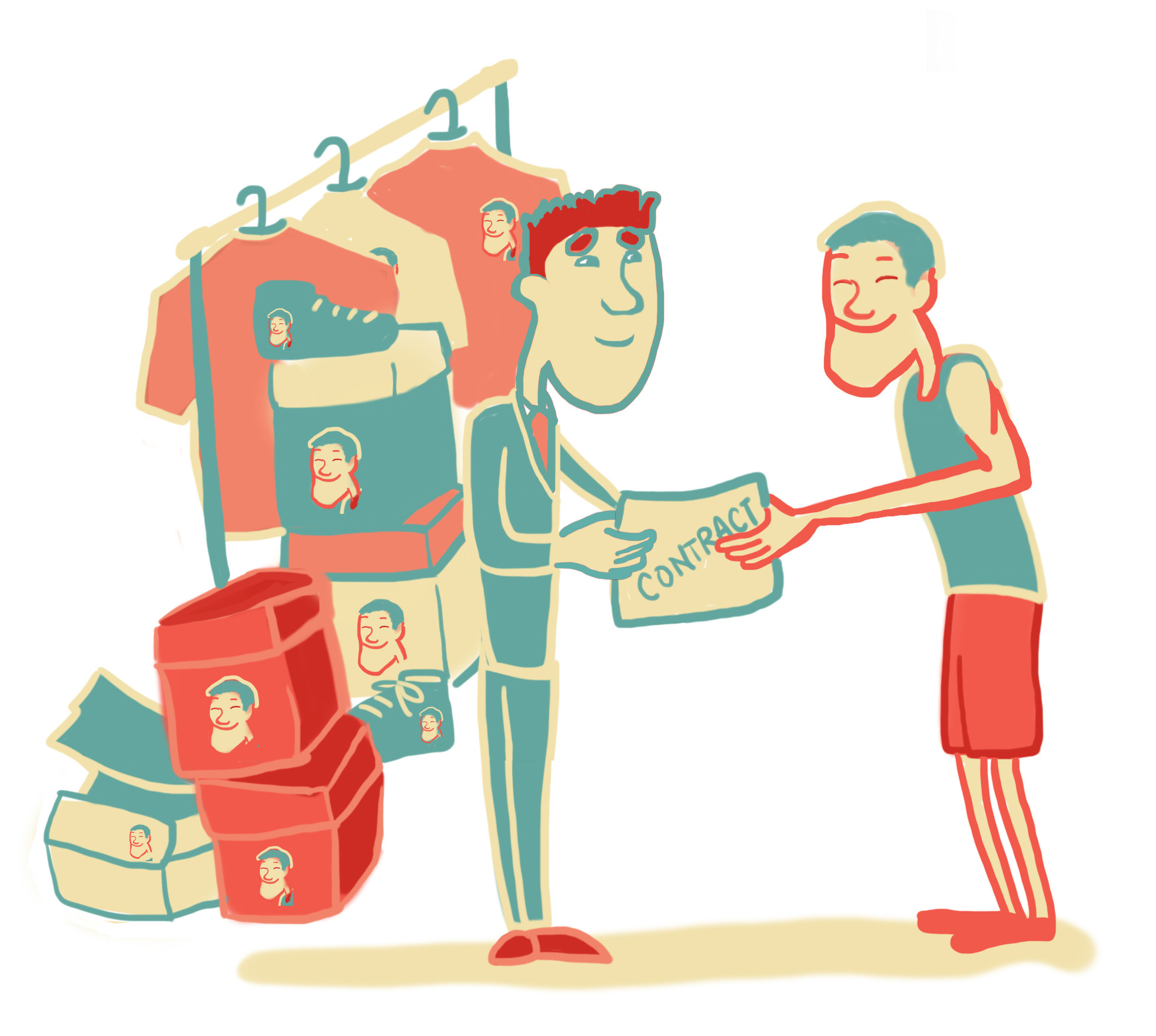 (Bijun Liang/Daily Bruin senior staff)
Duke may have hoisted a trophy on Monday night, but the real winner of the 2015 men's basketball tournament was the NCAA.
The championship game between Duke and Wisconsin was the highest rated championship in 22 years, averaging 11.3 million viewers across the broadcast. These ratings capped off a tournament in which advertising revenue totaled $1.07 billion.
With ratings and advertising numbers so large, it's becoming increasingly clear that the distinction between professional and college sports is degrading. The NCAA signed away TV rights for March Madness to CBS and Turner Broadcasting for more than $10 billion. Even coaches' salaries reflect the fact that athletics operates on a different plane than the rest of the university. Jim Mora, UCLA's football coach, made $3.25 million last year. Men's basketball coach Steve Alford will make $18.2 million over the course of his contract.
Because of this inequality in how money trickles down in college sports, UCLA should put pressure on the NCAA to allow players to sign endorsement deals with companies outside of the university. Even though UCLA does not have the authority to change NCAA rules, suggesting ways to pay athletes demonstrates a recognition that the current system is flawed. The NCAA has a significant amount of power over the status quo, and in order to change, universities have to be willing to speak out. Perhaps UCLA voicing concern could spark other Pac-12 schools to agree.
When universities stop being complicit in the current power dynamic, they do a better job representing their student-athletes to the NCAA. Lobbying for the right to endorsement deals would be a sign that our school recognizes the inequitable present state of college sports and is trying to change it.
This inequity is becoming increasingly more apparent. Lee Ohanian, a UCLA economics professor, who has taught classes on the economics of sports, said the NCAA model of the student-athlete is no longer defensible because it's one of the few industries where those who provide such a lucrative service aren't treated as employees.
Yet we commonly don't think of student-athletes as providing a service because we like to think of college sports as a manifestation of pride in our university. Part of what makes the events so appealing is that we see our classmates representing our school on the field. Perhaps allowing endorsement deals would take away from this connection to the game. But the question is whether or not this connection to the game is worth depriving athletes of the money they generate for the school.
Schools may not want athletes to sign endorsement deals because many universities have sponsorships that have exclusive rights to provide athletic wear for the team. Adidas, for example, provides $4.6 million to UCLA Athletics in exchange for exclusive merchandising rights. But athlete endorsement deals don't have to conflict with the university's already existing deals. For example, someone like former UCLA quarterback Brett Hundley could be on advertisements for local businesses.
Granted, a potential flaw with any form of compensation for athletes is that it gives another advantage to schools with larger markets. A student deciding between UCLA and Washington, for example, may be pulled by the prospect of playing in Los Angeles because it offers a better chance of getting a deal. This is a legitimate concern, but athletes in smaller market cities could sign local advertisements even if they don't have the notoriety for larger national deals. Perhaps this will increase the desirability of being a local star at a smaller program. Given the current state of college sports, any sort of endorsement would be an improvement from the status quo.
Some may point to scholarships as a form of compensation for athletes. But this form of payment doesn't cut it for the most lucrative sports. The amount of money basketball and football players make for their school and the NCAA far exceeds the amount of players' scholarships.
Moreover, some athletes choose to leave early to play professional sports. This makes college just a formality on their way to a professional league. Former forward Kevon Looney, for example, just declared for the NBA draft after only one year at UCLA. In cases like this, the notion of a "student-athlete" doesn't really make sense because the focus is on athletics, not academics. Scholarships, in these instances, do not serve their purpose of providing athletes with a legitimate education.

The NCAA has let this industry of college sports grow because it's immensely profitable for them. But that choice also means there's really no going back. This is the new world of big-time college sports we live in – coaches make millions, TV deals go for billions and the athletes provide the service uncompensated.
Going forward, sports will only grow in value, and the disparity between the students playing the games and the administrators creating the rules will widen. Endorsements could provide a way to a more equitable future.