Sleep Week awakens students to reality, need for mental rest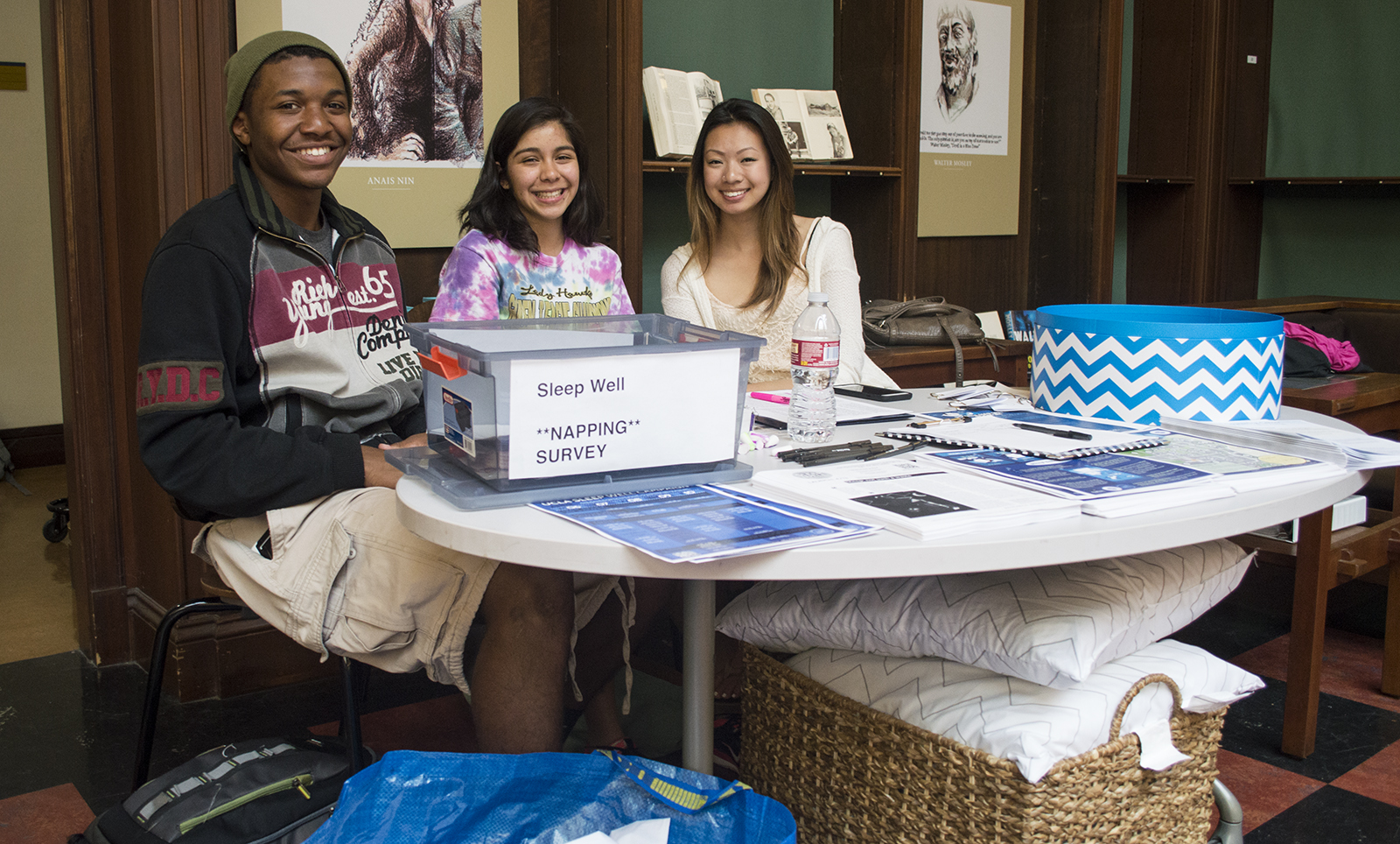 Jabril Muhammad, a first-year sociology and mathematics student, Clara Vara Escamilla, a first-year biology student, and Joyce Lin, a first-year psychobiology student, supervise the napping area in Powell. (Manvel Kapukchyan/Daily Bruin)
The new nap room in Powell was full during Thursday of week two. Students napped on mats, the lights dimmed and the room silent.
Sleep Week, an event across campus to promote the importance of sleep, took place this week. Interns in the Undergraduate Students Association Council Office of the President's Bruin Initiative put on the event with funding and support from the UCLA Healthy Campus Initiative, Mind Well as well as the Student Wellness Commission and UCLA libraries.
A main part of the event was the implementation of a nap room in Powell. Helpers watched students' belongings, gave students clean pillows and blankets and even woke students up at a set time if requested.
"Power napping for no more than 20 minutes, especially between 1 and 3 p.m., is a good intervention," said Kendra Knudsen, a Mind Well coordinator.
These nap rooms could become a permanent feature and will come back 10th and finals week in the Wooden Center, Knudsen said. Some students have requested nap rooms in the past, but cost and sanitation concerns were raised, Knudsen said.
In a survey of 123 UCLA students, 34 percent reported that they usually slept less than seven hours a night, 23 percent needed 30 minutes to fall asleep and 7 percent said they needed over an hour to fall asleep, which is concerning, Knudsen said.
"There's a weird pride in certain students when they pull all nighters," Knudsen said. "They need to re-prioritize, if they don't have time for sleep, looking at their schedule and seeing what is really important."
When you get more sleep, you are more productive, remember information better, function better throughout the day and help your body to be healthier, Knudsen said.
This is part of what motivated the USAC interns to create a campaign on health and especially on sleep.
"We wanted to remind fellow Bruins that the most important thing is to take care of yourself," said Eva Chen, a first-year bioengineering student and intern in the USAC office.
Some of the other events this week included a Sleep Well Symposium where professors spoke about sleep and the body's reactions to reduced sleep, and free yoga and mindful awareness sessions focused on relaxation.
One major problem with sleep is taking too long to fall asleep, which can be brought on by stress, Knudsen said. The yoga and mindful awareness sessions this week were designed to help students relax and fall asleep faster.
Mindful awareness is like meditation. It guides students through and lets students get in touch with their emotions to release stress, so students can fall asleep faster, Chen said.
The week also included doctor's opinions about how much sleep we really need, how to get better sleep and some tips to help college students.
The talks discussed the brain's chemistry and why different things such as exercise and caffeine can affect sleep. Sleep allows the brain to wash away the waste that the brain cells produce, which is important to thinking clearly and functioning throughout the day, Chen said.
Other tips included staying away from caffeine, not exercising before trying to sleep, staying away from certain colors of light before bed and not studying while sleep deprived.
Jasmine Jafari, a third-year psychology student who attended the symposium to learn more about sleep, said it was helpful for her.
Instead of the common phrases students may hear about sleeping more, Jafari said the doctors there gave specific instructions on how many hours a night are needed and the health effects if students get less sleep.
"I had the life scared out of me, so I now go to bed at midnight no matter what," Jafari said. "It's nice to have this resource available for students in an accessible way. Usually there's a lot of ambiguous terminology, but he explained what they were."