Former NFL player Robert Thomas returns to UCLA as coach, student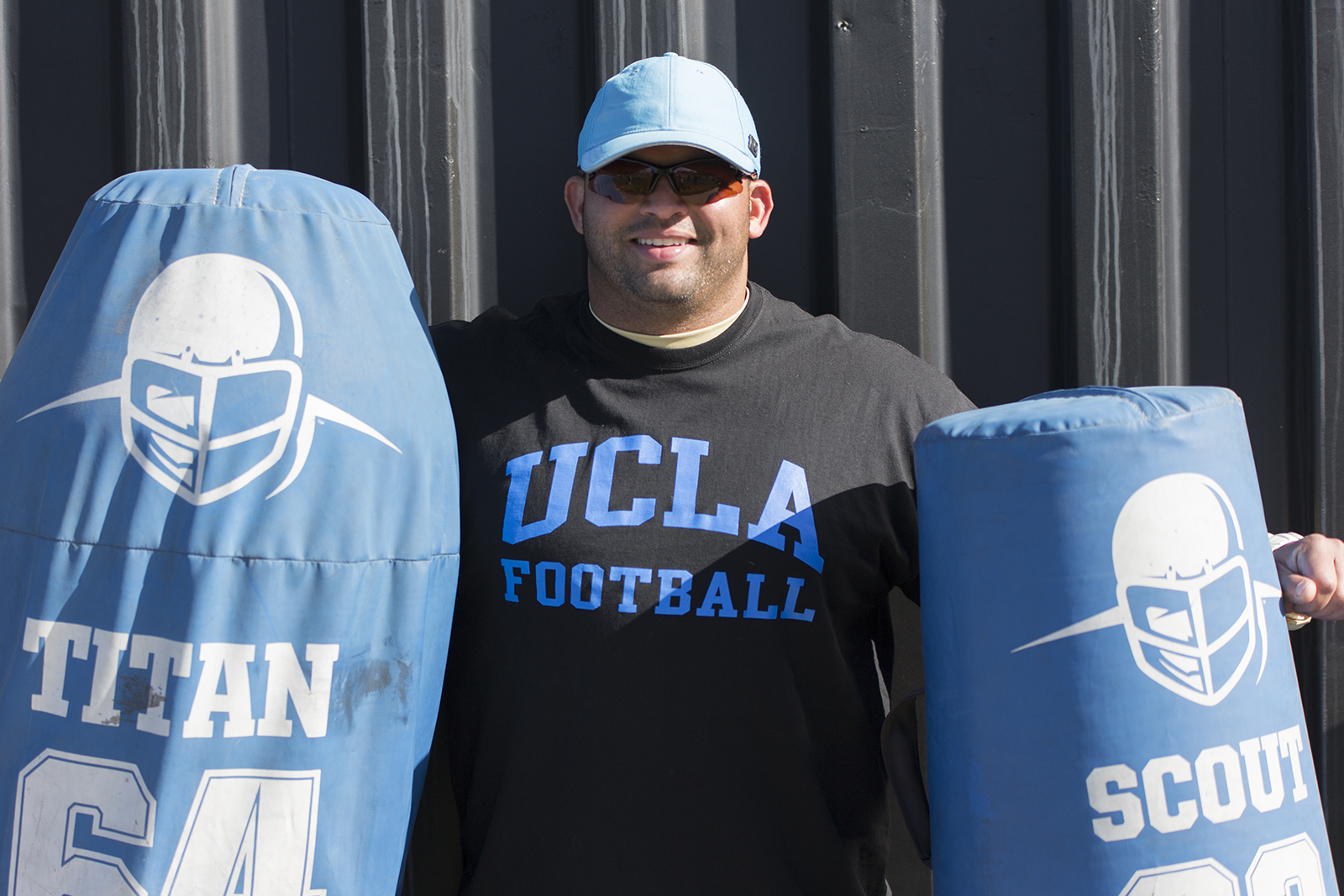 Former UCLA All-American linebacker Robert Thomas has reenrolled at UCLA to both complete his history degree and continue pursuing a career in football coaching. Thomas currently serves as a student assistant coach under linebacker coach Scott White. (Aubrey Yeo/Daily Bruin senior staff)
It's not recognition like it was during his UCLA playing days, but a few students have noticed Robert Thomas is back on campus.
"A few older students," he said, laughing. "It's a good feeling, I guess."
The former All-American linebacker and Pac-10 Defensive Player of the Year started this quarter as a student coaching assistant under linebackers coach Scott White. While on campus, he is also finishing up the history degree he left behind when he was drafted 31st overall by the St. Louis Rams in 2002.
Three classes this quarter, he said, followed by one in the fall, and he'll be a UCLA graduate.
Thomas has been back in Westwood for less than two weeks, but he said he already senses a changed attitude surrounding UCLA football.
"The atmosphere of UCLA football – not knocking (the culture) I was around with coach (Bob) Toledo, those were great days – but now losing is not an option," he said. "People walk around with a winning attitude."
Even with a new culture and football facilities that have received a facelift since his time as a Bruin, there's some familiarity for Thomas. He is now on UCLA's coaching staff alongside a former UCLA teammate and NFL player, assistant running backs coach DeShaun Foster.
The two entered UCLA as part of Toledo's 1998 recruiting class and were both selected in the 2002 NFL draft. Foster and Thomas also played their last NFL regular season games in 2008, when they were both faced with the decision of what to do next.
"You're just trying to find your way, basically," said Foster on life after the NFL. "The transition, it's hard for a lot of guys. You just have to find your niche and figure out what you want to do."
For Foster, that gap was filled with youth football camps and a return to high school coaching prior to his decision to come back to UCLA.
His former teammate, Thomas, recently made his return to high school coaching in the San Diego area. He started with his nephew's Torrey Pines High School team, then moved over to Oceanside High School last fall. But after the Washington Redskins released him in 2009, he needed some time off.
He took three years to live the life he couldn't as an NFL player. He enjoyed time with family and friends. He traveled around the world. He ate what he wanted, and he woke up when he wanted.
A few years in, though, that lifestyle became boring.
"After a while, that kind of gets old, and so I went into coaching," Thomas said. "And I just fell in love with the kids and having all the information I had and all the knowledge I had, being able to give back."
Then-Oceanside football coach John Carroll hired Thomas as his linebackers coach prior to the 2014 season. He said he wanted someone he could trust with a high level of responsibility and someone who the players could look up to. Carroll said Thomas was both of those things.
"As a first-round draft choice, kids can look it up in Google, and it lends instant credibility. That gets you in the door, and it's what you do after you get in the door that keeps your credibility with the kids," Carroll said. "And of course his credibility grew because of his ability to work with the kids and develop their progress as football players."
That progress immediately showed on the field. The Pirates started last season 14-0, their only loss coming in the state title game to a nationally ranked Folsom High School team.
It was at Oceanside that Thomas first met UCLA coach Jim Mora. While Thomas met with players and went over film on campus late last year, Mora stopped by around lunchtime with a few assistant coaches to see Carroll. It was a sign, Thomas said.
"It was just perfect timing," Carroll said. "Coach Mora was there, Robert had played for UCLA, and it was just an easy phone call to get him to come in the office."
Thomas got his coaching shot and a chance to return to school. He's still getting to know UCLA's players and defensive schemes, but he sees the way the players carry themselves, the way they talk and the way they work. Just more than a decade ago, he was that guy.
He has also played at the next level and said he sees this as an opportunity to groom his group of linebackers into players ready for life in the NFL.
"Going to that next level, you have to have a good head on your shoulders," Thomas said. "Now you're making millions of dollars, now you're off on your own, people are trying to shoot at you and get what you have, so it's real important in these years leading up to being a professional."
That familiarity and development will come throughout spring football and the fall season. For now, Thomas has to get to class.