Freshman forward Kevon Looney declares for 2015 NBA draft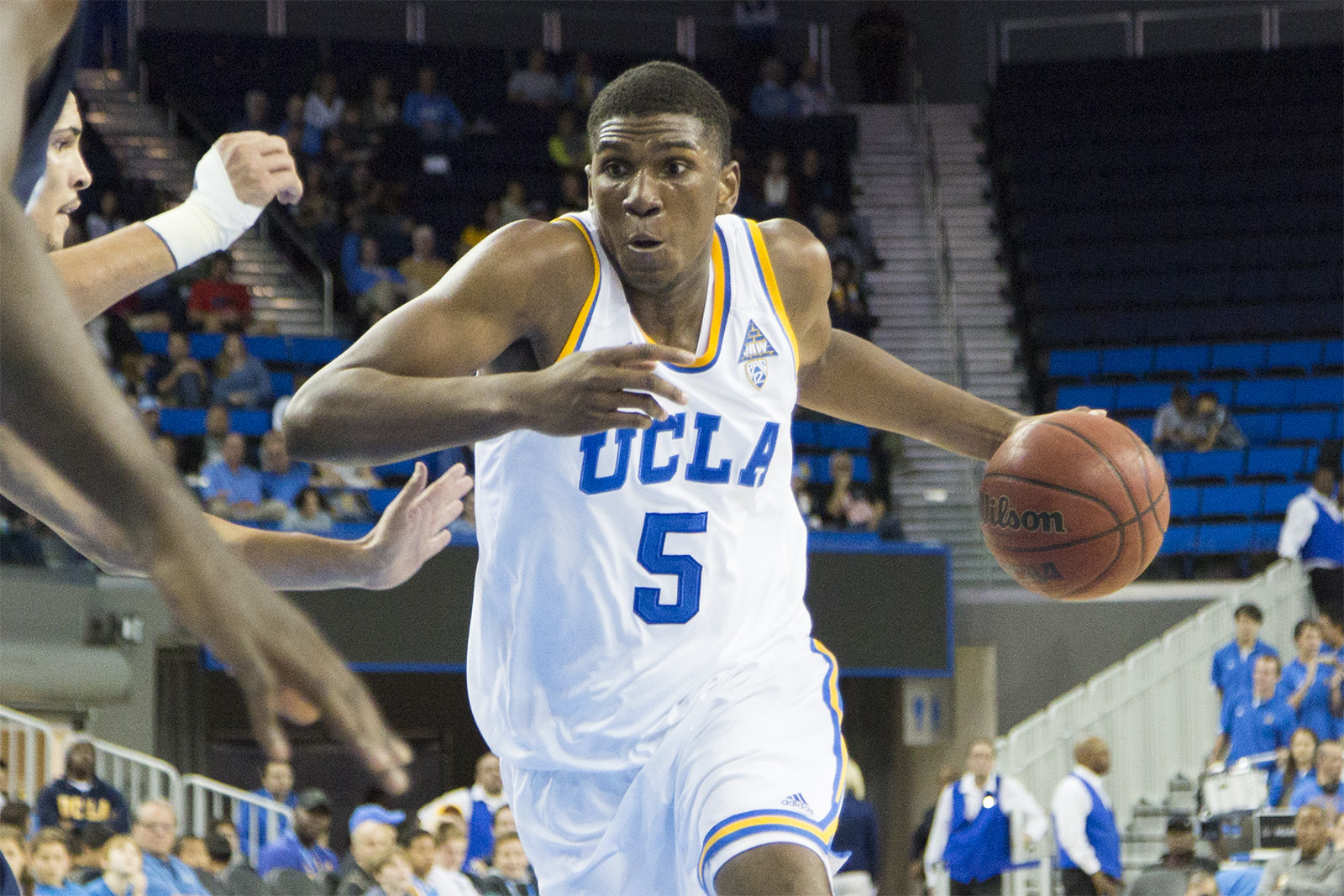 Freshman forward Kevon Looney officially announced on Monday that he would be entering the 2015 NBA draft. (Owen Emerson/Daily Bruin)
UCLA freshman forward Kevon Looney will declare for the 2015 NBA draft, UCLA Athletics announced Monday.
In his one season at UCLA, Looney averaged 11.6 points and 9.2 rebounds per game, and was awarded second-team All-Pac-12 and Pac-12 All-Freshman team honors. His 15 double-doubles was the highest mark among all freshmen in the nation.
"This was a really tough decision for me because there were so many positives both ways," Looney said in a statement. "My time at UCLA has been unbelievable, and I know I'll be a Bruin forever. But playing in the NBA is a dream I've had for so long, and this feels like the right time to pursue that dream and make the transition to the next level."
Looney is widely considered to be a lottery pick in the draft, ranked as the No. 7 overall player on ESPN's Chad Ford's Big Board. While he lacks the eye-popping stats of other top prospects such as Duke's Jahlil Okafor and Ohio State's D'Angelo Russell, Looney's draft stock has been based largely on his massive wingspan and his potential.
With a 7-foot-3 wingspan, Looney's long arms make him a tough defender and an adept rebounder. Factor in his improved 3-point shot, his history as a high school point guard and his room to grow as a post player and there's plenty to Looney's game that has scouts intrigued.
After UCLA had three players selected in last year's draft, the Bruins will likely have two more players drafted this year, as Looney and senior guard Norman Powell have both declared. The draft will take play on June 25 in New York City.
Without Looney next season, UCLA will lose its best rebounder and an integral piece of its zone defense.
The Bruins will likely look to guard/forward Jonah Bolden, who was ruled ineligible in his freshman season, to fill Looney's vacant spot. Bolden shares some similar qualities with Looney such as his length and versatility.
"It's difficult because on one hand, I couldn't be more excited for Kevon while on the other, the realization hits you that we're losing one of the finest young men that I've ever had an opportunity to coach," said coach Steve Alford in a statement. "Kevon is exceptionally hard-working, extraordinarily humble and one of those guys who gives you everything he has on a nightly basis."
Compiled by Kevin Bowman, Bruin Sports senior staff.