Women's basketball beats Northern Colorado, advances to Elite Eight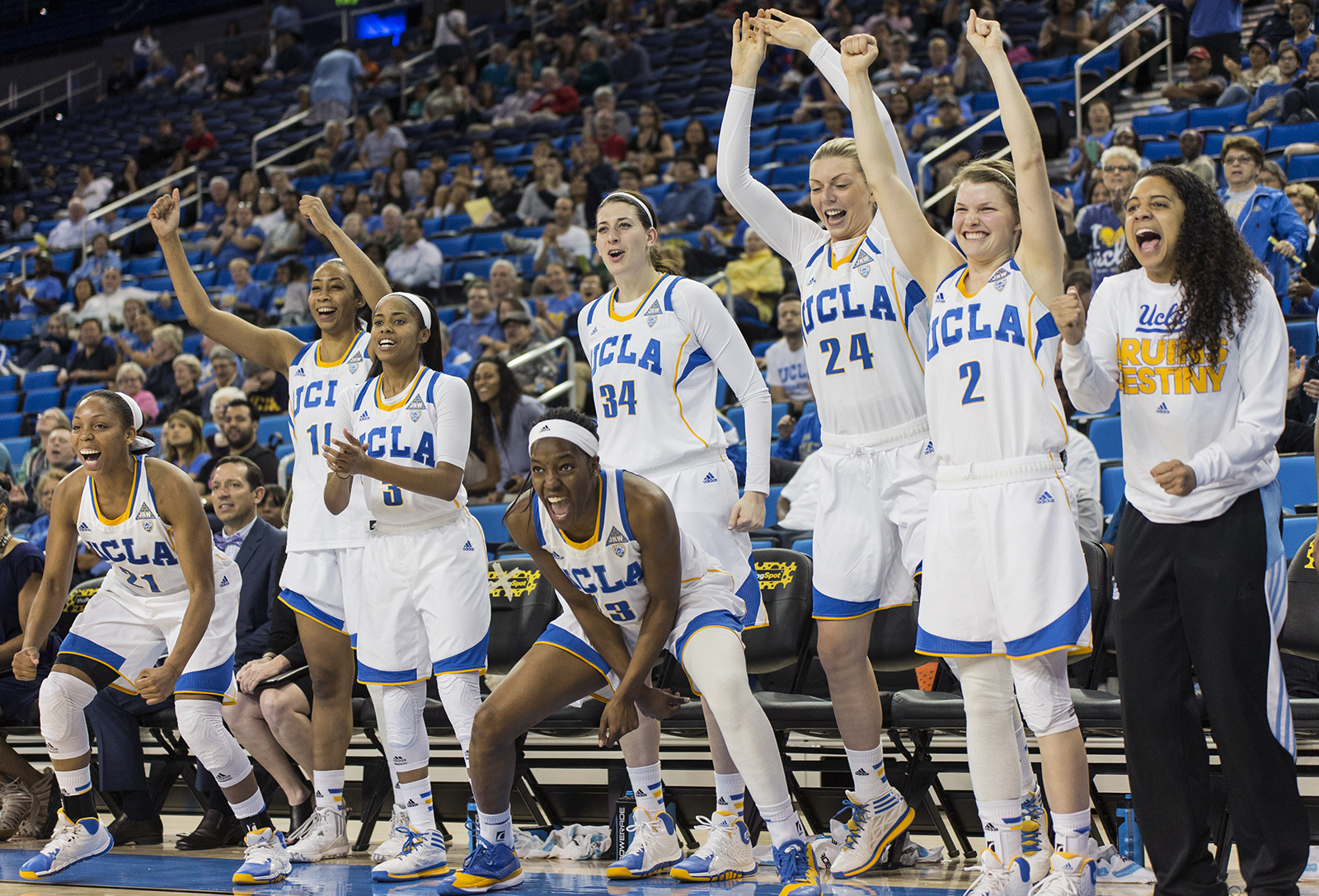 UCLA moves on to the Elite Eight of the Women's National Invitation Tournament with its victory over Northern Colorado. (Aubrey Yeo/Daily Bruin)
March 26, 2015 11:03 p.m.
Spring break meant nothing to the women's basketball team as it rolled into the Women's National Invitation Tournament Elite Eight with a win over University of Northern Colorado Thursday night.
The Bruins struggled against the Bears for control throughout the game and eventually gained it, winning 74-60.
Coach Cori Close largely attributed her team's success to the chemistry it has developed over the season.
"We have a lot of weapons, but it's a matter of understanding," Close said. "We're starting to learn each other."
A sign of that chemistry came just past the halfway mark in the second half. Minutes after UCLA (16-18) regained its lead but was still fighting a UNCO (22-13) comeback, junior guard Nirra Fields knocked the ball away from Bears senior guard Lindsay Mallon and UCLA freshman forward Lajahna Drummer scooped it up for an easy layup.
Fields said they have developed good chemistry up top on defense and that play was an opportunity to expose the Bears' weakness against pressure.
"At that point it was a close game, and I knew we were going to need to win defensively and manage to get stops," Fields said.
The Bruins' defense stepped it up from there.
UNCO center/forward Stephanie Lee had torched UCLA for 31 points and the Bruins struggled to make the right adjustments until about 11 minutes into the second half. After a Lee layup, the defense clicked and stopped her from scoring for the rest of the game.
Close credited Lee for her performance and said that even when her players were adjusting and putting more pressure on her, she was still scoring. Eventually, she said they were just able to stop the ball from finding her hands.
After a rough start shooting, freshman guard Jordin Canada took control on the other end and scored 11 of her 14 points in the second half.
"I told myself to relax and get everybody else involved and then when it's time for me to take over, then it's my time," Canada said.
Fields led the team with 26 points and eight rebounds. Close praised Fields' dedication and work ethic, pointing out the effort and sacrifice Fields gives during practice and in her free time.
The Bruins will face St. Mary's in the Elite Eight Sunday at 2 p.m. in Pauley Pavilion.