UCLA vs. Gonzaga: Position matchups and scouting report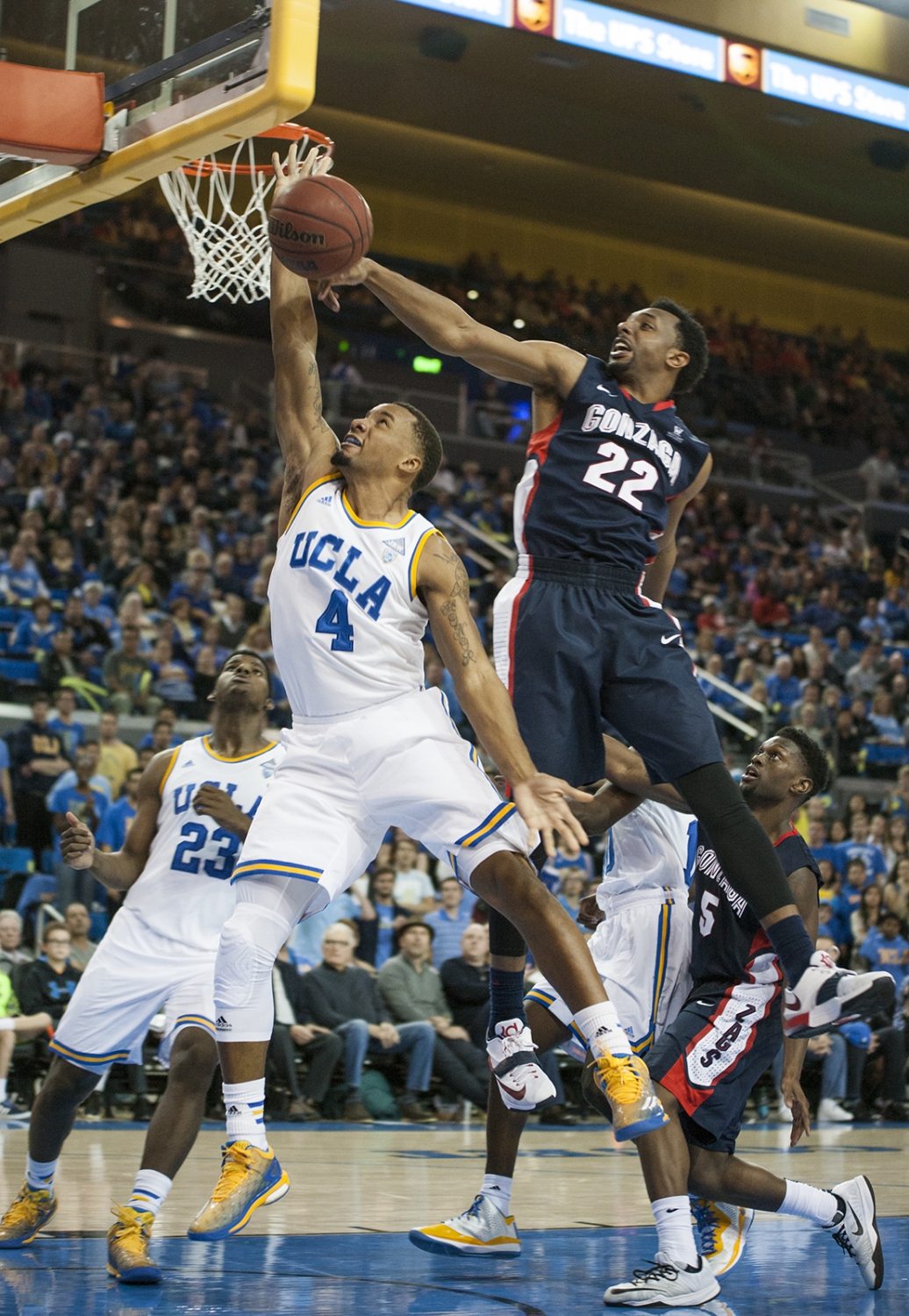 Senior guards Norman Powell (front left) and Bryon Wesley (front right) have grown accustomed to facing each other over the past four years, as Wesley played at USC from 2011-2014 before transferring to Gonzaga this season. (Aubrey Yeo/Daily Bruin senior staff)
HOUSTON — Well what do you know, another rematch.
After dispatching No. 14-seeded UAB in the Round of 32, No. 11 UCLA's reward is a Sweet 16 matchup with No. 2-seeded Gonzaga, who gave the Bruins their only home loss of the season Dec. 13.
In that contest the Bulldogs eviscerated the Bruins defense by shooting 58.5 percent from the field and making nine of their 19 3-pointers.
If UCLA hopes to continue it's unlikeliest of runs, it can ill-afford a similar defensive performance.
Check out the key matchups in Friday's contest and what each team will have to do to survive and advance.
Point guard: Bryce Alford vs. Kevin Pangos
Pangos and Alford enter as two of the top shooting players in the tournament after Alford set a UCLA record with nine 3-pointers in the Bruins' second-round opening win, while Pangos is shooting about 47 percent from outside for the tournament. UCLA will almost certainly need its sophomore guard to stay red-hot if it hopes to pull the upset while it is the Gonzaga senior guard's ball security and propensity to make the smart play that keys Gonzaga's offense. If the Bulldogs' point man stays true to form, the Bruins have little hope of playing past Friday.

"I don't really think of that … the rim is the same height so you just don't think about it and shoot," said Pangos, on if playing in an NFL stadium will affect players' shooting.
Guard: Norman Powell vs. Byron Wesley
These two senior guards are quite familiar with one another after facing each other twice a year for the past three seasons before Wesley transferred to Gonzaga from USC this past year. Powell more often than not got the better of the matchup, but Wesley put together one of the better performances of his career after scoring 20 points on 7-8 shooting in Gonzaga's 87-74 win over UCLA earlier in the season. To avenge that loss, the Bruins will need Powell to not only turn into the defensive stopper he is capable of being, but continue to create offense – be it facilitating or scoring – when he drives the paint.

"Their starting five has done a great job all year establishing an inside and outside presence. It's going to be us having to guard them and taking away their 3," said Powell.
Guard: Isaac Hamilton vs. Gary Bell, Jr.
Though Bell is Gonzaga's sixth leading scorer, he plays the most minutes per game for the Bulldogs, second only to Pangos, and provides coach Mark Few's team with solid veteran leadership. Hamilton figures to match up defensively with both Bell and Pangos, as UCLA figures to utilize the 6-foot-4-inch guard's length against Gonzaga's ballhandlers.
"(I have to) use my length. A lot of people don't think I'm that big, but being a 6-foot-4, 6-foot-5 guard, my wingspan is really hard (to play against)," said Hamilton.
Forward: Kevon Looney vs. Kyle Wiltjer
This is probably the biggest matchup of the contest, as Wiltjer is the most potent of Gonzaga's scorers and keys the Bulldogs' inside-out game. Though Looney did little to slow Wiltjer back in December, it was only the freshman's 11th game of his college career and he has come a long way on both ends of the floor since then. Wiltjer is capable of scoring inside and from beyond the arc so the UCLA freshman will be busy with him on the floor. If Looney can frustrate Gonzaga's junior forward and put forth a productive performance in both paint and on the perimeter, UCLA's offense stands a chance of keeping pace with Gonzaga's.

"He's geting better, he's getting more comfortable, he's playing his game because he really can do it all. Don't tell him I said that," said junior forward/center Tony Parker on Looney.
Forward/Center: Tony Parker vs. Przemek Karnowski
Karnowski is one of the few players that the 6-foot-9-inch, 260-pound Parker doesn't have a size advantage against. Gonzaga's 7-foot-1-inch, 288-pound junior center is an absolute load in the paint and, together with freshman forward Domantas Sabonis, forms one of the most imposing front courts in the country. Parker is coming off a career performance against UAB but to expect a similar output against Gonzaga is overly optimistic, to say the least. Instead, the Bruins would likely settle for a solid outing from Parker, one where the junior spends more time on the floor than the bench and stays out of foul trouble. Even if Parker doesn't score, his ability to draw double teams and haul in rebounds is key to UCLA's offense.
"(UCLA has) great bigs and we've just got to make it tough on them. They've got good length and hopefully we can just be aggressive and go right back at them," said Wiltjer.
How UCLA wins:
UCLA actually may be catching a break with the game being played in a football stadium. The NRG Stadium in Houston hosted the 2011 national championship game where UConn and Butler combined to shoot 26 percent from the field. The wide open space around the court may throw off the depth perception of shooters, so an off night from sharpshooting Gonzaga may not be asking for too much. The Bruins will need one regardless of the reason, as their 3-point defense has often bordered between lacking and nonexistent for much of the season. Couple that with another strong performance from Parker and Looney inside and solid shooting from Hamilton and Alford on the perimeter, and UCLA might just still be dancing come Saturday morning.
How Gonzaga wins:
It plays its game. Simply put, the Gonzaga offense is too good to be brought down by UCLA without the Bulldogs doing some of the damage themselves. If they take care of the ball, get Looney and Parker in foul trouble and shoot like they normally do, the Bulldogs will be through to the Elite Eight for the first time since 1999.
Predictions
Jordan Lee's prediction: Gonzaga 76, UCLA 67
Kevin Bowman's prediction: Gonzaga 77, UCLA 66
Lee joined the Bruin as a freshman in 2011 and contributed until he graduated in 2011. He was an assistant Sports editor for the 2013-2014 academic year and spent time on the football, men's basketball, softball and women's volleyball beats.
Lee joined the Bruin as a freshman in 2011 and contributed until he graduated in 2011. He was an assistant Sports editor for the 2013-2014 academic year and spent time on the football, men's basketball, softball and women's volleyball beats.