UCLA vs. UAB: Position matchups and scouting report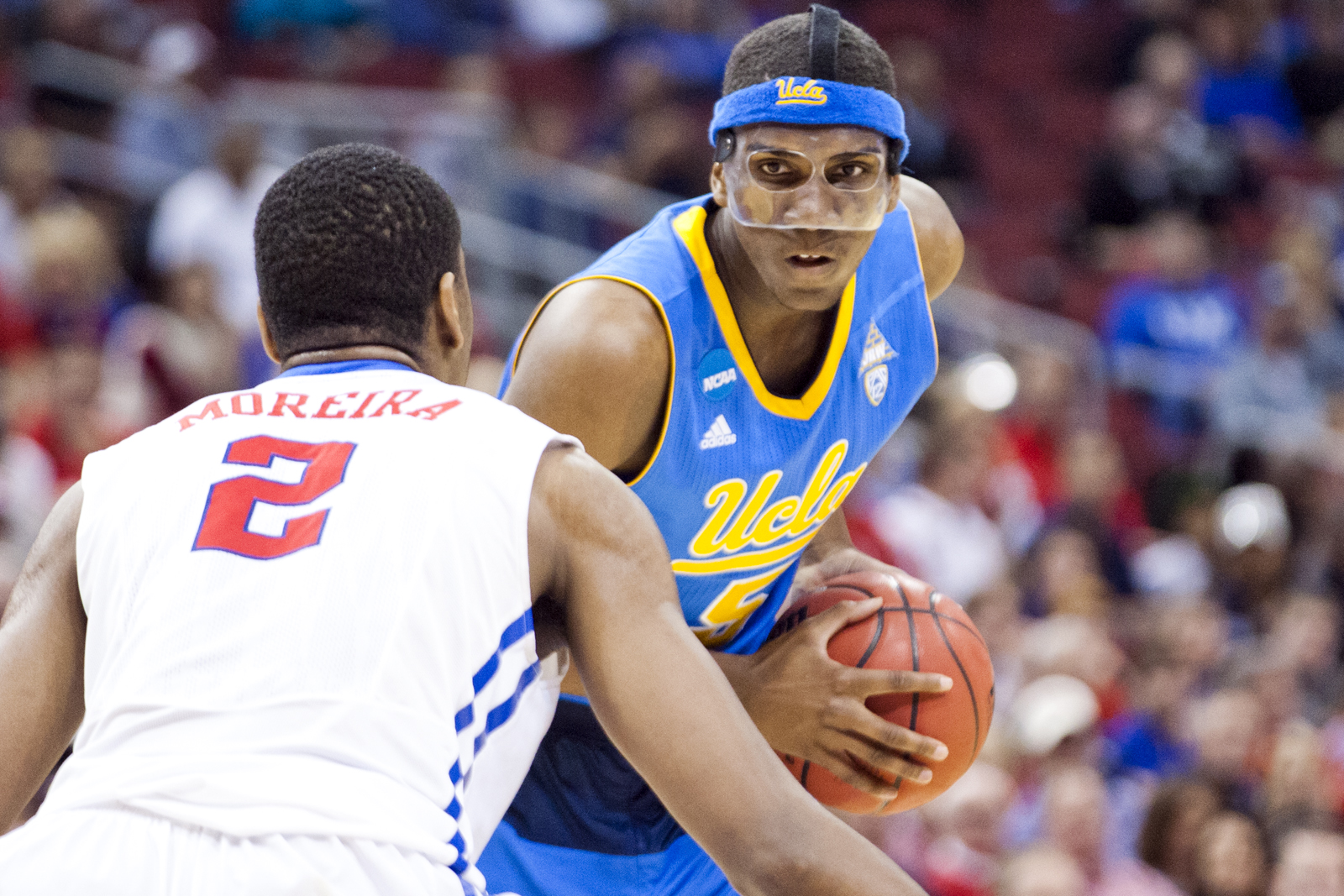 The rebounding abilities of freshman forward Kevon Looney will be key in the University of Alabama-Birmingham matchup, as the Blazers pride themselves on their rebounding. In the second round, UAB outrebounded No. 3-seed Iowa State 52-37 before winning the game 60-59. (Katie Meyers/Daily Bruin senior staff)
LOUISVILLE, Ky. — When UCLA and the University of Alabama-Birmingham met all the way back on Nov. 28 for the seventh-place game in the Battle 4 Atlantis, few – if anyone – saw a rematch coming.
Those directly involved in the contest certainly didn't.
"Who thought seventh-placed teams would be playing for a Sweet 16?" said junior forward/center Tony Parker, voicing the question asked by nearly everyone in college basketball.
Not many thought either squad would make it to the tournament as recently as a week and a half ago, let alone be one of the final 16 teams left standing, which one of the teams is guaranteed to be.
But as mad as that may seem, it's now time to start figuring out who that team will be rather than spending more time with mouth agape, wondering how either of them got here.
Check out our position-by-position breakdown and what each team will have to do to survive and advance.
Point guard: Bryce Alford vs. Nick Norton
Arguably no player in the entire tournament is as hot as Alford is right now, after the sophomore guard turned in a nine-for-11 effort from beyond the arc, goaltend and all. The same could not be said about the coach's son the first time he went up against UAB, as Alford went one for eight from the field down in the Bahamas.
Though he played just 13 minutes during his team's upset win over Iowa State, Norton should be a bigger factor in round three, as the freshman guard put together one of the best performances of his career in the teams' first meeting in November by leading the Blazers with 17 points.
"(Norton) hit a lot (3-pointers) against us; individually, that's going to be my thing is trying to stop him," Alford said.
Shooting guard: Norman Powell vs. Tyler Madison
Madison likely opened plenty of eyes Thursday as the Blazers' sophomore guard hauled in nine offensive rebounds in his 14 minutes of play off the bench. A similar performance again on Saturday might be enough to pull another upset. Key to stopping that will be Powell – a strong rebounder in his own right.
"They are really outworking their opponents in every aspect of the game right now. … We can't take them lightly because, when you take teams for granted, you run the risk of getting beat," Powell said.
Small forward: Isaac Hamilton vs. Robert Brown
Brown, a Virginia Tech transfer in his first year with the program, enters the contest as the lone UAB player averaging double figures in points per game. Though Powell figures to match up with the Blazers go-to-guy, Hamilton should draw the assignment as well as the Bruins' other defensive stopper on the perimeter. Brown is one of the few UAB players who has the green light from coach Jerod Haase to pull the trigger from beyond the arc. Making sure Brown doesn't get it going will be key to limiting UAB.
"It's always the key to our team to be the most physical team. We're not the biggest, most athletic. … On the scouting report it's always: Get to the offensive glass and get second-chance points," Brown said.
The Blazers did just that in the second round against the Cyclones, outrebounding Iowa State 19-9 on the offensive glass.
Power forward: Kevon Looney vs. William Lee
Looney is certainly the more talented of the two 6-foot-9 freshman forwards, and he'll have to play like it for UCLA to advance. While much of the focus heading into Saturday's game will likely revolve around rebounding, the Bruins would do well to get Looney involved early offensively, especially from the outside. If he can make a difference there – after scoring just six points in his NCAA Tournament debut Thursday – UCLA will be tough to beat. Meanwhile, Lee was just that in his own debut, as he put together a six-for-11 effort from the field on his way to a 14-point, 12-rebound performance that included a go-ahead jumper in the waning moments.
"I remember (the first game) being a war out there," said Looney of UCLA's first matchup with UAB on Nov. 28. "How hard they play and how hard they rebound, so its not a surprise (they're here). They might not be as tall, but they're strong."
Center: Tony Parker vs. Tosin Mehinti
Parker played just 18 minutes in UCLA's win over SMU Thursday, and though freshman center Thomas Welsh performed admirably, with two points, six rebounds and four blocks, UCLA needs its junior forward/center to have a positive impact on the game if it hopes to come away victorious. UAB doesn't threaten much, if at all, from the perimeter, electing to take the vast majority of its shots inside the arc. Mehinti, though, didn't factor in much offensively for the Blazers in round two, missing both his shots and finishing with zero points. The team that gets its inside man going early could come away the victor.
"They're smaller, but they're long. Mehinti is like 6-foot-9, 6-foot-10, but he's long as a mug," Parker said. "And he has a really, really fast helper. So making quick moves and being aggressive is just one thing you have to do against UAB because they play really, really fast."
How UAB wins
The Cinderellas of the South ride the momentum of their upset Thursday into a repeat performance two days later. UCLA's bigs can't contend with UAB's relentless crashing of the boards as Madison and Mehinti outwork the Bruins' frontline. Alford falls back to earth and UCLA's possible Sweet 16 run slips through the cracks after UAB predictably struggles from the perimeter but hits just enough shots down the stretch to keep on dancing.
How UCLA wins
Parker and Looney win the battle on the boards and don't allow the Blazers the second-chance point opportunities that led them to an upset win over the Cyclones. Powell comes up big rebounding as well, and the Bruins get their transition game flowing. UAB's inability to score from the perimeter is especially apparent as Alford's hot hand stays hot, as does UCLA.
Predictions
Jordan Lee's prediction: UCLA 63, UAB 55
Kevin Bowman's prediction: UCLA 67, UAB 59
Lee joined the Bruin as a freshman in 2011 and contributed until he graduated in 2011. He was an assistant Sports editor for the 2013-2014 academic year and spent time on the football, men's basketball, softball and women's volleyball beats.
Lee joined the Bruin as a freshman in 2011 and contributed until he graduated in 2011. He was an assistant Sports editor for the 2013-2014 academic year and spent time on the football, men's basketball, softball and women's volleyball beats.