Rematch between UCLA, UAB brings back together two changed teams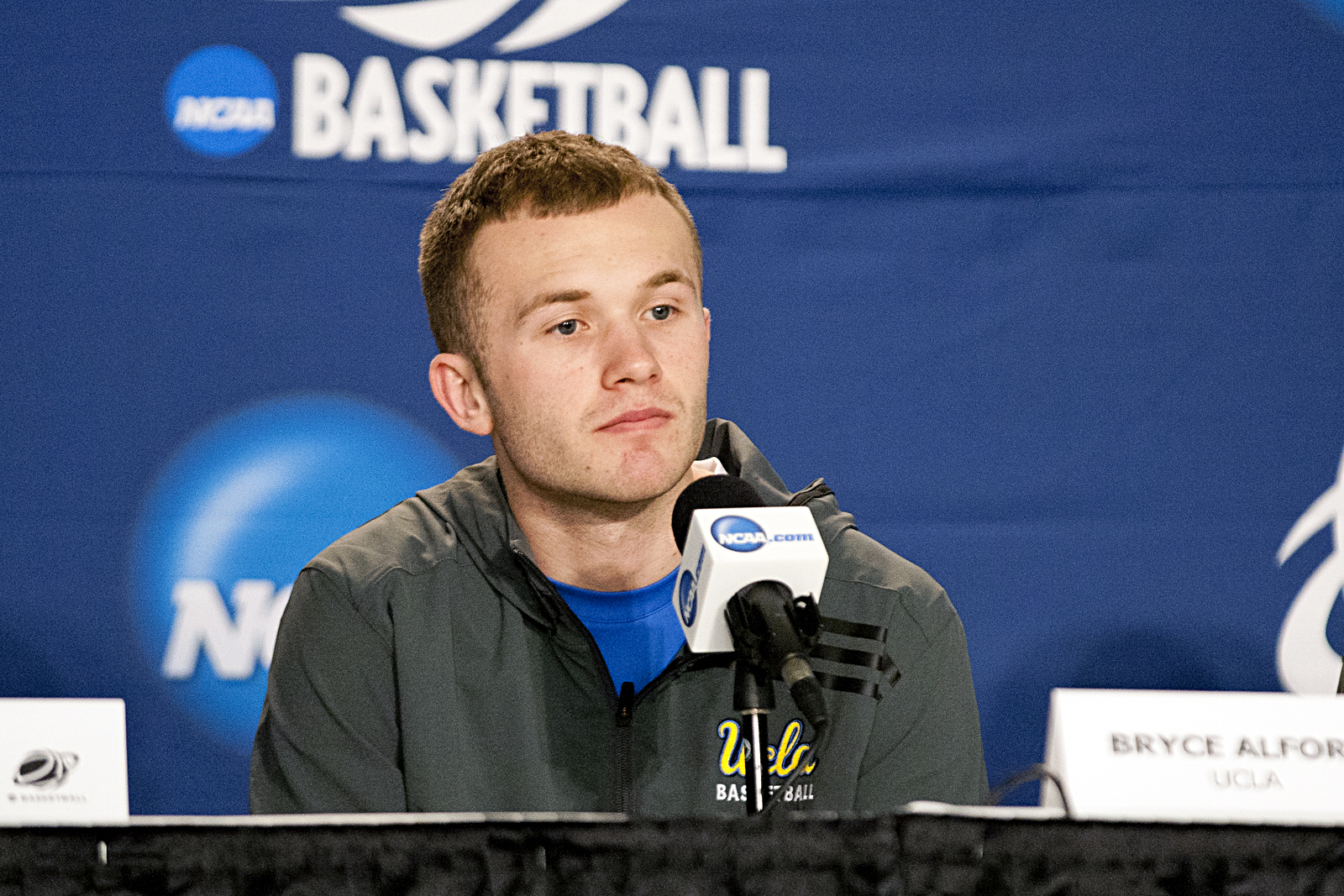 Sophomore guard Bryce Alford enters Saturday's third-round game against the University of Alabama-Birmingham on the heels of his nine-of-11 performance from beyond the arc against Southern Methodist University Thursday. (Katie Meyers/Daily Bruin senior staff)
NCAA TOURNAMENT
SOUTH REGION
THIRD ROUND
---
No. 14 UAB
Saturday, 9:10 a.m.
KFC Yum! Center
CBS
March 21, 2015 12:15 a.m.
LOUISVILLE, Ky. — When UCLA and the University of Alabama-Birmingham squared off in the consolation game of the Battle 4 Atlantis tournament in the Bahamas on Nov. 28 the ballroom-turned-basketball arena was nearly empty.
After the tournament's championship game – a 69-56 Wisconsin win over Oklahoma – few fans stayed in their seats for the seventh-place game featuring two teams that had been winless in the tournament.
Not even ESPN's Andy Katz bothered to stick around for much of the day's final game, he admitted on Twitter Friday.
Nobody cared about the two weakest teams of that tournament, but UCLA and UAB certainly have the nation's attention in this tournament. One of these thought-to-be-lowly teams will be playing in the Sweet 16 next week.
Both on the winning ends of second-round upsets, the No. 11-seed Bruins will face the No. 14-seed Blazers Saturday at the KFC Yum! Center in Louisville, Ky.
While the previous matchup familiarized both teams with each others' style of play, it may not be of much use for preparation outside of that. Both teams have changed so drastically over the course of the season, they'll see different teams when watching film of that November game.
"For our team, it's night and day," said UAB coach Jerod Hasse. "I could talk a lot about how our team has grown up and changed."
Hasse said he reached a point in the season where he specifically ordered certain players to stop shooting 3-pointers in order to improve his team's shot selection. The Blazers have also been helped by the return of forward William Lee – the team's second-leading scorer – to the rotation after he missed the UCLA game in November because of an injury.
UCLA, too, has altered its identity, learning to feed the ball to its frontcourt players more frequently and to play more effective defense.
As a result, UCLA's 88-76 win over UAB in the Bahamas gives little indication for how the two teams compare now.
"It was so early in the season," said sophomore guard Bryce Alford. "At this point, it's so much different."
While UCLA pushed UAB around in the first meeting, outscoring the Blazers by 12 and outrebounding them by nine, UAB proved against Iowa State Thursday that it isn't afraid to play physical.
UAB grabbed 15 more rebounds than Iowa State in its 60-59 upset and pulled down a whopping 19 offensive rebounds. The Blazers may not be big – they have just two players who are 6 feet 9 inches or taller, compared to the Bruins' four – but it's their tenacity that keeps them in games.
"It's always the key to our team to be the most physical team," said UAB guard Robert Brown. "We're not the biggest, most athletic. (We have to) just go out there and have the most fight."
While many of the details of the November game has escaped the Bruins, given the 27 games they've played since, freshman forward Kevon Looney hasn't forgotten that physicality.
"I remember playing them the first time, I know how hard they play and how hard they rebound. It's not a surprise (UAB had 19 offensive rebounds) because they send everybody to the glass and everybody's flying," Looney said. "They're real physical down there. They might not be as tall, but they're real strong down there."
That's where the first matchup matters the most: the memories, not the game plan. That's what UAB has been carrying with it for months.
"I'm actually happy they did call it (a goaltend on Alford's final shot against Southern Methodist University) because they did beat us in Atlantis, and we do have a little payback for them, and we want to play them," Brown said.