Guard Bryce Alford plays pivotal role in 60-59 win against SMU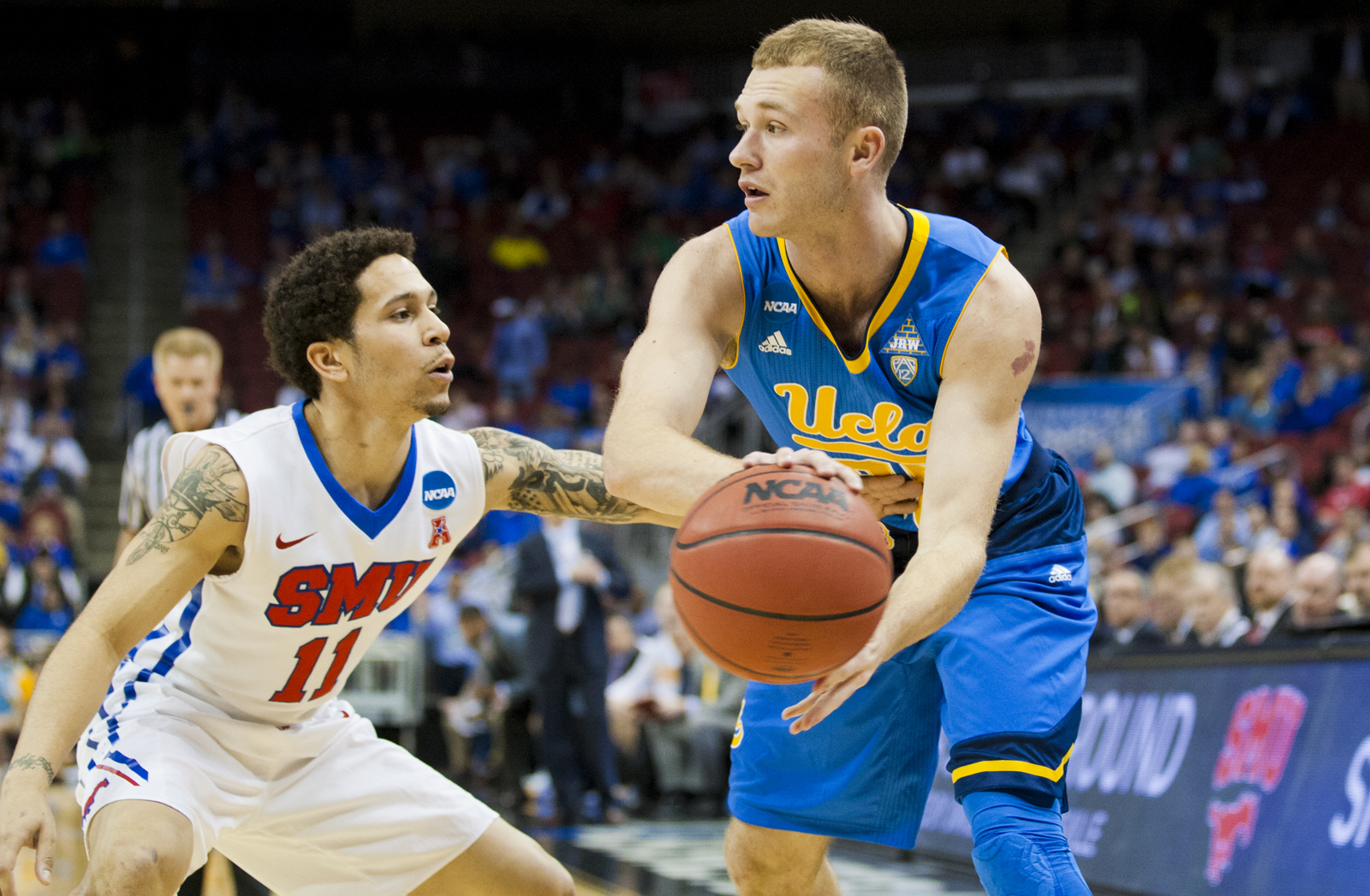 Sophomore guard Bryce Alford bested Nic Moore (left), American Athletic Conference player of the year, by scoring a game-high 27 points on nine of 11 shooting from beyond the arc in UCLA's 60-59 win. (Katie Meyers/Daily Bruin senior staff)
NCAA TOURNAMENT
SOUTH REGION
---
| | |
| --- | --- |
| No. 11 UCLA | 60 |
| No. 6 SMU | 59 |
LOUISVILLE, Ky. — After a season of getting knocked around, the Bruins finally appeared down for the count.
But as sophomore guard Bryce Alford tumbled to the floor, his teammates descending upon him in an a dogpile near midcourt, UCLA showed it could take a punch, and throw one too.
A critical goaltending call with less than 13 seconds to play on Alford's final 3-point attempt of the game proved the difference Thursday, as No. 11-seed UCLA escaped with a 60-59 win over No. 6-seed Southern Methodist University in the second round of the NCAA Tournament.
Fittingly, it was Alford – UCLA's resident punching bag to many – who hit practically everything he put up in the KFC Yum! Center, even when he missed.
Alford scored all 27 of his points on nine of 11 shooting from beyond the arc, none bigger than his final one.
With UCLA (21-13) trailing SMU (27-7) 59-57 on what looked to be the Bruins' final possession, Alford launched a desperate, step-back, fadeaway 3-point attempt from the left wing.
"It definitely was my worst one (of the game), but it worked out," Alford said. "I shoot it and I'm backing up because I'm kind of fading away and all of a sudden a hand comes up and grabs my shot. I thought it was goaltending, but I didn't know if (the referees) were going to call it."
They did.
Alford said the shot looked like it was off to the right. Whether or not Alford's 11th 3-point attempt would have went in became irrelevant though, after Mustang center Yanick Moreira tipped the ball back up into the air as it descended toward the basket. Moreira was subsequently called for goaltending.
SMU got two final shots at the basket, but both shots by guard Nic Moore came up short as UCLA stormed the court at the buzzer.
That the Bruins were even in position to win the game seems even unlikelier than the goaltending call that won it for them – a call multiple players said they had never seen before.
UCLA extended a 34-30 halftime lead to 44-34 with 12:56 to play, but fell silent for the next 8:40 as SMU mounted what seemed like the final blow to a Bruins season filled with its share of them.
Moore played the part of a 5-foot-9 knockout punch, as UCLA had absolutely no answer for the reigning American Athletic Conference player of the year.
The junior guard scored 11 of his 24 points in a less than four-minute span and guided SMU's 19-0 run as UCLA looked poised to wilt again in another big moment.
"They turned it up on us. They locked in defensively and we couldn't buy a basket," said freshman forward Kevon Looney. "It's a game of runs. We made our run first, they made it second and then we had the answer."
That answer was Alford. Together with senior guard Norman Powell, the duo willed UCLA to a furious comeback by scoring the Bruins' final 16 points, including an 8-0 run in the game's final 1:06.
Powell ended UCLA's drought with a layup to cut the deficit to 53-46 with 4:16 to play and added a pair of free throws to draw within two with just under 30 seconds remaining.
Powell said his and Alford's experience and veteran leadership were key to stopping the SMU surge.
"When we were in the huddle we were telling them 'Believe, keep fighting, pick up the pressure and show some toughness,'" Powell said.
Alford showed that, and then some. UCLA's oft-criticized, much-maligned point guard silenced his – and his team's – doubters by draining all four of his 3-pointers in the game's final four minutes.
"He's the coach's kid, that's how it is. And he's the starting point guard at UCLA, that alone has pressure," said redshirt junior guard Kory Alford, Bryce Alford's brother. "Everybody in here and close to us knows he belongs here on this team. He's a high Division I player; he's a great player as you can see tonight, (against) the top, highest competition there is and he played his heart out."
And because of that, the Bruins are still in a tournament many said they didn't belong in, thanks in large part to a player some said doesn't belong on the team.
Awaiting UCLA in the third round is No. 14-seed University of Alabama-Birmingham, after the Blazers upset No. 3-seed Iowa State earlier in the day.
Bryce Alford said he didn't remember much about UAB, a team UCLA defeated 88-76 all the way back in November.
After Thursday's madness, it's tough to blame him.
"To win it they way we won it – that's the craziest thing that's happened to me in the game of basketball, and to do it when everybody is doubting you," Alford said. "We're not done yet. We're not done proving people wrong."
Lee joined the Bruin as a freshman in 2011 and contributed until he graduated in 2011. He was an assistant Sports editor for the 2013-2014 academic year and spent time on the football, men's basketball, softball and women's volleyball beats.
Lee joined the Bruin as a freshman in 2011 and contributed until he graduated in 2011. He was an assistant Sports editor for the 2013-2014 academic year and spent time on the football, men's basketball, softball and women's volleyball beats.