Men's basketball looks to establish identity in game against SMU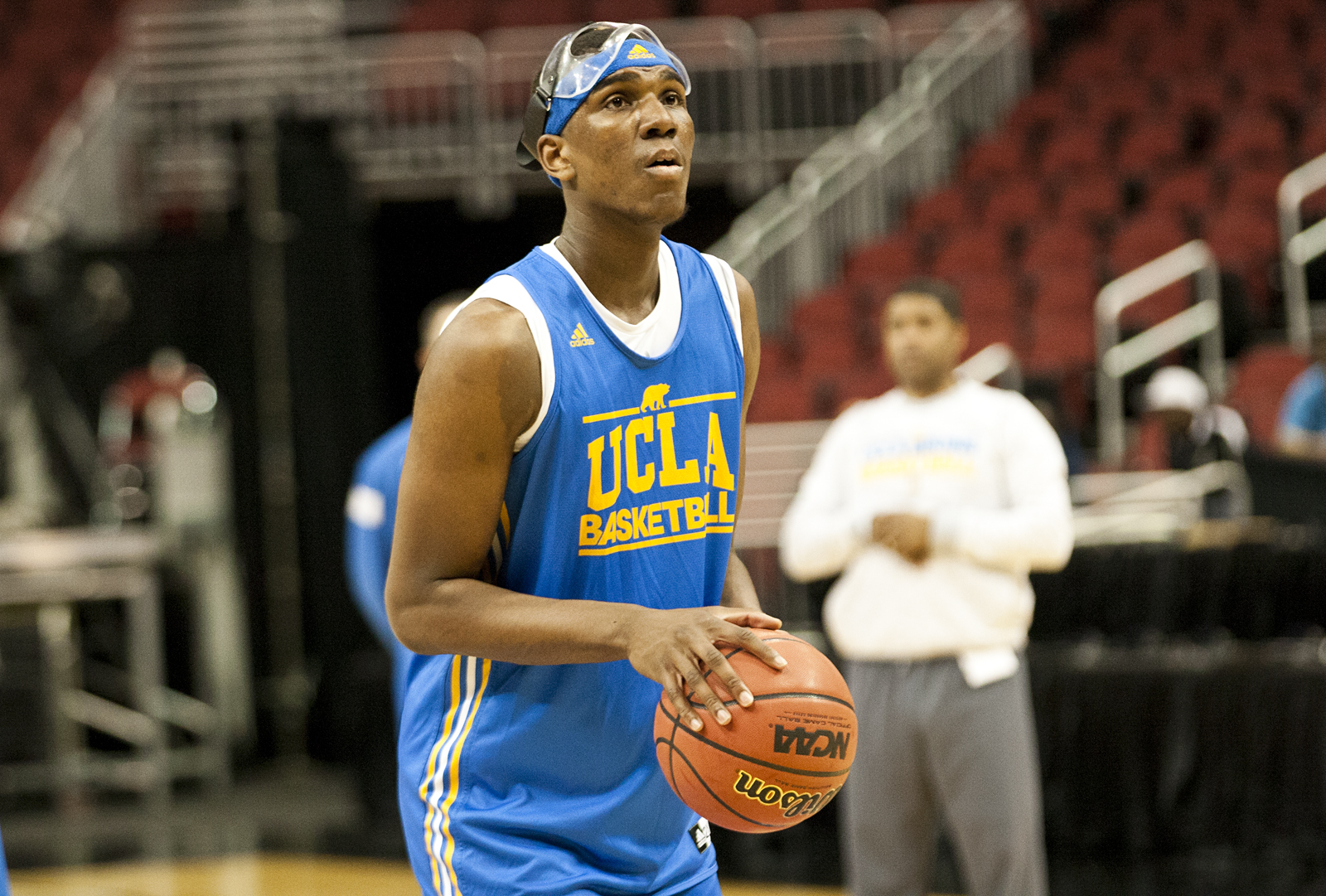 Freshman forward Kevon Looney recently had a new face mask custom-built for him, which he will use Thursday against SMU. Looney said the old mask – which he used in Friday's loss to Arizona – was a bit of a hindrance, particularly to his peripheral vision. (Katie Meyers/Daily Bruin senior staff)
NCAA TOURNAMENT
SOUTH REGION
---
No. 6 SMU
Thursday, 12:10 p.m
KFC Yum! Center
TruTV
LOUISVILLE, Ky. — So here sits UCLA, in a place many didn't expect the Bruins to be, preparing to play a game most don't expect them to win.
The surprise of the Bruins' selection into the tournament has worn off – both for the team and those outside the UCLA locker room.
The initial outrage on the behalf of some pundits has given way to the expectation that UCLA isn't long for the tournament anyway, and will be quickly ousted once it squares off against Southern Methodist on Thursday.
That, of course, remains to be seen, though it's definitely been heard.
"We know what we're capable of but I don't think we've shown the nation what we're capable of," said sophomore guard Bryce Alford, who acknowledged the Bruins are aware of their less-than-worthy perception by some. "We know this is the biggest stage of college basketball and this is where we can prove it. Top to bottom, I think we're going to be ready to go, and playing with a chip on our shoulder."
One of the factors hurting UCLA's image is, well, UCLA (20-13). The Bruins finished just 1-7 against top-25 RPI teams, which includes double-digit losses to Oklahoma, North Carolina, Kentucky and Utah.
But the Bruins maintain they are far from the squad that scored seven points in the first half against the Wildcats or the one that lost to the Utes by 32 in Salt Lake City. More still, they insist they are all the better for having gone through such losses and emerged as – like it or not – one of the final 68 squads still standing.
"We've played a ton of great teams, top-10, top-15, and they kind of really handed it to us at the beginning of the season," said sophomore guard Isaac Hamilton. "How do you react to that? You could fold. But we played well after that; we kind of found an identity."
Key to that identity – strong board play on both ends and an inside-out approach on offense – is freshman forward Kevon Looney.
For much of the season, Looney had no trouble finding half of that equation. The freshman finished as the Pac-12's second leading rebounder thanks to great instincts and some natural gifts – having a 7-foot-3 wingspan tends to help with rebounding – but he's struggled on offense at times.
Over the latter half of the season though, Looney emerged as a threat in the paint and on the perimeter. Coach Steve Alford praised the freshman's development driving the ball, and Looney enters the NCAA tournament as a 65 percent shooter from beyond-the-arc over his last nine games.
Looney figures to regain his shooting form Thursday following a 2-6 effort from the field against Arizona – his first game wearing a protective mask after suffering a facial fracture against USC in the Pac-12 quarterfinal.
In the five days since, Looney was given a new clear mask that is better fitted to his face, one that he anticipates will be less of a distraction against the Mustangs (27-6).
"I can see better, out of the sides. (Against) Arizona it was tough to see screens, and seeing cutters and stuff like that," Looney said. "It's better for me, lighter. (The first one) made me look a little tougher though, so I kind of liked it."
SMU, meanwhile, figures to be a tough out for UCLA. While the Bruins spent this Selection Sunday celebrating a surprise NCAA tournament berth, the Mustangs were on the opposite end a year ago – as 27 wins didn't prove good enough to qualify for the tourney.
The Mustangs made sure not to leave the decision up to the selection committee this year, as they secured the automatic bid by winning the American Athletic Conference tournament.
"We had little signs in our lockers showing pictures of us with all of our heads down on (last year's) Selection Sunday," said SMU senior guard Ryan Manuel. "I think that just pushed us this year harder and (made us) play every game like it's Game 7 of the NBA (playoffs)."
To play with that attitude, it helps to have a coach who's been there. After 34 years and multiple game 7s in the NBA, Larry Brown – who served as the coach for UCLA from 1979-1981 – returned to college basketball as coach of the Mustangs in 2012.
Now, Brown has SMU playing as well as it's ever played since its last NCAA tournament appearance in 1993. The Mustangs boast four players averaging more than 10 points per game and have just three losses in the last three months.
Of course, it takes just one on one day for all of that to come crashing down.
"I just don't want them to worry about the consequence," Brown said. "I just want them to worry about how we play."
Many were – and still are – worried about UCLA's play. An even cursory glance around the internet will confirm the myriad people who consider the Bruins' placement in the tourney suspect.
However, with so much at stake, and so much to prove, UCLA appears ready and – hearing junior forward/center Tony Parker speak – confident.
"We just got to play hard: It's win or go home," Parker said. "(We) play one-on-ones at night, where, they know, when I win, I'm leaving. I get them prepared for it."
Lee joined the Bruin as a freshman in 2011 and contributed until he graduated in 2011. He was an assistant Sports editor for the 2013-2014 academic year and spent time on the football, men's basketball, softball and women's volleyball beats.
Lee joined the Bruin as a freshman in 2011 and contributed until he graduated in 2011. He was an assistant Sports editor for the 2013-2014 academic year and spent time on the football, men's basketball, softball and women's volleyball beats.