UCLA announcer Chris Roberts to leave storied legacy behind the mic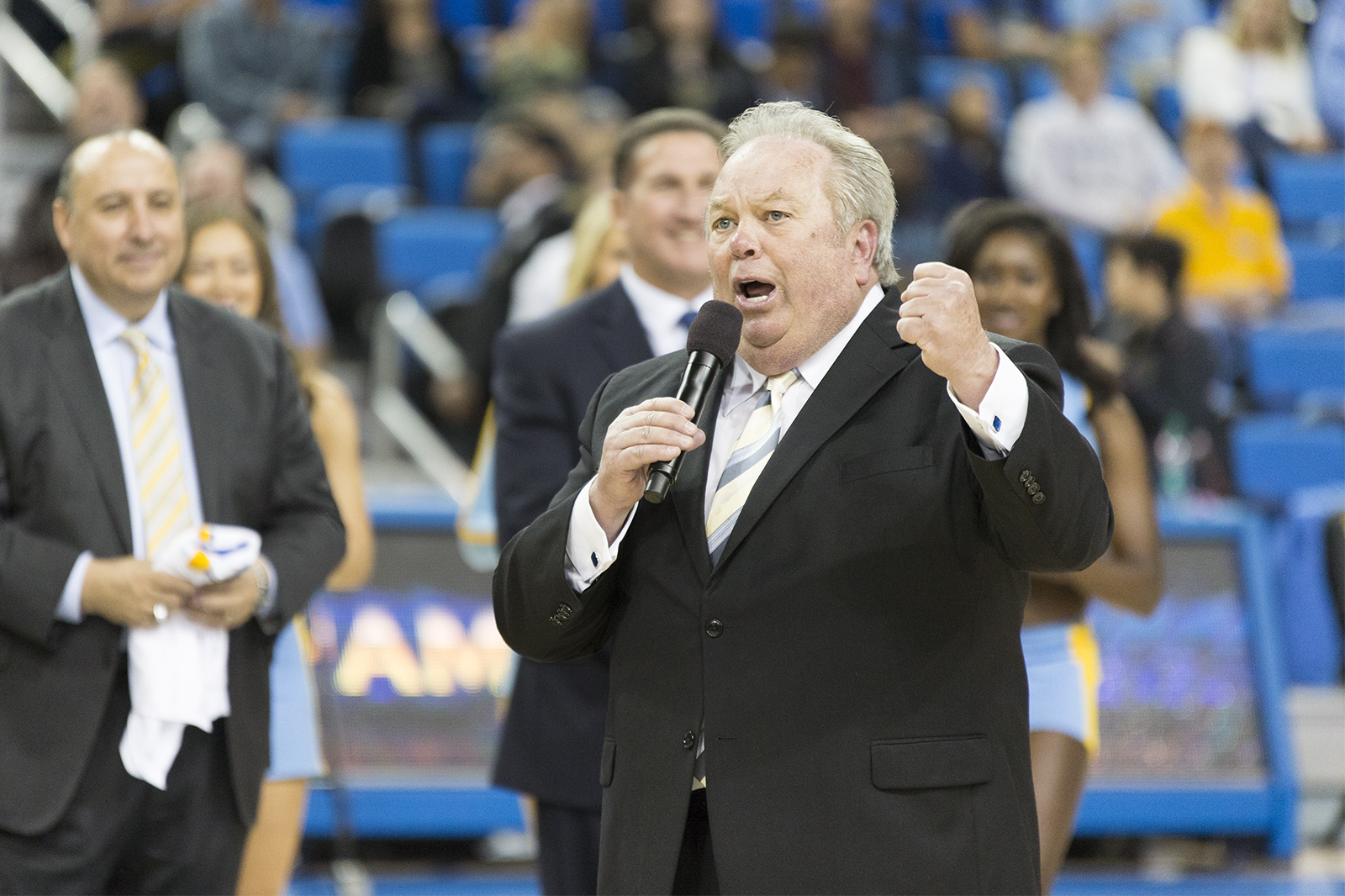 Chris Roberts' 23-year career as a play-by-play announcer for UCLA football and men's basketball was celebrated during a half-time ceremony in the UCLA's regular season closer against USC. Roberts, known as the "Voice" of UCLA will retire at the conclusion of this year's men's basketball season. (Aubrey Yeo/Daily Bruin senior staff)
Chris Roberts is in an unusual place.
After 23 years behind the mic, the longtime UCLA football and men's basketball radio play-by-play man stands front and center at half-court preparing to address the Pauley Pavilion crowd.
His electric blue eyes scan the arena, and for a moment, the man whose voice filled the UCLA airwaves for the last two decades is at a loss for words.
"You have made a young boy from Baldwin Park a very happy grown man," Roberts tells those gathered. "All I ever wanted to do as a young kid was be the announcer for one of the great teams of Los Angeles and there's no better college to call play-by-play for than the UCLA Bruins."
For the past quarter of a century, Roberts has spent his time living out that dream. But this night's game – fittingly it's USC v. UCLA – was his last in Pauley as a broadcaster, as the man long known as the "Voice of UCLA" is retiring at the end of the season.
As the ceremony ends, the crowd rises to its feet in a standing ovation, the student section chants Roberts' name, and he returns a bow, a thank you and two thumbs-ups before heading back to the seat alongside the scorer's table.
That's exactly where Roberts has spent the better part of two decades, welcoming UCLA fans into college athletics with warmth and sincerity. And it is there, where he is just a half a way from goodbye.
Hello and welcome
It's two hours prior to the halftime ceremony and though Roberts is in that same seat, he's about 36 miles and five decades away – back to his time as an undergrad at Cal Poly Pomona during the 1960s.
Roberts has always loved sports. He played quarterback for Baldwin Park High School, guard for its basketball team and was a good enough baseball player there to go on to play in college.
It was at Pomona that he said a light went on while working for the campus' TV and radio station. He wanted to be a broadcaster.
From there, Roberts got a job at KCIN in Victorville playing country music records "with the lizards, cactuses and sand dunes." He then went from Victorville to San Bernadino and from Merle Haggard and Buck Owens to Three Dog Night and Creedence Clearwater Revival – playing top 40 hits as a disc jockey for KFXM. But, oddly enough, it was out on a baseball diamond with a bum knee that Roberts' sportscasting career caught its first big break.
In his time at San Bernadino, Roberts played semi-pro baseball, but a chronic knee problem prompted a move from first base to the broadcasting booth.
"They wanted to start televising some of the games. And some of the guys go, 'Hey you're in broadcasting, you want to televise our games?'" Roberts said. "I was a young guy and I thought, 'You know what, I'd love to broadcast those games.'"
A stint calling semi-pro baseball turned into California Interscholastic Federation Game of the Week – where Roberts called all sorts of high school sports for three years – before landing his first Division I play-by-play job with Cal State Fullerton.
The new career precipitated a new moniker. Born Robert LaPeer, Roberts adopted a professional name during his time in San Bernadino, adding the first name Chris out of admiration for legendary sportscaster Chris Schenkel.
When he made the move to Long Beach State after a year at Fullerton, the name stuck around, and so did Roberts. During his 10 years at Long Beach, Roberts also worked at KFI with the Lohman and Barkley morning show and with Mark and Kim on KOST 103.5 as he continued to build his profile in Los Angeles.
Regardless of what Roberts is called – it's his voice that has truly left its mark at UCLA.
Touch down U-C-L-A
It's difficult to imagine a UCLA football game without Roberts. Turns out, there's good reason for that.
It's Sept. 11, 1982 and UCLA is making its return to the Rose Bowl – having made the stadium its home site after years in the Los Angeles Memorial Coliseum – by taking on Long Beach State.
High up above the field narrating the UCLA's 41-10 demolition of Long Beach State is Roberts, though on this day he does so for the black and gold.
"They stuck the visiting radio up – they called it the chicken coop – high wood, upstairs on the roof of the Rose Bowl. I did the game, no binoculars, no glasses. It felt like I never missed a beat," Roberts said with a grin. "I'm kind of proud of that too. Even though I was the opposition announcer, that I was here for game No. 1 at the Rose Bowl."
More than 100 would follow after Roberts became UCLA's play-by-play announcer for football and men's basketball prior to the start of the 1992 season.
In the 23 years since, Roberts has become an integral part of UCLA athletics, his crisp, sonorous voice inscribed in the minds of those who never forgot to turn the dial when he was on the mic.
"Not only is Chris Roberts an announcer, he is a Bruin," said Matt Stevens, who works with Roberts as the color analyst for UCLA football games. "He was a professional. He cared about the broadcast, he cared about the players, the coaches, their families, the alumni, the athletic department, but he cared so much about broadcasting for the alumni and the UCLA fans."
Signing off
Roberts stops and considers the question: How to pick out a few memories after a career spent creating them?

There are of course the professional accomplishments – Roberts was inducted into Southern California Sports Broadcasters Association Hall of Fame and is a four-time Golden Mike Award winner – testaments to his more than 20 years spent as an essential part of UCLA athletics.
"He's obviously been here at UCLA a lot longer than I have, but in my two years he's been nothing but extremely professional, (so I) really appreciate everything he does," said UCLA men's basketball coach Steve Alford. "He's had an incredible career."
But when Roberts answers, what he says isn't unexpected.
There's current UCLA men's basketball director of operations Tyus Edney's game-winner against Missouri in the second round of the NCAA tournament, that same year's national championship win over Arkansas, Rose Bowl appearances in the late 90s and of course, UCLA football's current three-game win streak streak over USC.
They're the same memories cherished by the audience he has spent the majority of his professional career with and – in the case of one generation of listeners – their entire lives.
"I'm very flattered when someone says I listened to you (my) whole life. It means I'm an old guy and they're a young guy. But at this stage of the game it doesn't matter, because those years are in the bank," Roberts said. "It's very flattering to know that it has been one of those situations where you've been around long enough to maybe actually have an impact on somebody's life."
Game in and game out for more than two decades Roberts has done just that, letting listeners return to the familiar, his resonant voice encapsulating all the highs and lows of UCLA football and basketball for the past 23 years.
As the halftime clock ticks down at Pauley, the realization that there aren't many left is as strong as ever. Up next for Roberts is continuing his work as a real estate broker, and he hasn't ruled out doing some work behind the scenes.
But now, as UCLA takes the floor, Roberts settles in to his seat for the final time and straps on the head phones like he has done countless times before.
The game resumes and away he goes, back in the usual space, at least for another half.
Lee joined the Bruin as a freshman in 2011 and contributed until he graduated in 2011. He was an assistant Sports editor for the 2013-2014 academic year and spent time on the football, men's basketball, softball and women's volleyball beats.
Lee joined the Bruin as a freshman in 2011 and contributed until he graduated in 2011. He was an assistant Sports editor for the 2013-2014 academic year and spent time on the football, men's basketball, softball and women's volleyball beats.