Phase one of Engineering VI complex scheduled to open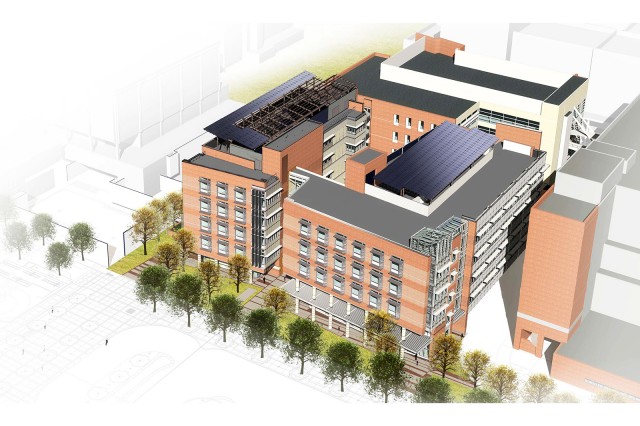 A new engineering facility, phase one of the Engineering IV complex (above), will open on Thursday after undergoing construction since 2012. (UCLA)
A new engineering facility geared toward green energy and nanotechnology research will open on Thursday after undergoing construction since 2012.
The 60,000-square-foot facility represents phase one of Engineering VI, which will replace the old Engineering 1A building that was knocked down in 2011 to make room for a more modernized facility.
The phase one building will house UCLA Engineering's Institute for Technology Advancement, which commercializes UCLA student and faculty research, and is currently on Wilshire Boulevard. The building, located next to Engineering V on campus, will also include conference rooms, several research laboratories and faculty offices.
A separate adjacent building, phase two of Engineering VI, is set to be completed in 2017. Phase two will house UCLA's computer science department, a student learning center that includes a 250-seat classroom and teleconferencing capabilities, a center for research on reliability engineering and risk analysis and an engineering alumni suite, among other features.
The National Institute of Standards and Technology donated $6 million to kickstart the phase one building's conception and construction, said Vijay Dhir, dean of the UCLA Henry Samueli School of Engineering and Applied Science. The federal agency gave the funding on the condition that the new facility be dedicated to research on green engineering and nanotechnology, which includes the development of circuits and nanosystems.
The engineering school is borrowing $23 million and using campus funds to help pay for the building, which cost $55 million, Dhir added.
So far, UCLA has raised $45 million in donations for the phase two building, which costs $75 million. In September 2013, the University of California Board of Regents approved $3.15 million in preliminary funding for the phase two building, which is expected to eventually be fully funded by donations.
The phase one building is currently closed to the public and will be available for occupancy in May after final checkups for the facility are completed, Dhir said.
Compiled by Kristen Taketa and Kelly Gu, Bruin senior staff.