Kevon Looney's NBA draft stock rises as his game flies under the radar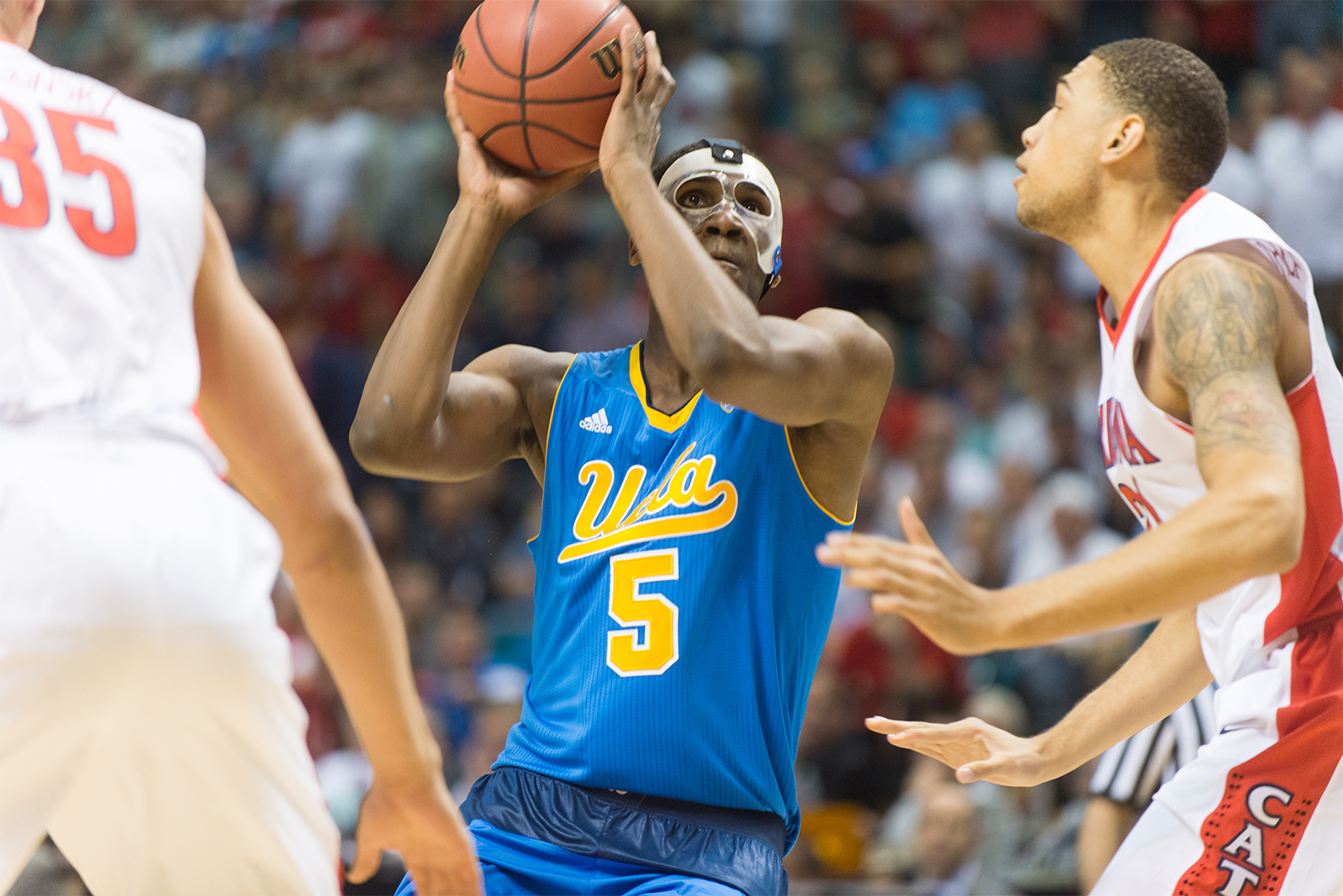 Freshman forward Kevon Looney battled through a facial injury in the Pac-12 semifinal against Arizona, draining a clutch 3-pointer in the waning moments to keep UCLA in the game. (Brandon Choe/Daily Bruin senior staff)
For the casual observer, it can be easy to miss what makes freshman forward Kevon Looney arguably UCLA's best player – one that is a lock to be a lottery pick in the 2015 NBA draft, should he declare.
You won't see him go coast to coast, weaving through traffic and mashing a SportsCenter Top 10 dunk in the face of a helpless defender. No, that would be senior guard Norman Powell.
Looney isn't the one dancing on the perimeter, showing off his handles and burying deep 3-pointers with hands in his face. Nope, that's sophomore guard Bryce Alford's forte.
And it isn't Looney who yells and flexes toward the crowd behind the hoop after jamming home an offensive rebound. Junior forward/center Tony Parker has that covered.
No, Looney's style of play keeps him far from center stage. His work is the unglamorous sort – battling for rebounds, tipping in putbacks, playing disruptive defense. When he makes a big play, there's rarely an ostentatious celebration or boasting; On the court, Looney speaks with a whisper, Parker said.
Coming off a regular season in which he finished second in the Pac-12 in rebounds at 9.5 per game, first in offensive rebounds with his total of 110 – a solid 30 more than anyone else in the league – and collected All-Pac-12 second team and Pac-12 All-Freshmen team honors, Looney is undoubtedly a star at the college level.
Still, he plays his game well outside the glimmer of the spotlight. It's how he's always done things.
As a senior at Hamilton High School in Milwaukee, Looney could hardly escape the attention. That tends to be a problem for 6-foot-9 point guards who average 27.9 points, 12.7 rebounds, eight blocks and seven assists each game.
In this case however, the attention was welcome. College coaches from across the country came calling for Looney as he shot up the rankings. A consensus five-star recruit, ranked as high as No. 10 in the nation by Rivals.com, Looney got offers from many of the nation's top programs.
He narrowed it down to six: Duke, Florida, UCLA, Tennessee, Michigan State and Wisconsin.
But in typical Looney fashion, he kept his decision as low key as possible. ESPNU wanted to broadcast it live, but was turned down. Recruiting analysts wanted a hint about where he was leaning, but Looney remained tight-lipped throughout the recruiting process.
Not even Looney's parents knew what his decision would be when they sat beside him at a small table in Hamilton High School, his announcement imminent.
"I sat down with my parents and some close friends, and I told them the pros and cons of all the schools that I had. I told them I had my decision, and they said they wanted to wait and know like the rest of the world," Looney said. "Nobody knew besides me when I made my decision, and I think everybody was shocked but everybody was happy for me, and they really liked my decision."
Shock was indeed the reaction. Seventy-four percent of 247sports.com's 34 reporters who participated in the site's Crystal Ball poll picked Looney to choose Duke. The other 26 percent predicted either Florida or Tennessee.
Instead, dark horse UCLA won Looney's services.
"I wanted something new, I wanted to leave home a little bit, be away from the snow," Looney said. "UCLA was a great campus, a great basketball tradition, great fans, and it offered the best of everything."
With the power vacuum created by the departure of stars Kyle Anderson and Jordan Adams, as well as three other key players, Looney figured to immediately step into the starring role for the Bruins.
And he did, only in his own way.
Unlike Anderson and Adams, whose ability to create points earned them stardom, Looney often made his impact this year without the ball in his hands. At 6-foot-9 with a massive wingspan and the hybrid skills of a point guard and power forward, Looney's versatility made him invaluable.
On one play, he'd box out for a rebound, bring the ball up the court himself and initiate the offense. On the next, he'd spearhead the top of the 1-3-1 zone, his length creating a huge burden for opposing guards to get around, as evidenced by the zone's success in limiting No. 5 Arizona in Friday's Pac-12 tournament semifinals.
But Looney's most consistent area of production, one that his entire game seems built around, is his rebounding.
Looney has perfected the art of the rebound. With a combination of size, quickness, toughness, effort and determination, Looney immediately established himself as one of the nation's top rebounders, averaging 12.6 boards through his first five collegiate games.
A 7-foot-5 wingspan doesn't hurt either.
"It's crazy, I don't understand it," Powell said. "He doesn't have to jump for rebounds, he doesn't have to jump to dunk."
Beyond the physical tools, there's a mental side to rebounding that Looney has honed as well: instinct.
Every time a shot goes up, he knows where the ball will end up, which side of the rim it will bounce to. It's a trait he owes to his older brother, Kevin Looney.
"When I used to go to the park with him, he shot all the shots, and he missed a lot of them, so I just learned how to get rebounds," Kevon Looney said.
It's the little things – rebounding, boxing out, blocking shots – not the scoring that have turned Looney into UCLA's newest star.
"It was one of my goals coming in and (making) an impact and have my team win," Looney said. "I didn't really focus on scoring. I really focused on doing little things and let the other things come to me. I set goals like rebounding, helping my team on defense, stuff like that."
But besides all the things Looney brings to a team, it's his potential that makes him such a valuable commodity to NBA teams, with the 2015 NBA draft looming on the horizon. His ability to improve can be seen in this season alone.
After going 3-for-17 from the 3-point range through 13 non-conference games, Looney worked on his jump shot. In 18 regular season Pac-12 games, Looney shot 60.7 percent from beyond the arc.
"His ceiling is crazy high, and we knew that in the summer, just seeing glimpses of him," Bryce Alford said. "The dude can do just about pretty much anything, and his shot is starting to really come into play."
Looney's thin frame and broad shoulders suggest his body has room for him to bulk up as well. But it isn't his body, nor his athleticism that have given the "high upside" label. No, that would be his work ethic.
"The thing I've been most impressed with him as a young player, as a freshman, someone who was highly touted … he wants to be taught," said coach Steve Alford. "He wants to learn and get better, and when you've got somebody like that, with that skill set, you're going to see him keep getting better."
The NBA is calling, but Looney still isn't sure if he'll answer just yet.
"I'm going to sit down, talk with my parents about next year," Looney said last week. "I really haven't thought about it yet."
Everybody's attention is on him and what his NBA decision will be. But as for Looney, his attention is simply on helping his team.
With contributing reports by Claire Fahy and Jordan Lee, Bruin Sports senior staff.