Regents chair, Napolitano condemn anti-Semitism across UC campuses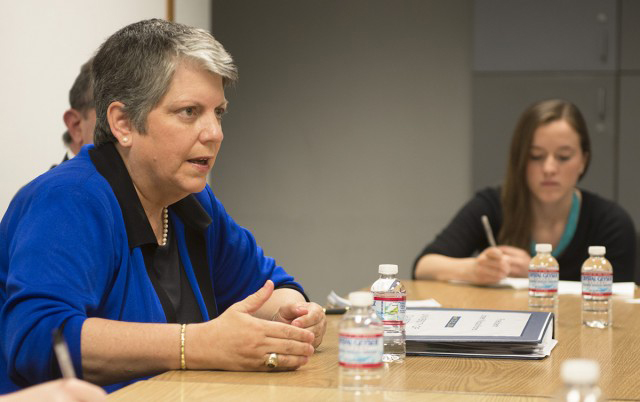 University of California President Janet Napolitano and UC Board of Regents Chairman Bruce Varner condemned on Wednesday the recent controversial comments about a Jewish student's appointment by UCLA's student government and swastikas painted on a Jewish fraternity at UC Davis.
In a press statement, Napolitano and Varner said they were horrified to hear that some Undergraduate Students Association Council members initially questioned the ability of Rachel Beyda, a second-year economics student, to objectively rule on Judicial Board cases because of her affiliations with Jewish campus groups.
USAC appointed Beyda unanimously after an initial tie vote and a long discussion.
Napolitano and Varner also spoke out against the incident that occurred at UC Davis in late January in which swastikas were painted on the walls of a Jewish fraternity. In the statement, they called the incident "a hateful affront to all across the UC system."
"Anti-Semitic incidents such as these, as well as bigotry directed against any members of the UC community because of their faith, ethnicity, gender or sexual orientation, will not be tolerated," Napolitano and Varner said in the statement.
The statement also praised UCLA and UC Berkeley student governments for recently passing resolutions against anti-Semitism.
USAC unanimously passed a resolution condemning anti-Semitism on Tuesday. The resolution called upon USAC members to fight anti-Semitism in the future and attend diversity training to learn about the history of anti-Semitism and its appearances.
Compiled by Darakhsha Siddiqui, Bruin contributor.