USAC unanimously passes resolution condemning anti-Semitism on campus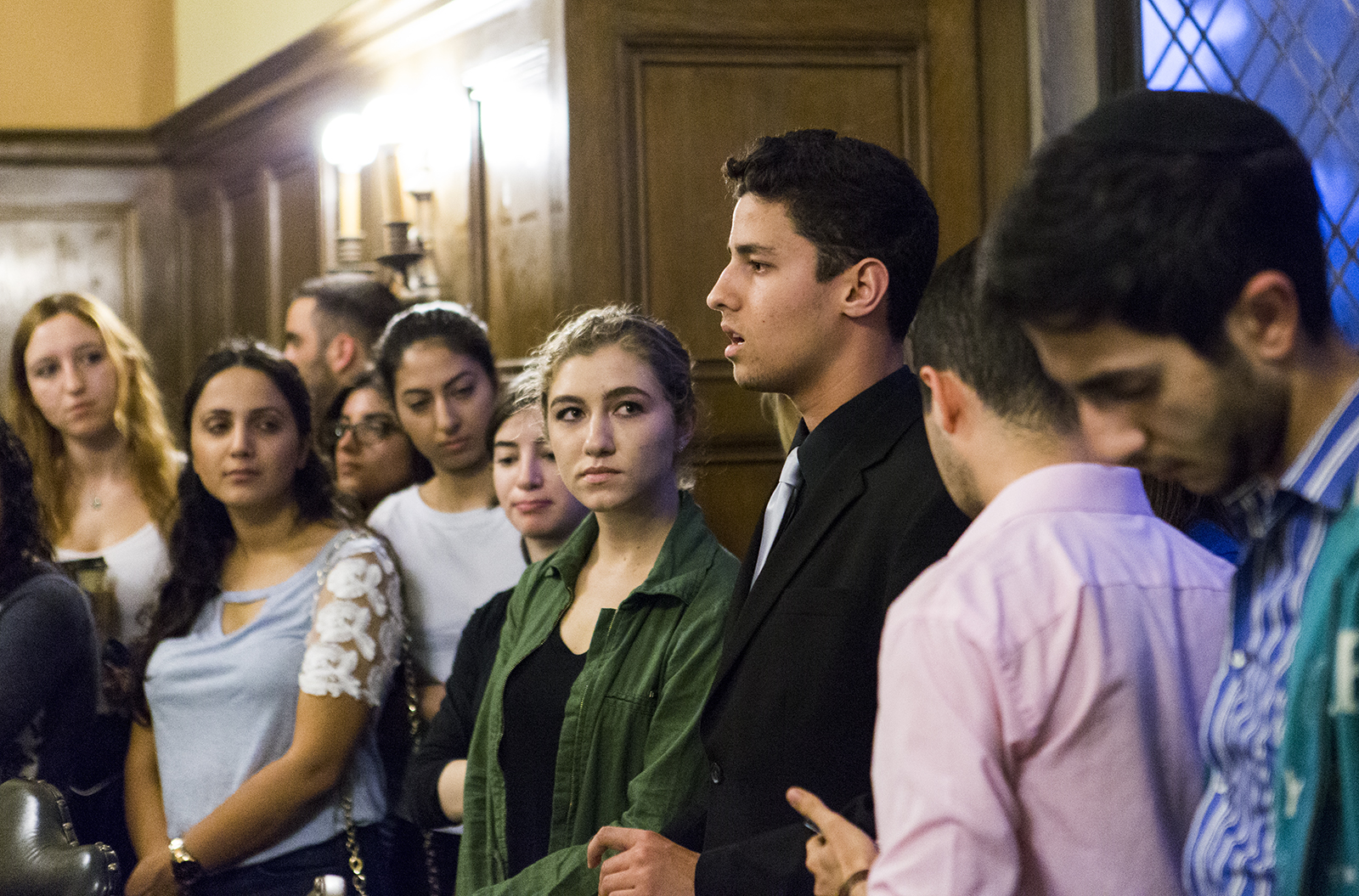 More than 100 students spoke about the resolution at Tuesday's undergraduate student government meeting. Most commenters voiced support for the resolution and shared their experiences with anti-Semitism on campus. (Jintak Han/Daily Bruin)
March 10, 2015 10:05 p.m.
The original version of this article contained information that was inaccurate and has been changed. Not all of the four councilmembers who initially voted against Rachel Beyda's appointment asked her how she would remain neutral on the Judicial Board.
This article was updated on March 11 at 12:45 a.m.
The undergraduate student government unanimously passed "A Resolution Condemning Anti-Semitism" at its Tuesday meeting after more than 100 students made public comments in support of the measure.
The resolution, drafted by members of Hillel at UCLA and Undergraduate Students Association Council President Avinoam Baral, condemns recent incidents of anti-Semitism and events some say were discriminatory, including vandalism at UC Davis where swastikas were painted on the door of a Jewish fraternity and the recent questioning of a Jewish student by UCLA undergraduate student government councilmembers.
The resolution also calls upon USAC to fight anti-Semitism in the future and for councilmembers to attend diversity training to learn about the history of anti-Semitism and how it manifests.
Almost all of the public commenters spoke in support of the resolution. A few students voiced concerns that the resolution didn't do enough to protect speech that criticized the government of Israel.
"USAC's language was inappropriate," said Jaimeson Cortez, a third-year political science student and a member of multiple USAC offices, during public comments. "Political affiliation should be called into question – but never ethnicity or religion."
Jewish student leaders asked USAC Transfer Representative Negeen Sadeghi-Movahed and general representatives Sofia Moreno Haq, Fabienne Roth and Manjot Singh to co-sponsor the resolution in response to concerns they raised at the council's Feb. 10 meeting where Rachel Beyda, a second-year economics student, was appointed to serve on the Judicial Board.
Roth, Sadeghi-Movahed, Singh and Haq initially voted against Beyda's appointment after some councilmembers asked her how she would remain neutral given her affiliation with the Jewish community on campus. After an administrative representative raised concerns of discrimination, the council unanimously approved Beyda's appointment.
The council recently took down the USAC Live! video of the meeting because of concerns about councilmembers' safety. On Tuesday, USAC voted 8-1-3 to make the video available again on YouTube.
Rachel Frenklak, who was at the meeting where Beyda was appointed, recalled her experience during public comment at Tuesday's meeting.
"To see one of the most competent people I've ever known be torn down for her identity is unacceptable," said Frenklak, a third-year physiological science student.
Baral said he thinks the resolution is necessary in light of the various high-profile incidents at several college campuses, including UCLA and UC Davis.
"It's important for the UCLA student government to show support for the Jewish community," Baral said.
Baral also said he thinks the resolution is relevant to himself because he is Jewish.
Before voting on the resolution, Haq said she thinks the comments at the Feb. 10 meeting were misconstrued by the press and on social media, but she condemns anti-Semitism.
Singh said as a Sikh he understands the bias people of a religious minority can face and he doesn't wish discrimination on anyone.
Sadeghi-Movahed said she thinks some questions councilmembers asked Beyda oppressed the Jewish community. She added that she thinks the councilmembers who made the comments have to work to repair the relationship between themselves and the Jewish community.
"Personally, I don't think that (the apology and resolution) suffice, but I will only speak for myself," Sadeghi-Movahed said.
Roth said she doesn't think the resolution should be the only solution to address ignorance and anti-Semitism on campus, but she thinks it is a good first step because it includes diversity training.
The dates and format of the councilmember diversity trainings are not yet set.
Contributing reports by Sujung Hahn and Jillian Frankel, Bruin contributors.