Smart meters to improve parking, decrease traffic in Westwood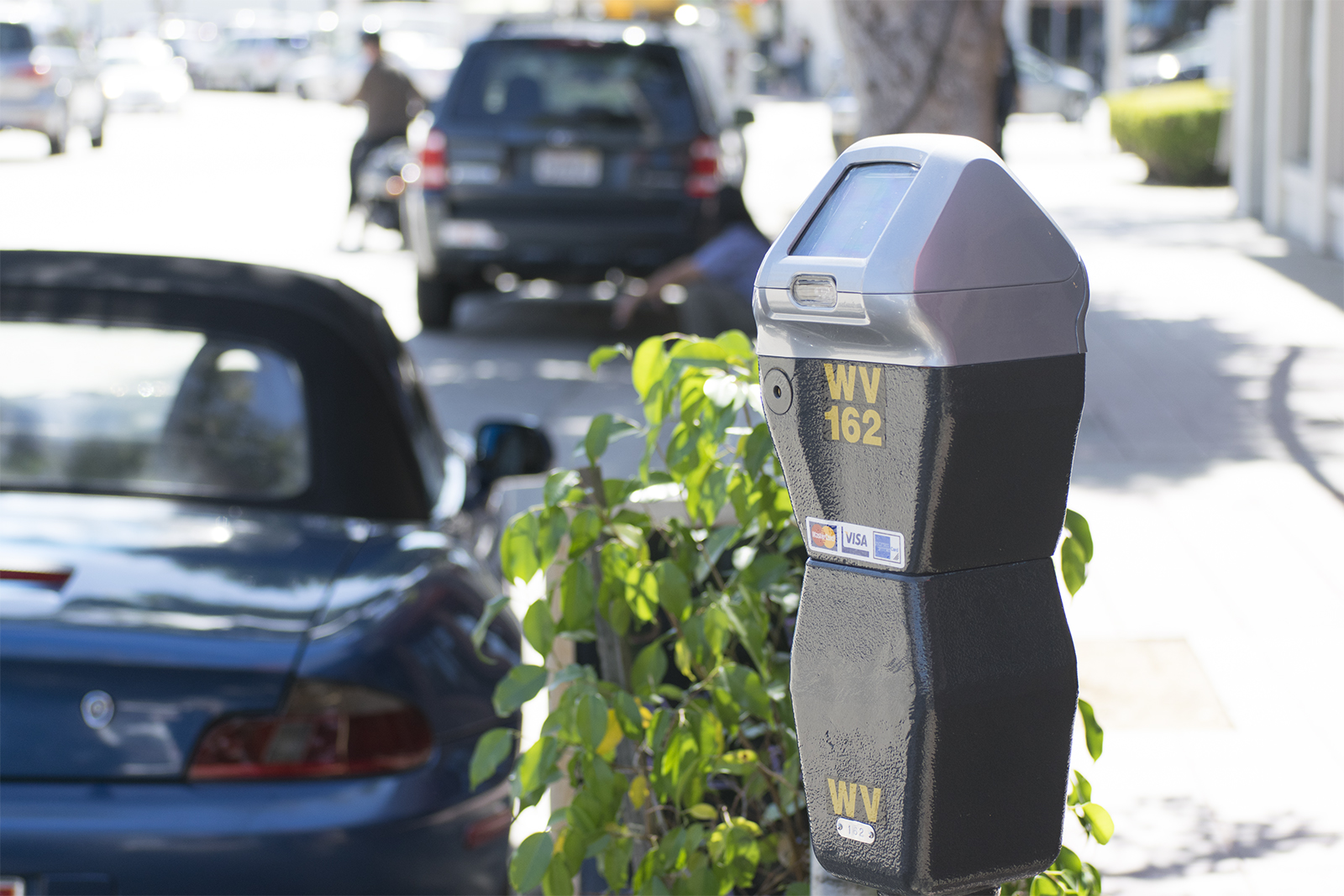 Los Angeles Department of Transportation officials are set to bring a new type of parking meter to Westwood in the coming months. The smart meters would change their prices depending on the time of day, with the highest prices coming between 11 a.m. and 4 p.m. (Maryrose Kulick/Daily Bruin)
Officials are launching already-installed new meters, they are not installing new parking meters in Westwood. Steve Sann said he thinks LADOT should extend the parking time limit in the evening for visitors and that employees should be given advanced notice of the changes.
Los Angeles transportation officials plan to launch a new pricing system for Westwood's parking meters in the coming months, allowing meters to change their prices depending on the time of day.
The Los Angeles Department of Transportation project aims to improve parking availability and distribution as well as decrease traffic congestion, according to a meeting Wednesday by the Westwood Village Improvement Association Parking, Access and Transportation Committee.
As part of the project called ExpressPark, LADOT installed smart meters in downtown Los Angeles several years ago and is now looking to Westwood, Hollywood, Exposition Park and Venice to expand the program because the areas have congested roads, said Peer Ghent, a LADOT senior management analyst.
Ghent said he first submitted an application for the Westwood project in September 2011. The federal grant for the Westwood project is $600,000, and LADOT plans to spend an additional $150,000 to support it, Ghent said.
The department does not intend to raise money with this project, but when ExpressPark opened in downtown Los Angeles, revenue went up by 2.5 percent, he said.
ExpressPark has led more people to start parking in low-density areas, he added.
In the downtown project, LADOT set different rates for three separate time intervals during the day, with the rates being highest from 11 a.m. to 4 p.m. The evening prices vary, and officials also created late enforcement hours after 8 p.m. on Fridays and Saturdays. Parking in those spots is limited to two hours.
Once officials set prices in Westwood, people who park in the area will be able to find prices through a new parking guide system, which will include a website and mobile apps like ParkMe.
Westwood Community Council Chair Steve Sann said at the meeting that he thinks LADOT should also extend the time limit of parking meters to significantly longer than two hours in the evening for visitors who want to go to dinner and a movie. He said he thinks local employers should be given ample notice of the changes and of alternative parking areas because ground sensors in the ExpressPark system will make it difficult for workers to park and renew time at meters throughout their shifts.
Ghent said the Parking, Access and Transportation Committee met with UCLA representatives, the real estate manager for downtown UCLA properties and the manager of the Westwood Trader Joe's to discuss parking concerns.
All parties said they favored parking meters that charge a flat rate of $5 for after-hours parking, Ghent added.
The committee is also currently trying to get approval to install three wayfinding signs for parking guidance on the intersections of Weyburn Avenue and Westwood Boulevard, Weyburn Avenue and Broxton Avenue and Westwood Boulevard and Glendon Avenue, but there is no date set for the approval yet.
Rhonda Smith, 43, who parks frequently in Westwood, said she agrees with the parking implementation ideas because it can be a hassle to try to find spaces and keep within time limits while running errands.
"The way-directing signs sound good. Most people only use their credit card for museum parking, so it sounds really convenient," Smith said.
Elsa Del Campo, a graduate student in Chicana/o studies, said she thinks the ExpressPark program and the other considerations for improving traffic and parking in Westwood are good ideas. She said when her friend drives her to Westwood, her friend often worries about running out of time at parking meters.
LADOT is now replacing meter parking stations in Westwood with ones that accept both cash and credit cards.