Chloe Lew: Classrooms need resources to accommodate students with disabilities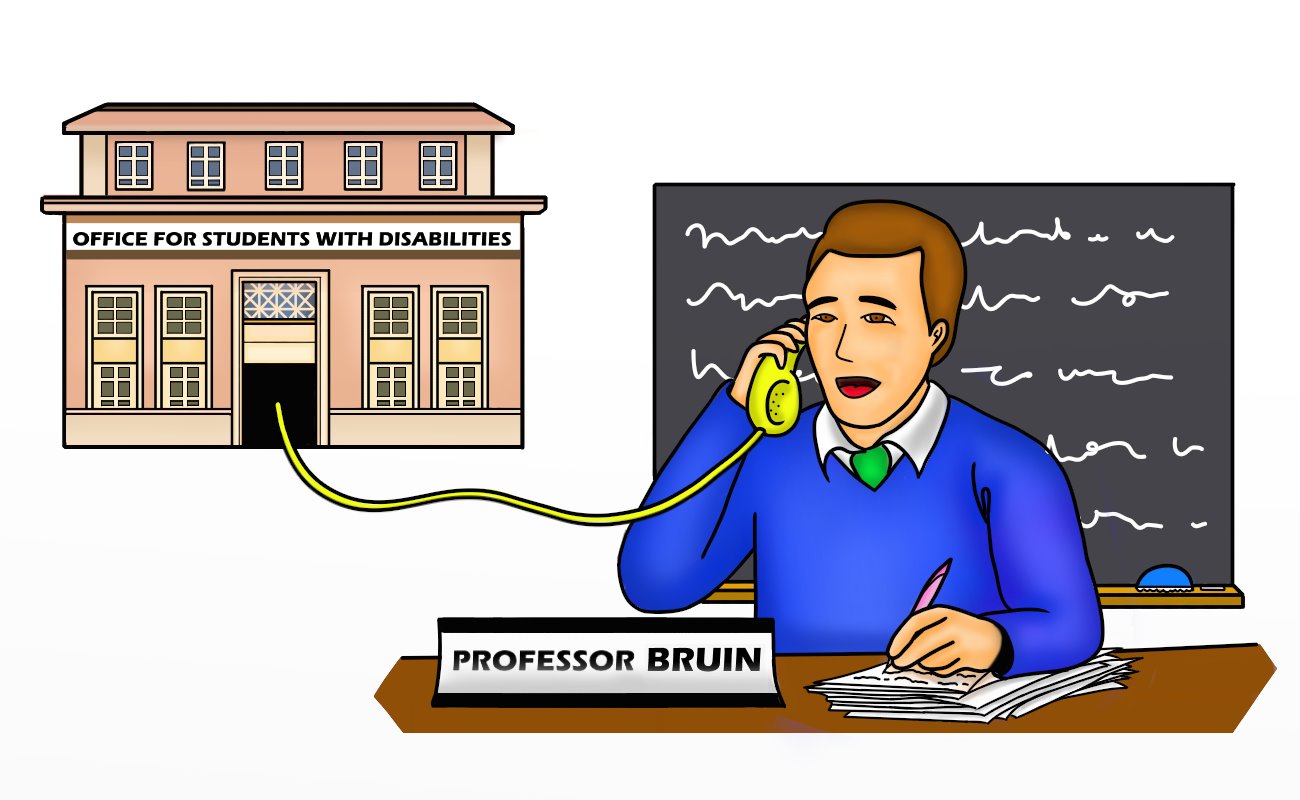 Carolanne Link, a second-year electrical engineering student with cerebral palsy, spends roughly two hours every day riding the UCLA Office for Students with Disabilities van, but when she looks around at her co-passengers, she said, she can't tell what each person is dealing with.
On a campus with approximately 2,500 students with disabilities registered with the OSD, it is difficult to understand the needs of each of them. This challenge only grows as classroom technology shifts more and more toward online tools and course materials.
This month, Harvard University and the Massachusetts Institute of Technology were sued for allegedly failing to provide closed captioning in online course materials. In violating federal anti-discrimination laws by excluding the deaf and those hard of hearing, these cases raise the concern that the integration of advancing technology in the classroom leaves students with disabilities behind.
While the OSD and UCLA Disabilities and Computing Program work productively to ensure students with disabilities on our campus have adaptive resources, students and the offices tend to solve problems behind closed doors. This system neglects to pressure the faculty members responsible for bringing inaccessible material into the classroom to address the limitations of their own classroom. And as long as professors do not have a good grasp of how to create an accessible classroom from day one, students with disabilities will continue to face access problems in the classroom.
Many of the tools and materials that students with disabilities cannot use independently, from iClickers to scanned readings, are available in alternative, accessible forms through the OSD and the DCP. When students with disabilities need extra assistance, professors refer them to the OSD, though most students with disabilities register with the offices at the start of their careers at UCLA.
This system works well, but to create an inclusive campus in which all students are on an equal playing field, departments and faculty members must shoulder some responsibility. It's understandable if professors aren't aware that some elements of their course will be inaccessible to certain students, but that unawareness in itself is a reason to strengthen the dialogue between the OSD and professors. Rather than send students with disabilities to the OSD for other counselors to take care of, professors should do their share to make sure their classroom is accessible as per the OSD's recommendations, and reach out to the OSD before the quarter begins if they are unsure whether aspects of their course will be inaccessible to students with disabilities.
Because her disability is not always visible, Link said she sometimes needs assistance in class, but feels uncomfortable having to explain herself. If professors are more actively aware of potential obstacles to learning in their classrooms, students like Link might not be tasked with the responsibility of asking for basic classroom access.
Some of the most common materials in a classroom can require extra effort for students with disabilities. Take, for instance, a scanned online reading – because these readings are image-based, rather than text-based, students with visual impairments who use text-to-speech programs must convert the file through special programs in order to read it. Since online materials are often left out of course syllabi, professors should take the initiative to send image-based readings to the OSD ahead of time, so that students with vision impairments have an accessible version of the reading from the get-go.
And before the class even begins, professors should make sure their course descriptions are detailed and transparent, especially for classes that have lab components that students with disabilities may need assistants for.
The existence of an office that sufficiently adapts materials for students with disabilities does not mean professors are off the hook. Even though both the OSD and DCP provide iClickers with Braille or vibrating functions or other alternative technology, students using these alternative forms or those with learning disabilities may still be racing against the clock to submit their answers in time, said Ed McCloskey, the director of the OSD. Professors who do not recognize this concern leave these students at a disadvantage and should be more flexible with time constraints.
This is not a matter of individually catering to each student and each disability, but that of ingraining concepts of universal design – the notion that buildings, products and environments should be accessible to all people – to regular teaching habits.
"'Disability' is such an all-encompassing word, so trying to address all disabilities is hard," Link said. "What we need to do is open our campus to be more disability-friendly. It's a really horrible thought to think the system itself isn't built for people like me."
It's no small task to cater to the learning needs of every student on campus – that's why offices like the OSD and DCP exist. And they're here as resources for faculty as well as for students.