Bruins make dental procedures affordable for student veterans, foster youth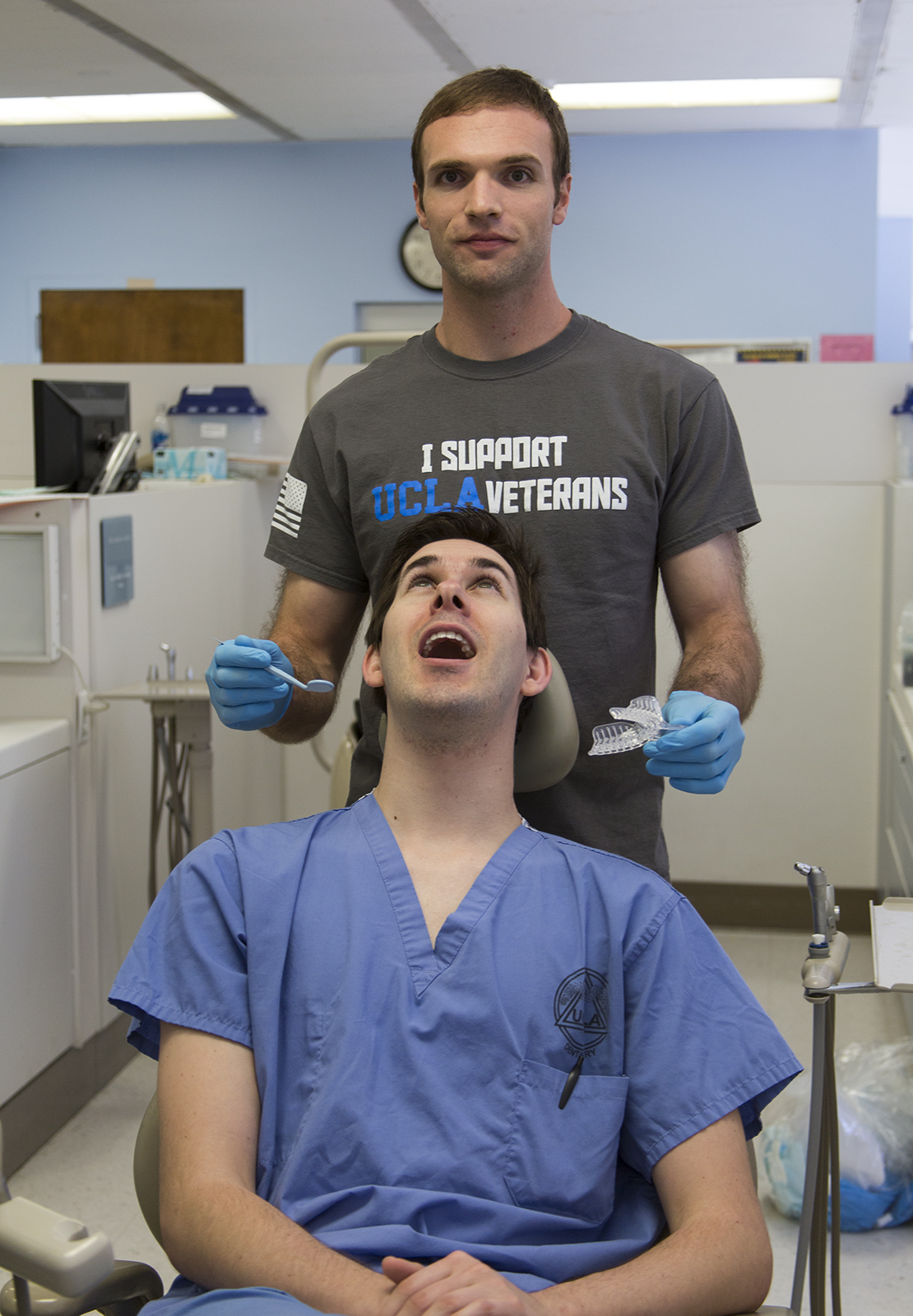 Brian Lehigh, a third-year graduate student in dentistry, co-created Operation Bruin Smiles, a program that subsidizes dental care for student veterans and students who are former or current foster youths, poses with third-year dental student Lance Peery. (Keila Mayberry/Daily Bruin)
Brian Lehigh shadowed dentists at a local veteran's hospital several years ago to explore his future specialties. While volunteering, he met patients who inspired him to mesh his career with veteran's affairs.
"They (had) gone through a lot and (were) in very good spirits," he said. Despite suffering from ailments such as heart conditions, Type 2 diabetes and cancer, the upbeat veterans were cracking jokes, Lehigh said.
Lehigh, a third-year graduate student in dentistry, teamed up last summer with fellow third-year student and National Guard veteran Tigon Abalos to create Operation Bruin Smiles. The program subsidizes dental treatment for student veterans and students who are current or former foster youth, two groups who may be disadvantaged and need subsidized dental care.
About 400 student veterans and foster youth currently attend UCLA, said Dr. Edmond Hewlett, associate dean for outreach and diversity at the UCLA School of Dentistry.
Operation Bruin Smiles launched mid-February when the team sent emails to student veterans to begin screening and treatment phases. The team also emailed UCLA's foster youth community this week.
Abalos, who served eight years in the Army specializing in military intelligence, first met Lehigh through the Veterans Services Committee. Lehigh created the committee, which stages resource fairs and oral hygiene lectures for veterans, within UCLA's American Student Dental Association his second year in graduate school.
When the Bruin Resource Center heard about the committee over summer, it contacted Abalos and Lehigh about establishing a dental program for UCLA veterans and foster youth. Since then, the two have been recruiting team members and establishing program guidelines.
A free initial screening – normally costing about $90 – is the first step toward treatment, Lehigh said. The first 20 veterans who schedule screenings receive free electric toothbrushes and X-rays. Students have screened five veterans so far, with three more screening days planned through April, Lehigh said. No foster youth have yet been screened.
During screenings, dental students evaluate the patient's needs and special issues. After a faculty member approves the proposed treatment plan, the patient is assigned to a specific dental student and can schedule X-rays, examinations and authorized procedures such as fillings, cleanings or extractions, Hewlett said. Although complicated procedures involving braces and oral surgery may not be subsidized yet, Lehigh said the program subsidizes dentures. As a faculty sponsor, Hewlett will oversee many of the project's screenings in the school's Predoctoral Dental Clinic.
Third-year philosophy student Paul Polintan, who served nine years in the Navy, said he scheduled his screening about two weeks ago because he wanted to take advantage of the program's services. His designated dental student recently contacted the radiology department for his X-rays. The program will address his teeth-grinding issues, he said.
To qualify for cost subsidization, patients must have UCSHIP, Denti-Cal under Medi-Cal, or TRICARE insurance. For each procedure, Operation Bruin Smiles will pay for up to $500 of what these companies won't cover, Lehigh said. The program currently runs on donations from UCLA's Healthy Campus Initiative and from Dr. No-Hee Park, dean of the UCLA School of Dentistry, who donated $10,000.
"We're trying to stretch our money as far as it will go and treat the most number of people with the best care we can give. That's our objective," Lehigh said.
Operation Bruin Smiles also wants to educate curious patients about the dentistry world through outreach, Hewlett said. For example, through the Pre-Dental Outreach Committee within the association, interested participants will be able to attend lectures, lab exercises or shadowing opportunities offered to pre-dental students, Lehigh said.
The team envisions expanding coverage to the Veterans Association West Los Angeles Medical Center, Lehigh said. To qualify for dental benefits there, veterans must meet strict criteria, such as having service-connected disabilities – getting their teeth knocked out by a bullet, for instance.
Abalos similarly shares this goal for expansion. From her years volunteering at the veterans hospital, she said she has seen many veterans wait until they lose or break half their teeth before seeking dental services.
"I met a lot of veterans who don't have dental insurance, so hopefully our program will expand to more than just student veterans at UCLA," she said.
The team is currently applying for grants from the American Dental Association Foundation, but it hopes to receive endowments and other funding sources that will sustain the project for years, Abalos said.
Operation Bruin Smiles is continually scheduling screenings and appointments as patients express interest. Eligible candidates can sign up through emails sent by the program or contact them directly at [email protected]